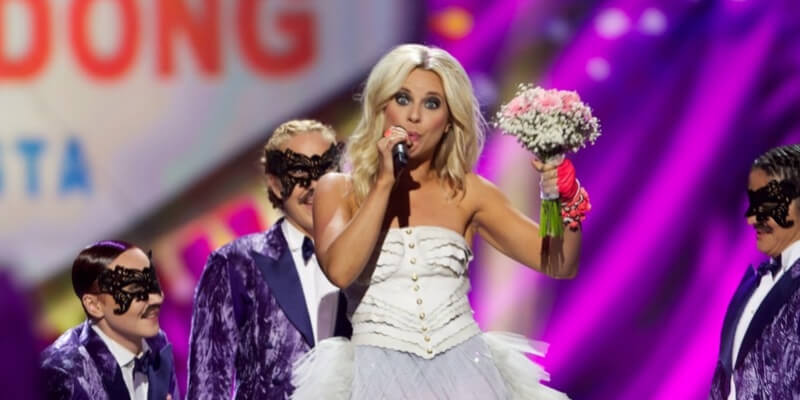 FINLAND
Ding dong Marry Me! Krista Siegfrids got married
Finnish Krista Siegfrids sang "Marry Me" in Eurovision 2013, and Saturday she finally got married to her Janne Grönroos
The Finnish representative at Eurovision 2013 in Malmö, Krista Siegfrids, finally got married to her boyfriend for 12 years, Janne Grönroos. Krista was actually singing "Marry Me" at Eurovision 2013, and the year after Janne finally proposed during a vacation on Maldives. And yesterday on Saturday 7 October they finally got married.
The marriage took place yesterday in her hometown Kaskinen. Krista and Janne met 12 years ago when they both were studying to become teachers. They moved to Helsinki, where Krista started her singing career, while Janne got a job on a radio station.
Krista is Finland-Swedish well known in both Finland and Sweden. In 2016 she participated in Melodifestivalen with the song "Faller" (5th in the heat/deltävling). Also in 2017 she participated in Melodifestivalen. This year with the song "Snurra min jord" (7th in the heat/deltävling).
Krista hosted the Finnish selection for Eurovision: Uuden Musiikin Kilpailu (UMK) both in 2016 and 2017.
Congratulations Krista and Janne!
---
Finland debuted in the Eurovision Song Contest in 1961 and has participated ever since, except for six years, mostly because of last years bad position. The country has won the competition once, in 2006 with the song "Hard Rock Hallelujah", performed by Lordi. Since then Finland's best result is 11th place in 2014.
Since the introductions of semi-finals in 2004, Finland has qualified for the Grand Final 7 out of 14 times.