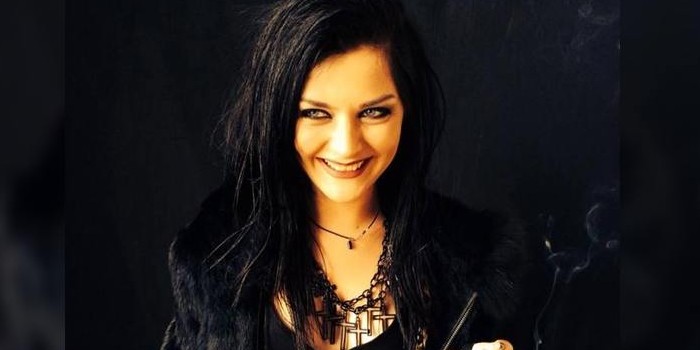 GEORGIA
Georgian Warrior: Nina Sublatti
Get to know Nina Sublatti and learn more about the song and how it was born.
Nina Sublatti won the Georgian selection back in January with the electronic pop song "Warrior". She represents Georgia at Eurovision Song Contest 2015, and will compete in Semi-final 1 on 19 May 2015.
Nina Sublatti
Nina was born to Georgian parents in Moscow, Russia. Nina is a young 20-year-old model, singer and a songwriter. When she was a child she also lived in Riga, Latvia, where she attended art school, studying painting, drawing and sculpture. Nina started modeling in 2008, when she got a contract from a modelling agency. In 2011, she began working with the Georgian Dream Studio where she collaborated with some singers as Bera Ivanishvili. In 2013, she won the Georgian version of Idol (Sakartvelos Varskvlavi). In 2014, she released her debut album "Dare To Be Nina Sublatti", which became the best-selling album in Georgia. And in 2015, she won the title to represent Georgia in Eurovision Song Contest in 2015, with the song Warrior.
Nina has been singing since she was 3 months old. She says that her mother has a very beautiful and strong voice, but she doesn't sing. Her father plays guitar and she has got other 2 family members that play trumpets. Nina is never nervous before going on stage or being on stage, she said that she don't find nervous useful, if everything is OK she is calm.
Nina also loves tattoos, which she sketches herself, she has got several tattoos on her body. Her
biggest musical influences are Janis Joplin, Brian Molko and Björk.
Warrior
Nina composed and wrote the lyrics to the song by herself just for Eurovision. Nina took part of the competitions thanks to her fans and as she said to the interviewers: »I couldn't say NO to my fans!« Nina said it was hard for her to write a song, because she hasn't been writing for a long time and she didn't know what to write about.
Nina: »I wrote the song about 5 hours, I concentrated my thoughts and energy and the story about the strong Georgian women was born.«
Nina wants to thank everybody for support to her song and thanks for the good comments about the song Warrior.
I'm warrior
still stucked in my mind
I've been in danger for too long
No no no
I'm warrior
still stucked in my mind
I've been in danger for too long
No

Complete lyrics for "Warrior"
Follow Nina Sublatti
Instagram: www.instagram.com/ninabgal/
Twitter: @ninasublatti
Spotify: spotify.com/artist/4oggScCoSfeUZPur5W...
Youtube: www.youtube.com/user/ninasublattivideos
Georgia has participated in Eurovision seven times since its debut in 2007, with the best result in 2010 and 2011 (11th place), and the worst result in 2014 (came last in Semi-final 2). The only year Georgia didn't participate was in 2009. They decided to send the song "We Don't Wanna Put In" to Moscow 2009, but because of a controversy about the lyrics in the song, EBU banned the song from participating, if the lyrics was not changed. GPB refused to change the lyrics, and withdrew from the contest.