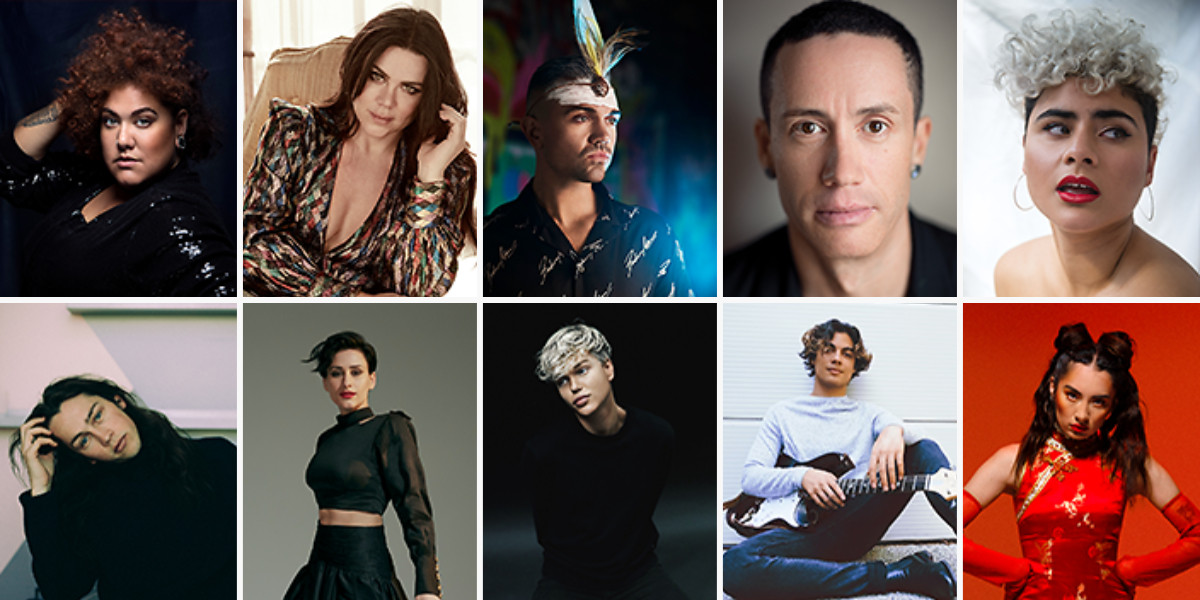 AUSTRALIA
All 10 artists for Australia Decides 2020 announced
All the 10 artists that will compete at next year's "Eurovision – Australia Decides" for a chance to represent Australia at Eurovision Song Contest 2020 have been announced
Australia's history at the Eurovision Song Contest is quite short, as they have only started competing in Eurovision in 2015, yet they have never failed to qualify for an Eurovision final and, just last year, they landed another top 10 with Kate Miller-Heidke's "Zero Gravity".
It was also last year that SBS – the country's public broadcaster – held a televised national selection to determine who should go to Tel Aviv and wave the Australian flag. Before 2019, SBS made the decision internally.
Following the good result in Israel and the good acceptance of the Australian public to the format, "Eurovision – Australian Decides" is back for one more year and, to create some hype around it, the artists are announced in the coming weeks.
Australia Decides is scheduled to air on 8 February 2020.
Australia Decides 2020 – Artists
Casey Donovan – "Proud"
Diana Rouvas – "Can We Make Heaven"
Didirri – "Raw Stuff"
iOTA – "Life"
Jack Vidgen – "I Am King I Am Queen"
Jaguar Jonze – "Rabbit Hole"
Jordan-Ravi – "Pushing Stars"
Mitch Tambo – "Together"
Montaigne – "Don't Break Me"
Vanessa Amorosi – "Lessons of Love"
Casey Donovan
Born in 1988, Casey is an Australian singer, songwriter, actress and author who won Australian Idol back in 2004 and went on to become a huge star in the country.
Casey is better known for her Pop, Rock and Folk music and has released an album so far and two EPs. Since her peak, the singer has made her mark as also a presenter, writer and actress as she is currently starring in the musical Chicago.
Her song is titled "Proud" and a sneak peek may be heard in Casey's interview for SBS in the video above.
Diana Rouvas
Greek-Australian Diana really rose to fame last July, when she was declared the winner of the latest edition of "The Voice Australia". She started her career back in 2012 when you took part to this programme for the first time. Her song "Can We Make Heaven" has not been premiered yet.
Diana says:
– I'm really excited to be in Eurovision – Australia Decides. As a Greek Australian, I am proud to represent the culture that our country is rich and abundant in, and I'd be so honoured to stand on that stage for Australia! It's an incredible opportunity for any artist. I'd be bringing my true authentic self to the stage...my life's work and dreams into that moment, and would be proud to earn a position on that stage and represent my country.
Didirri
Didirri's debut EP Measurements has collected over 30 million streams, and led to Didirri playing such renowned festivals as the UK's The Great Escape and Latitude Festival, Australia's Splendour In The Grass and Barcelona's Primavera Sound.
Didirri says:
– I have always been interested in writers. Although the world of Eurovision is new to me, from the outside it seems to respect a well-written song above all else. People seem to be free to express their art in whatever way they want. I'm a fan of ABBA, they wrote unfiltered, iconic anthems. My sister and I used to sing their stuff together in the bathroom. Who knows how they have influenced me, I'm quite a mix bag of ideas. Personal experience inspires most of my own writing - all I hope to do is to help people express some part of themselves. I'm also over the moon to be joining the line-up with my friend Montaigne who I respect very much.
iOTA
Singer and actor iOTA is the fourth artist announced. He has played in various successful musicals such as "Hedwig & the Angry Inch" and "The Rocky Horror Show". He has been nominated for an ARIA Award in the "Best Album" category.
iOTA says:
– I'm not your typical music competition kind of guy, but I am attracted to the Eurovision Song Contest for the color and movement, music and performance, light and shade, creativity and self-expression, singing and working an audience.
Jack Vidgen
22-year-old Jack won "Australia's Got Talent 2011" when he was only 14. He has already released 2 pop soul albums. His debut album "Yes I Am" was quite successful and certified Gold. His latest opus "Inspire" dates back from 2012. He participated to last year's editon of "The Voice Australia" and reached the semi-final as part of the Guy Sebastian's team. He has self-penned his entry "I Am King I Am Queen", a balad that was premiered yesterday.
Jack says:
– I am incredibly excited to be a part of Eurovision – Australia Decides 2020 and actually can't believe it's really happening. I'm a huge fan of Eurovision, so to be competing for the opportunity to represent Australia is mind-blowing. I adore my song I Am King I Am Queen which I co-wrote with Andrew Lowden. It's a real representation of me and everything I stand for and I think that everyone, young and old, will be able to relate to and take inspiration from this song. I hope that the Eurovision audiences love it as much as I do!
Jaguar Jonze
Jaguar is a Taiwanese-Australian singer that will definitely stand out in the line-up thanks to her uniqueness. Her entry will be "Rabbit Hole". Though it hasn't been released yet, her latest single can give us a glimpse of what to expect from this indie artist.
Jaguar says:
– For me, Eurovision - Australia Decides is a massive opportunity to show Australia who I am as an artist and what I'm passionate about. The selected 10 artists are all so talented and I'd be so happy for any one of us to represent Australia in Eurovision. I think it shows the diverse pool of creativity and talent in this nation and I'm honoured to be a part of it.
– I've always taken Eurovision to be about each country, and each artist expressing their individuality without boundaries. So much of Jaguar Jonze is about honesty and vulnerability and I'm excited to express the uniqueness that comes with it.
Jordan Ravi
Darwin-born Jordan Ravi was a contestant in the 2019 edition of "America's Got Talent" but was eliminated in the judge cuts. He is a talented young (19) singer-songwriter who enjoys combining pop music with classical or jazz influences. He will performe the yet to be released "Pushing Stars" on the big night. The song was partly penned by George Sheppard, one of "Australia Decides 2019" contestants.
Jordan-Ravi says:
– Eurovision – Australia Decides will be my debut on Australian TV and I am so honoured to be given this opportunity. I will be performing Pushing Stars, a song which came in via the SBS Song Portal, and was co-written by a couple of this year's Eurovision – Australia Decides stars, George Sheppard and Tania Doko. I am grateful that they put their trust in me to infuse my style and flare to their work this year! I'm a 19 year old guitarist and singer-songwriter from outback Darwin, and this is a great chance for Australia to get to know me. I will be doing my best and loving the opportunity to share the stage with some incredible artists. Bring it on!
Mitch Tambo
Mitch is the third artist announced, a Gamilaraay man based in Melbourne. Mitch is familiar with his unique ethnic sound originates from his heritage. Mitch says:
– I'm thrilled to be part of Eurovision Australia Decides in 2020 and to get the chance to perform on the world's biggest stage. Eurovision songs often mix elements of traditional and contemporary sounds, which is exactly what I set out to do in my own music. Most importantly, it brings different cultures together all under the banner of music, which is a beautiful thing!
Montaigne
Montaigne, 24, is based in Sydney, and has become a major name in Aussie indie music. She has reached multiple spot on the Triple J's Hottest 100, an ARIA award for Best Breakthrough Artist and a nomination for Best Female Artist on her debut album Glorious Heights.
Montaigne says:
– I'm excited to participate in Eurovision – Australia Decides for the opportunity to release the part of me that is dramatic and extreme. I manage to do it without a massive international music event as impetus, but on the big stage in Europe in front of millions would be everything the drama queen egomaniac inside me could want and more. It's licence to let her out. And of course to represent my country! I didn't quite get that far in football, so it would be cool to do it in music. It's like the World Cup for pop.
Vanessa Amorosi
The 38-year-old is an Australian singer and songwriter who has already sold over two million records woldwide. Besides having a crazy range and vocal ability, her music style goes from Pop to Jazz, Rock to Gospel.
Vanessa first came to the public's attention back in 1999 with the song "Absolutely Everybody" that reached top 10 in many countries around the world.
"Back to Love" is the singer's brand new album and, even though, she hasn't dropped a hint on what song she is taking to the competition, she openly says the song she'll sing in Australia Decides is within the album's tracklist.
Australia has participated in Eurovision Song Contest 5 times.
At Eurovision 2015 Australia was represented by Guy Sebastian and finished 5th in the Grand Final with the song Tonight Again. Australia was granted a wildcard, with the right to vote in both semi-finals, and with a secured place in the Grand Final.
At Eurovision Song Contest 2016 Dami Im represented Australia and finished 2nd with the song "Sound of Silence". Best result so far.
Australia qualified for the Grand Final 4 out of 4 times.