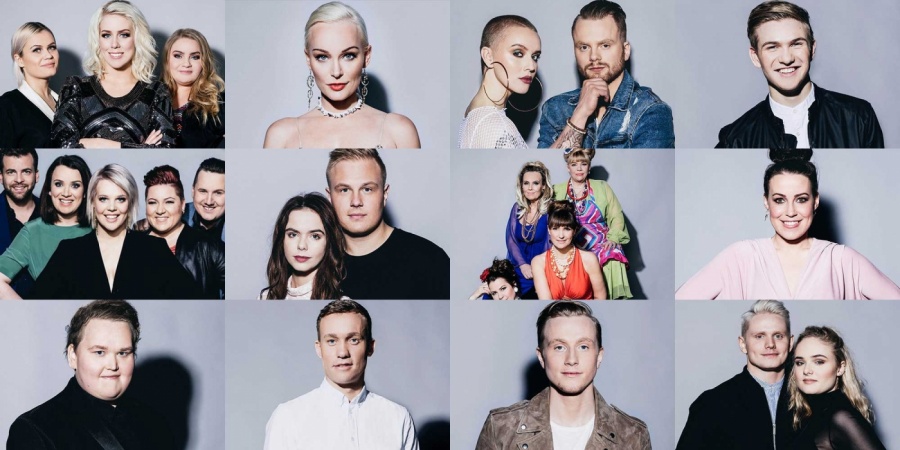 ICELAND
Iceland: Here are the songs & artists for Söngvakeppnin 2018
The songs and artists for Icelandic Söngvakeppnin 2018 have just been announced by RÚV. Listen to the songs and vote in our poll
UPDATE 24 JANUARY 2018:
Semi-final allocation determined
The songs and artists for this year's Söngvakeppnin in Iceland have just been announced by Icelandic broadcaster RÚV.
The acts were leaked on the music streaming service Tidal just hours before the official announcement.
Semi-final 1
10 February 2018
Artist
Icelandic
English
Ari Ólafsson
Heim
Our Choice
Fókus hópurinn
Aldrei gefast upp
Battleline
Þórunn Antonía
Ég mun skína
Shine
Þórir Geir Guðmundsson
Gyða Margrét Kristjánsdóttir
Brosa
With You
Tómas Helgi Wehmeier
Sólborg Guðbrandsdóttir
Ég og þú
Think It Through
Heimilistónar
Kúst og fæjó
Semi-final 2
17 February 2018
Artist
Icelandic
English
Aron Hannes
Golddigger
Gold Digger
Áttan
Hér með þér
Here for You
Dagur Sigurðarson
Í stormi
Saviours
Stefanía Svavarsdóttir
Agnes Marinósdóttir
Regína Lilja Magnúsdóttir
Svaka stuð
Heart Attack
Guðmundur Þórarinsson
Litir
Colours
Rakel Pálsdóttir
Óskin mín
My Wish
All the songs have to be performed in Icelandic language in the semi-finals. In the final it's optional for each singer if he/she will perform the song in Icelandic or in English.
The 12 songs have been chosen by an advisory song selection committee and the executive committee of the contest.

Söngvakeppnin 2018
Söngvakeppnin 2018 consists of two semi-finals and one final. The semi-finals will be held in Háskólabíó and the final in Laugardalshöll.
Semi-final 1: 10 February 2018
Semi-final 2: 17 February 2018
Final: 3 March 2018
12 songs has been picked to compete in Söngvakeppnin 2018 – Six songs for each Semi-final. Three songs from each Semi-final will qualify to the Final, decided by televoting.
In the Final of Söngvakeppnin 2018 a combination of 50/50 televoting/jury will select two songs for the Super Final. The two super finalists will perform their songs again, and here the winner will be decided solely by televoting.
All three shows will be broadcast live.
Iceland's debut in Eurovision Song Contest was back in 1986, and has been participating 29 times since. Best result are two second-places with Yohanna in 2009 and Selma in 1999.
Since the introduction of Semi-finals in 2004 Iceland qualified to the Grand Final 8 out of 13 times.
Iceland is the only Northern European country that has yet to win the Eurovision Song Contest.