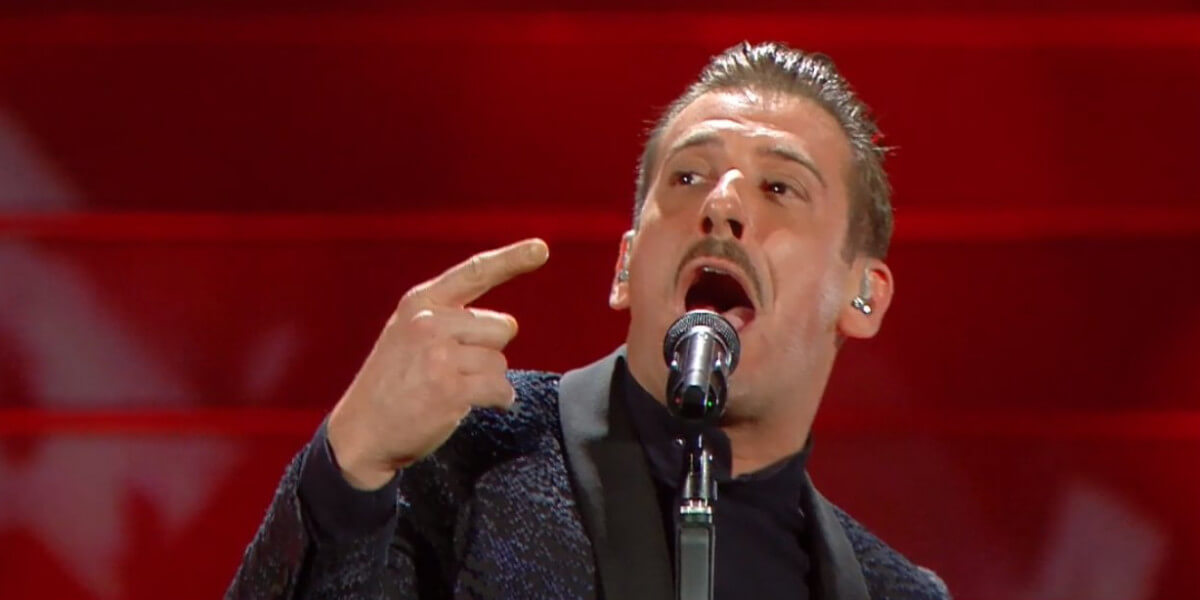 ITALY
Italy: Francesco Gabbani in the lead of Sanremo 2020 – Duo disqualified
All the 24 competing songs were performed at the Ariston Theater stage for the second time. With one night to go, here is the result of the fourth night of Sanremo 2020
Four nights are over, only one to go!
Tonight each artist performed their songs for the second time in Sanremo 2020, Italy's national selection for Eurovision Song Contest 2020.
At the end of the show, the ranking of the press jury voting was revealed. Saturday we will know the overall standings of the 70th edition of Festival di Sanremo.
Francesco Gabbani in the lead
The provisional ranking based on the first three nights were revealed just before tonight's show. After the first three nights, Eurovision 2017 participant Francesco Gabbani, is in the lead of the contest, followed by Le Vibrazioni and Piero Pelù:
Duo Disqualified
The night was marked by Bugo & Morgan's disqualification.
After one minute of performance, Bugo unexpectedly left the stage, leaving both the hosts and the audience perplexed and confused. Later, it was confirmed that Bugo behaved that way because Morgan has changed their song's lyrics without noticing him.
Since the duet decided not to come back to the stage, they were subject to the festival rules that determined Bugo & Morgan's exclusion from Sanremo 2020.
Press Jury Result – Night 4
Diodato – "Fai rumore"
Francesco Gabbani – "Viceversa"
Pinguini Tattici Nucleari – "Ringo Starr"
Le Vibrazioni – "Dov'è"
Piero Pelù – "Gigante"
Tosca – "Ho amato tutto"
Rancore – "Eden"
Elodie – "Andromeda"
Achille Lauro – "Me ne frego"
Irene Grandi – "Finalmente io"
Anastasio – "Rosso di rabbia"
Raphael Gualazzi – "Carioca"
Paolo Jannacci – "Voglio parlarti adesso"
Rita Pavone – "Niente (Resilienza 74)"
Levante – "Tiki Bom Bom"
Marco Masini – "Il confronto"
Junior Cally – "No grazie"
Elettra Lamborghini – "Musica (E il resto scompare)"
Giordana Angi – "Come mia madre"
Michele Zarrillo – "Nell'estasi o nel fango"
Enrico Nigiotti – "Baciami adesso"
Riki – "Lo sappiamo entrambi"
Alberto Urso – "Il sole ad est"
Bugo & Morgan – "Sincero" (Disqualified)
Sanremo 2020
Sanremo Night 1: Tuesday 4 February 2020
Sanremo Night 2: Wednesday, 5 February 2020
Sanremo Night 3: Thursday, 6 February 2020
Sanremo Night 4: Friday, 7 February 2020
Sanremo Final: Saturday, 8 February 2020
At Nights 1 & 2 (Tuesday & Wednesday) all the 24 artists performed their song for the first time, half of them in the first one, the other half in the second night. The outcome of both nights was decided by a demoscopic poll.
At Night 3 (Thursday) all the 24 artists had the chance to choose and to perform songs that have competed at previous editions of Sanremo Music Festival. The members of the orchestra and choir decided Thursday's ranking.
At Night 4 (Friday) all the 24 artists performed their own song again. The press jury judged every act and a new ranking was elaborated, where all the previous votes from previous nights were added.
At Saturday's Final, every contestant will perform their songs again. In a first stage, the voting will be determined by a system involving the demoscopic jury (33%), the press jury (33%) and the televote (34%) - songs will be ranked from 24th to 4th place.
The top 3 acts qualify to the Super-final. A new voting will take place and at the end of it, we will have the winner of the 70th edition of Sanremo Music Festival, and Italy's representative for Eurovision Song Contest 2020.
Italy has been in Eurovision for 45 contests. They have won twice, in 1964 with the song "Non Ho L'étà" and in 1990 with "Insieme: 1992". Worst result was in 1966 where they finished last.
The most known song is "Nel Blu Dipinto Di Blu" or better known as "Volare" from 1958. It is also the most covered Eurovision Song Contest song. The song has been covered by famous stars such as Dean Martin, Cliff Richard, David Bowie and many more.
Italy had a long pause from Eurovision Song Contest from 1998 to 2010. Since then Italy has been a "Big-5"-country, automatically qualifying for every year's Grand Final.