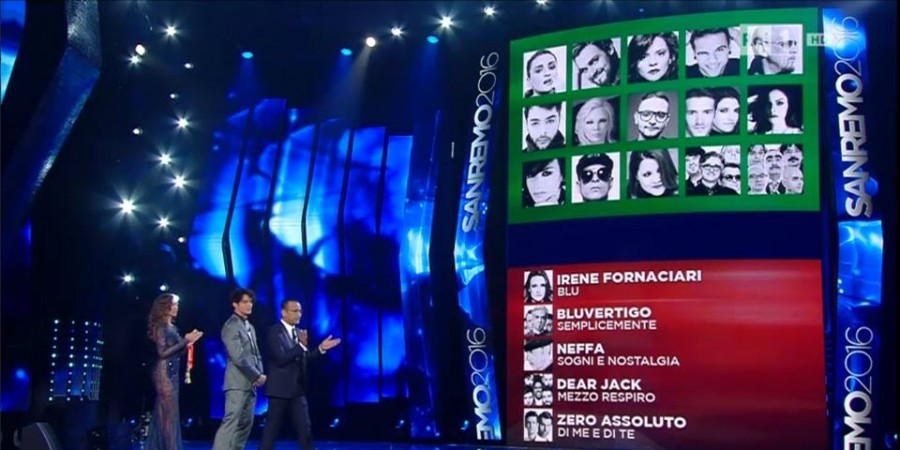 ITALY
Italy: Here are 15 of the finalists for Sanremo 2016
Who will win Sanremo 2016? Friday night we moved a bit closer to the answer when the Semi-final was aired. 15 participants are sure of a place in Saturday's final, the sixteenth and last finalist remains unknown until the televoting is over
We have reached the final night of the contest. After a long show, we now know the 15 finalists that will compete in the final of Sanremo, with the chance of representing Italy in Stockholm.
Televoting is now open to save one of the bottom five acts.
The Direct Finalists:

Annalisa - "Il diluvio universale"
Rocco Hunt - "Wake Up"
Giovanni Caccamo & Deborah Iurato - "Via da qui"
Enrico Ruggeri - "Il primo amore non si scorda mai"
Francesca Michielin - "Nessun grado di separazione"
Elio e le Storie Tese - "Vincere l'odio"
Patty Pravo - "Cieli immensi"
Alessio Bernabei - "Noi siamo infinito"
Valerio Scanu - "Finalmente piove"
Noemi - "La borsa di una donna"
Stadio - "Un giorno mi dirai"
Arisa - "Guardando il cielo"
Lorenzo Fragola - "Infinite volte"
Dolcenera - "Ora o mai più (le cose cambiano)"
Clementino - "Quando sono lontano"
The Bottom Five:

Zero Assoluto - "Di me e di te"
Irene Fornaciari - "Blu"
Neffa - "Sogni e nostalgia"
Dear Jack - "Mezzo respiro"
Bluvertigo - "Semplicemente"
Sanremo 2016 schedule
Heat 1
Tuesday, 9 February
The first show featured ten Big Artists. These ten songs were voted upon by a 50% press jury and a 50% televote. No eliminations.
Heat 2
Wednesday, 10 February
The same voting system was used in the second show, where the other ten Big Artists performed. There were no eliminations during these two shows, and therefore all the twenty songs advanced to the fourth evening - the semi-final. No eliminations.
Covers night
Thursday, 11 February
Thursday was the "Covers Night" where each act of the Campioni performed a cover of an Italian song or an international hit translated into Italian. The best cover, as determined by the equal combination of votes from a press jury and a public televote, was awarded a prize. No eliminations.
Semi-final
Friday, 12 February
The 20 acts will compete for a place in the Final on Saturday. The voting procedure during the semi-final will be of 40% televote, 30% expert jury and 30% demoscopic poll. The weighted average of the votes from the first and second evenings as well as the votes from the fourth evening will produce a total ranking of all of the songs. The top 15 entries will qualify directly to the final held on Saturday. The bottom five entries from the fourth evening will enter a repechage round (a Second Chance round), and face an additional public televote to determine the one entry that will be readmitted to compete in the final; the other four entries will be eliminated. 16 qualifiers – 4 eliminations.
Final
Saturday, 13 February
In the final, a total of 16 songs will be competing. The top three will advance to a second round of voting in order to select the winner. The results of both rounds of voting will be determined by a 40% televote, 30% expert jury and 30% demoscopic poll.
Eurovision 2016 will be Italy's 42nd contest. They have won twice, in 1964 with the song "Non Ho L'étà" and in 1990 with "Insieme: 1992". Worst result was in 1966 where they finished last. The most known song is "Nel Blu Dipinto Di Blu" or better known as "Volare" from 1958. It is also the most covered Eurovision Song Contest song. The song has been covered by famous stars such as Dean Martin, Cliff Richard, David Bowie and many more...
Italy had a long pause from Eurovision Song Contest from 1998 to 2010. Since then Italy has been a"Big-5"-country, automatically qualifying for every year's Grand Final.
Last year, Italy achieved 3rd place, and were represented by the group Il Volo with their song "Grande Amore".