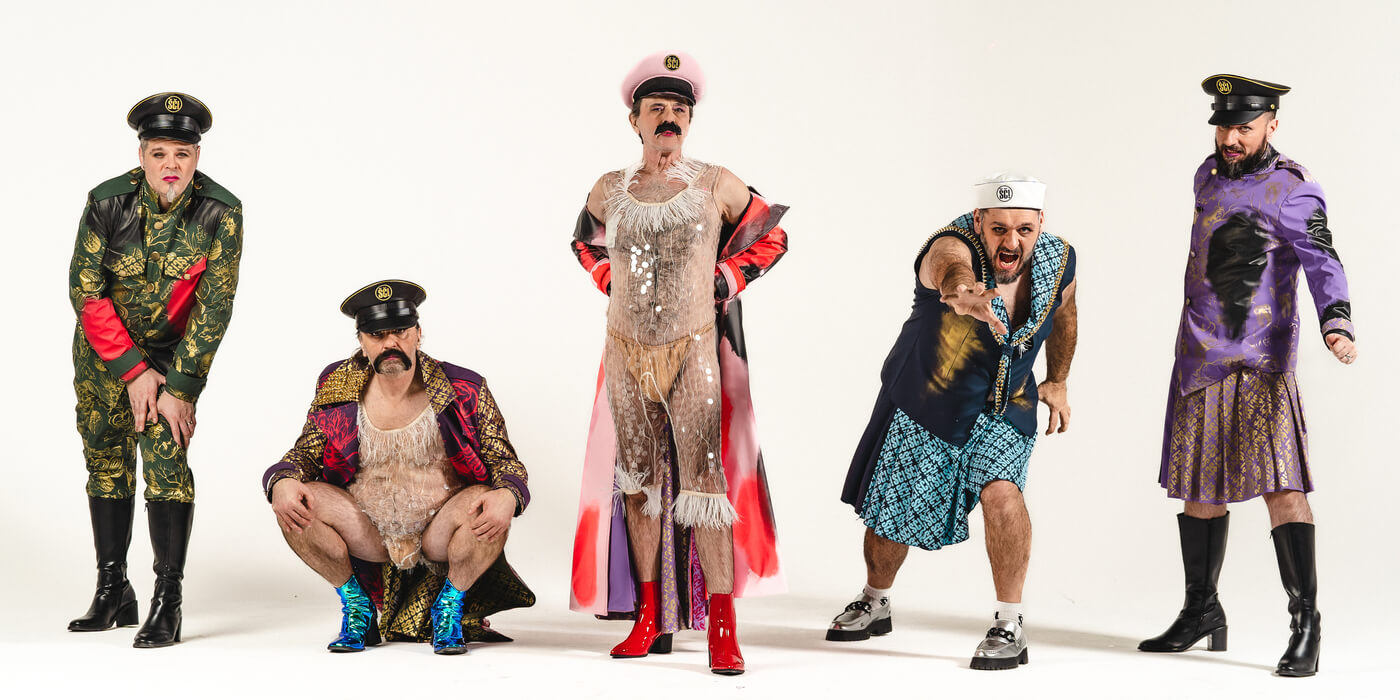 CROATIA
Let 3 from Croatia: "We want to heal the world from hate and stupidity"
INTERVIEW The Eurovision spirit is stronger than ever in Croatia thanks to Let 3 who will sing "Mama ŠČ" at Eurovision 2023 in Liverpool. We sat down with two of the band members to discuss this unexpected journey and understand their song and goal with Eurovision, as well as the causes they stand up for
ŠČ!
That would be the only appropriate way to initiate this interview with Croatia's Eurovision 2023 representatives, the band Let 3.
Zoran Prodanović (Prlja), the band's frontman, explains:

– "ŠČ" is like our mantra, it doesn't mean anything specifically. You can simply wake up in the morning and say "ŠČ," go to bed and say "ŠČ," eat and say "ŠČ," you can walk your dog and call it "ŠČ"...
– It features a catharsis energy, it has healing powers to it, adds Damir Martinović (Mrle), the bass guitarist of Let 3.
– We want to use this energy to heal the world from trauma, from hate, and from stupidity. The whole idea is to protect the power of love.
It becomes quite obvious that what truly moves Let 3 isn't competition but real causes, and quite early in our conversation Zoran assumes the antiwar nature of the song, an aspect that some censor about "Mama ŠČ," their Eurovision entry:
– I think artists are always responsible for addressing things that happen around us. We are, in ways, speakers of the world, and I don't understand why someone wouldn't address such factor in an event like Eurovision. Why not? I think we have to.
We want to use this energy to heal the world from trauma, from hate, and from stupidity.Damir Martinović, Let 3
– We have to do it in our way, and in Let 3's way there's no place for racism, for sexual discrimination or for wars. We're pro-transhumanism, against the war and against stupidity, and we do send this message through our song and performance.
It wouldn't be faithful to the band's history if it were done in any other way. The band started back in 1987, and even then they were advocating for women's rights, LGBT+ rights, and so much more.
– Some things never change. In 1987, our country was the Republic of Yugoslavia that got torn apart and, of course, it wasn't a peaceful separation. There was war. We're not too far from that.
And why is it still important to continue to open mentalities? It's been over 30 years...

– We always have something else to say to the world and to bring to people. We do our best in order to make the world a better place, and that's our main motive: to fight against stupidity, to fight against hunger, to fight against the stereotype of who is who. We're not against anyone, and we're up for everyone, says Zoran.
– We need more tolerance, adds Damir.
– Nowadays, it may even be more important if we think about the Earth and how we get closer to some kind of a catastrophe. We want to send a message to the world that there will be generations after us, and that we should keep our planet clean in order to save lives and not to destroy them.
– It's like football
It was back to the busiest Saturday of this Eurovision season, 11 February, that Croatia decided that Let 3 should represent the nation with their antiwar song, "Mama ŠČ." The choice was unanimous between the professional jury and the televote, which culminated in a landslide with more than 100 points separating the two first places in Dora 2023.
After their victory, Croatia rose in the bookmakers' rankings, and saw a surge in its chances of winning Eurovision 2023. The nation, which hasn't qualified for the Final since 2017, is now likely to make it from Semi-final 1, and the Eurovision spirit is more alive than ever:
– On one hand, we're very proud of having achieved that, but on the other hand, there's pressure. We don't care if we flop, comments Zoran.
– There are big expectations this year in Croatia, but for years there wasn't, Damir adds.
Zoran continues:
– Suddenly, everybody knows everything about Eurovision and reads everything about it, and even listens to all the songs. It's like football.
We're not against anyone, and we're up for everyone.Zoran Prodanović
We're meeting with the two members of Let 3 the day before their performance at Madrid's PrePartyES. It's almost lunch time and the band arrived to the Spanish capital at 23:00 the previous night. How can they keep up with such a crazy agenda?
– It's too much airplane time, says Damir.
– Yes, and waiting in the airport isn't great but it's part of the game, you have to be ready. Well, it's faster than walking, jokes Zoran.
When speaking about the experience so far, the band seems to be surprised by the reception they've been getting from the community:
– We didn't expect it, honestly. It was our first time in Warsaw (for the Polish Eurovision pre-party), and when we got on stage it was a mess. In a good way, we couldn't believe it. Everybody was singing, dancing, clapping...it was great!
Didn't expect to win
Few predicted Let 3 would win Dora 2023, and the victory came as a surprise for the band members:
– We had no intentions of competing in Dora or winning it. We eventually did it because Dora is a good opportunity in Croatia to have the focus of the audience on yourself and to pass your message across to a good amount of people.
Why didn't you expect to win?
– That doesn't mean we didn't believe in ourselves. We just didn't really care if we won or not, but we had a great performance and now we have a chance to send our message to an even bigger audience which is beautiful.
That brings up another question related to ageism. In current times, many international stars are faced with ageism and with prejudice given their age. But not Let 3. The band claims that after Dora they were introduced to new generations that seem to enjoy their music:
– In Croatia, all that's happening with "Mama ŠČ," and Eurovision made a lot of younger people come to our shows, and a lot of people send us supporting messages which is nice. I think it means we're still fresh with our style.
For many viewers, 9 May will be the first time they'll hear of Let 3. How does the band describe their sound?
– Psychedelic trash is the best way to do it, says Damir.
– We're a powerful band, and simplifying, I'd say we're a rock band but we always make experiments with our sounds. We are open to every influence around us, styles, new technologies, and so on. Sometimes we mix folk music with electronic music, metal, house music, or even farts, Zoran jokes.
– We like to change and we never repeat ourselves.
Back in the day, Let 3 actually "shot" themselves live on stage and released an album titled "Nečuveno" which didn't have any recordings on it.
– We have very good performances, and we're a mix of music, words, costumes, choreographies, videos, and much more. Every part is important, and if you pull a piece out it will no longer work.
The golden tractor
Shortly after their visit to Poland and Israel for both pre-parties, the band presented their electric golden tractor suggesting that they intend to travel to Liverpool by road and teleportation, all thanks to their creation, but also to transhumanism, a movement that advocates the use of current technologies to improve human capabilities.
When I ask about the preprarations for Eurovision 2023, that's part of their answer:
– The main part of the preparations has been the creation of the golden tractor, which will be our mean of transportation to Liverpool, says Damir.
– The tractor is a symbol of transhumanism. It doesn't rely on fossil fuels and uses renewable sources of energy that don't pollute the environment. Technology and humans came to a point where we can use all of this to rule out hunger, evil and stupidity.
The tractor will be in Liverpool, but how about the remaining part of the staging?
– There won't be massive changes from our national selection. We will just have to adapt to the bigger stage, clarifies Zoran.
Those who don't speak Croatian, and even if the band is certain the message of the song is clear, shouldn't have to worry about not understanding the meaning behind the entry.
Its antiwar connection becomes even more evident with the performance. In the middle of the performance, the band members fall on the floor representing the drop of a bomb, and it becomes clearer with the arrival of sky rockets in the end that feature a nice extra thing: fireworks. All of this is expected to be brought to Liverpool.
All eyes are on Let 3 and the expectations are high, especially in their home country. But regardless of what happens, the band is proud of their journey so far, and that's their main focus:

– We're not going to Eurovision focused on winning. We'll do the best we can, and we will put on the best show we can put on. If we do it right, we'll get a good result but that's not the most important part for us. We're already very happy with all that's happening.
Let 3 will take the Liverpool Arena stage to perform "Mama ŠČ" in Semi-final 1 on 9 May.