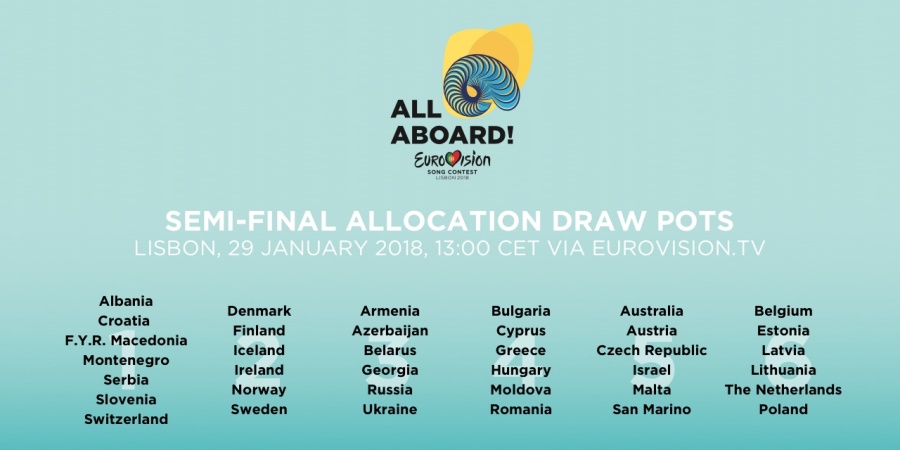 LISBON 2018
Lisbon 2018: Allocation draw on 29 January
The semi-final allocation draw for Eurovision Song Contest 2018 will take place on 29 January 2018. The draw determines which countries are allocated to which of the two semi-finals
Portuguese broadcaster RTP will hold the semi-final allocation draw on 29 January 2018. The draw determines which countries are allocated to which of the two semi-finals at Eurovision Song Contest 2018.
The allocation draw takes place in the City Hall of Lisbon on 29 January 2018 at 13:00 CET, and will be streamed online. Hosts are Sílvia Alberto and Filomena Cautela (two of the hosts for Eurovision 2018).
Facts about the allocation draw 2018
43 countries participate in Eurovision Song Contest 2018
6 of the countries are pre-qualified for the Grand Final (Big-5 and host)
The first Semi-final will have 19 participants and the second will have 18
The 37 countries are distributed into 6 allocation draw pots based on the voting pattern between them to avoid neighbor voting
After a country is drawn, a second draw determines whether that country will participate in the first or second part of the semi-final
The six countries pre-qualified for the Grand Final (Big-5 and Portugal) will also draw to decide in which semi-final these countries will vote
The final running order will be decided later by the Portuguese producer and broadcaster, RTP, and approved by EBU
Allocation Draw Pots
To ensure a fair voting and competition, the 37 countries are distributed into 6 Draw Pots, based on the voting pattern to avoid too much neighbour voting.
Albania, Croatia, FYR Macedonia, Montenegro, Serbia, Slovenia, Switzerland
Denmark, Finland, Iceland, Ireland, Norway, Sweden
Armenia, Azerbaijan, Belarus, Georgia, Russia, Ukraine
Bulgaria, Cyprus, Greece, Hungary, Moldova, Romania
Australia, Austria, Czech Republic, Israel, Malta, San Marino
Belgium, Estonia, Latvia, Lithuania, Netherlands, Poland
How will the draw be made?
The draw will be divided into two parts:
1: Which pre-qualified countries vote in which Semi-final?
The first part determines which of the six pre-qualified countries (Big 5: France, Germany, Italy, Spain, UK, and host: Portugal) will broadcast and vote in which of the two Semi-finals
2: Who's in which Semi-final?
The second part determines in which of the two Semi-finals (and in which half) each country will participate in
The first six countries for Semi-final 1 will be drawn: From each of the six allocation draw pots, a country will be drawn, and after each country, a second draw determines if the country will perform in the first half or in the second half of Semi-final 1.
The first six countries for Semi-final 2 will then be drawn (same recipe as the six for Semi-final 1)
This continues until each of the 37 countries have been allocated to one of the two Semi-finals