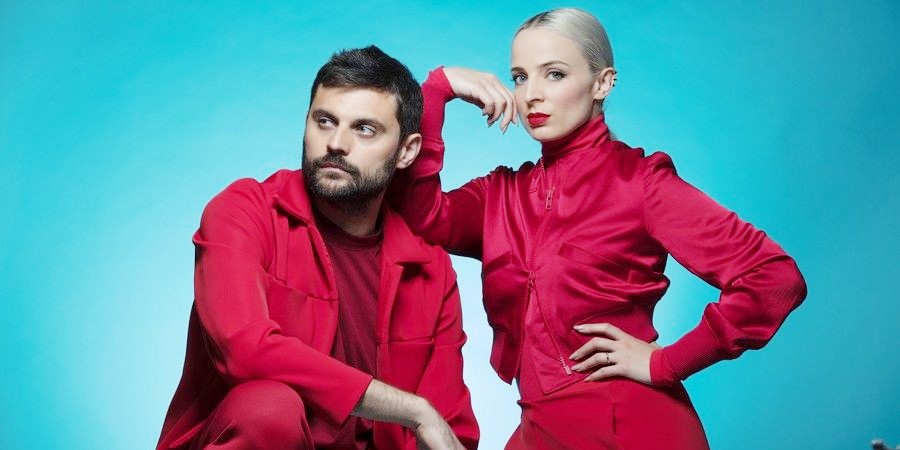 FRANCE
Madame Monsieur: "The day after Eurovision was the worst"
It was tough to take the thirteen place at Eurovision, says Madame Monsieur in an exclusive interview with Eurovisionworld. We met with Madame Monsieur's Émilie and Jean-Karl, and talked about expectations, disappointments, no regrets, and meeting the girl Mercy
For many people there were no doubts that France was finally going to win the Eurovision Song Contest with Madame Monsieur's Mercy. They were one of the main favorites of the fans and also one of the main bets of the bookmarkers.
The French duo Madame Monsieur (Émilie Satt and Jean-Karl Lucas) was the big name of this year's Eurovision Live Concert in Portugal and fresh off the airport the couple arrived at José Afonso's auditorium at the day of the event. With shades, a hat and a t-shirt (where one could read "Gelato"), Émilie and her husband – wearing a casual black t-shirt and jeans – sat down at the event's backstage while enjoying a beer to talk to Eurovisionworld about the Eurovision 2018 experience and more.
We could be in Top 5
The hype back in May was so strong that it led the duo to believe they really had a chance:
– In the beginning we thought that it wasn't possible but, at the end, we started to think that we could be top 5, Émilie recalls.
– We started to believe what the bookmarkers said... What everybody said as we aren't Eurovision experts.
Nonetheless, the results came in and, besides France being awarded the first 12 points of the night, that didn't happen again. At the end Madame Monsieur ranked right at the middle of the scoreboard with an overall 173 points.
We started to believe what the bookmarkers said... What everybody said as we aren't Eurovision expertsÉmilie Satt
– The worst was the day after, Émilie says looking down yet smiling while remembering the night of the show:
– We went to the hotel with our family and fans... Everybody was hugging, I don't know how we managed not to cry!
The tears came the day after:
– It was really hard because we stepped down.
When back in France, things weren't much better. While, according to Jean-Karl, French people were proud of being represented by "Mercy", they still were disappointed:
– We were thirteen. It is not a victory so they were very disappointed.
Looking at the bright side of things, he continues:
– But it had great TV ratings – one of the best since ten years ago in France!
Nonetheless and despite this reaction, the duo looks at the experience in a very positive way and proudly:
– Two days after, it was only the good moments that remained. We were disappointed at first but that was still a special moment, says Jean-Karl. Adding to that, Émilie continues:
– When we think about the results, we were 13th out of 26, it was right in the middle. It was a song about migrants and in French. This is significative.
Wouldn't change a thing
The duo did expect more from their song and performance but admit they did exactly what they wanted to do:
– There's no regrets. We were very proud of our performance and of the team around us. We wouldn't change anything, says Jean-Karl before taking a sip of his beer. Émilie adds:
– We absolutely wanted to respect the song and its story. If we tried to do something more, it would have been weird.
– We wanted it to be honest with us. With the audience. We wanted to focus on the song and its emotions.
Meeting the little girl who inspired "Mercy"
Just one week ago, Madame Monsieur met the girl who inspired them for the song "Mercy". When Émilie talks about the meeting, her face is genuine:
– It happened three days ago. It was a very special and natural moment.
While not giving too much way – as a special event is scheduled to happen soon – the duo reveal that they spent an entire day with Mercy and guarantee:
– I can tell you that she's fine and she's beautiful.
---
France is a grand old country in Eurovision. They have participated 61 times since the start of Eurovision in 1956.
The best results are five victories in 1977, 1969, 1962, 1960, 1958. The latest victory was in 1977 - 40 years ago! The worst result was in 2014, where France ended last in the Grand Final, and in the last 15 years, they only managed twice to be in top-10.
France is a member of "Big 5", so they don't have to go through the semi-final-qualifications, but are automatically qualified for the Grand Finals.
About the author: Pedro Santos (Portugal)
Pedro comes from Lisbon, Portugal. He's 26 years old and graduated in journalism. He has attended Eurovision Song Contest twice - 2018 and 2019 - but his first Eurovision memory takes him back to 2007 when Sarbel delivered his catchy "Yassou Maria" performance. Pedro's favorite Eurovision song is Albania's 2015 "I'm Alive" by Elhaida Dani which is also his favorite Eurovision edition.