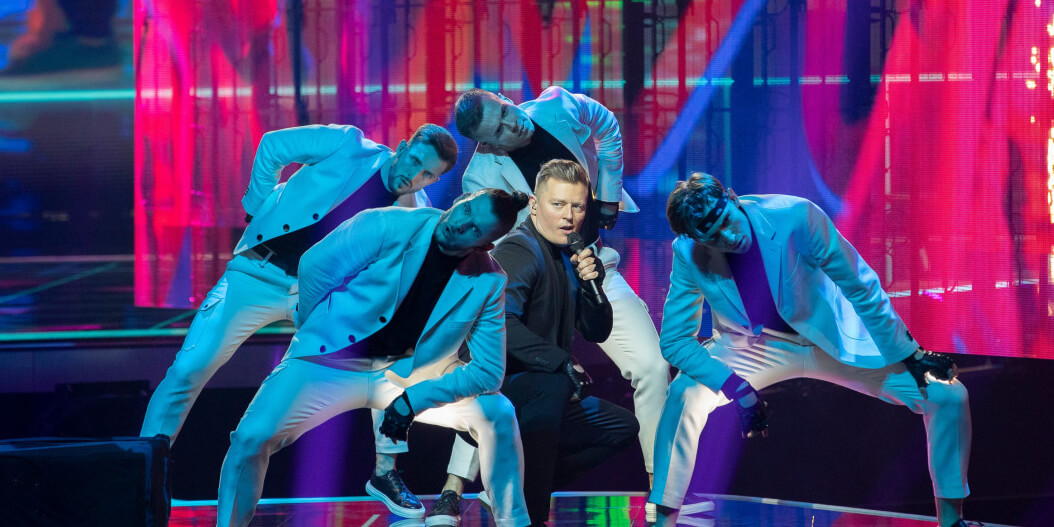 POLAND
Rafał from Poland after first rehearsal: "Now I know what to do"
INTERVIEW Rafał is the artist singing for Poland in Eurovision 2021. We caught up with the Polish singer right after his first rehearsal to get his reactions but to also talk about this new adventure that has had its ups and downs
It's time to speak with Rafał who's representing Poland at this year's Eurovision with the song "The Ride".
Rafał is not even five minutes late but he apologies straight away:
– Sorry, I am a little bit late. I was wraping up another interview.
You can tell right away he is funny, easy-going and extremely professional.
– The good thing is that we have time now.
We breathe in, breathe out and start our conversation.
Rafał has already stepped on the Eurovision stage for his first run of rehearsals but he is no stranger to that arena:
– I've been in Rotterdam Ahoy a few times already to see other shows like The Ladies of Soul.
This time, he will be the one on the big stage. How does it feel?
– It feels good. I have waited for this moment. I am a performer and therefore, if the stage is bigger, that's even better!
I think we can do betterRafał
For those who don't know, the accredited press for Eurovision has almost integral access to the rehearsals that happen on stage, except for the very first one. With that being said, we were able to see some runs of his first time onstage. He doesn't seem to be too happy about that:
– I know the rehearsals are already on the internet and I don't think they should be... Maybe just the second. In your first run, you need to setup everything. We need to understand the way we step on the platform, stairs, the movements, we need to be careful with pyrotechnics and so on. Singing is not the main point.
I need to ask: Did anything go wrong?
– I think we can do better and we will on the next rehearsal and we will. It's not showtime yet.
Well, he does have a point. It's yet time to put the puzzle pieces together.
– Exactly. They're called rehearsals for a reason and you get to change things. It's great to have this opportunity.
An homage to Warsaw through neons
Rafał had already teased the staging to be inspired by the 80s vibe of his song and also the music video for it. I ask him to elaborate:
– Yes, it's sort of inspired in the style of a video game. It's very retro, very 80s, focused on sunglasses... I take them off, I put them on... I guess you have a question?
He's right and we both laugh. I couldn't help but to ask about the sunglasses. Is that really part of Rafał or is it just for Eurovision?
– I think we created that just for the show and this song. I do love sunglasses but back in the 80s they were really famous.
We needed to bring something from PolandRafał
The neon lights are a huge part of the staging and it seems that it's the way of Rafał to bring a piece of Poland to Eurovision:
– The music video for "The Ride" was shot in the Museum of Neons, in Warsaw, my city. They're really famous in Poland. Since we have a song in English, we needed to bring something from Poland and we thought this would be it.
The internal selection
I ask Rafał if we can go back in time and discuss the time when he was announced as the Polish representative, something that left a few Eurovision fans that the broadcaster didn't keep Alicja, their last year representative.
– I just sent in a song and therefore the Polish broadcaster has the right to choose their own artist, it's within their regulation and it seemed they were looking for something upbeat, he explains.
It seems that the public in Poland saw Rafał's participation as a game of interests:
– I think the issue relies on the fact that I am a host in that TV channel so people think this was planned. It wasn't. They just chose my song.
To those still bothered by that, the Polish singer advises that you redirect your critics and negative comments to TVP.
– Something I can't understand is that most of the bad comments come from Polish fans. I understand their side but we need good energies and they need to understand I am doing my job.
I ask him if it affects him:
– Not really. I've been working in this business for so many years and I know how things go. I am excited to be here and I can't wait to sing. I have to be focused and relaxed because the public feels your energy.
A message of optimism
As he said, he has been in the spotlight for quite a few years. What's his Eurovision goal?
– To get experience and to make new friends. I don't know what I am going to do after... At this point, I don't even know if I am making it into the finals. It's just great to have this opportunity and, as of now, Eurovision is the most important thing in my personal and professional life.
Now I know what to do. Give me the microphone and I will do it!Rafał
Throughout this interview, I couldn't help but to feel that Rafał was a little bit fussy. I can't help it and tell him:
I believe you should truly enjoy yourself and focus on being positive. This is a one time experience and goes so fast.
– Thank you. Thank you for your words and your good vibes, Pedro. You're right, this is one of the biggest experiences of my life and I know that some comeback, but I don't think that will be my case. Fingers crossed for all the artists and everyone who's part of this community.
Before I let him go, I want to know: Expectations for the second rehearsal?
– I want to go on stage and be better. Now I know what to do. Give me the microphone and I will do it!
Rafał will be representing Poland with the song "The Ride" in Semi-Final 2 on 20 May 2021.