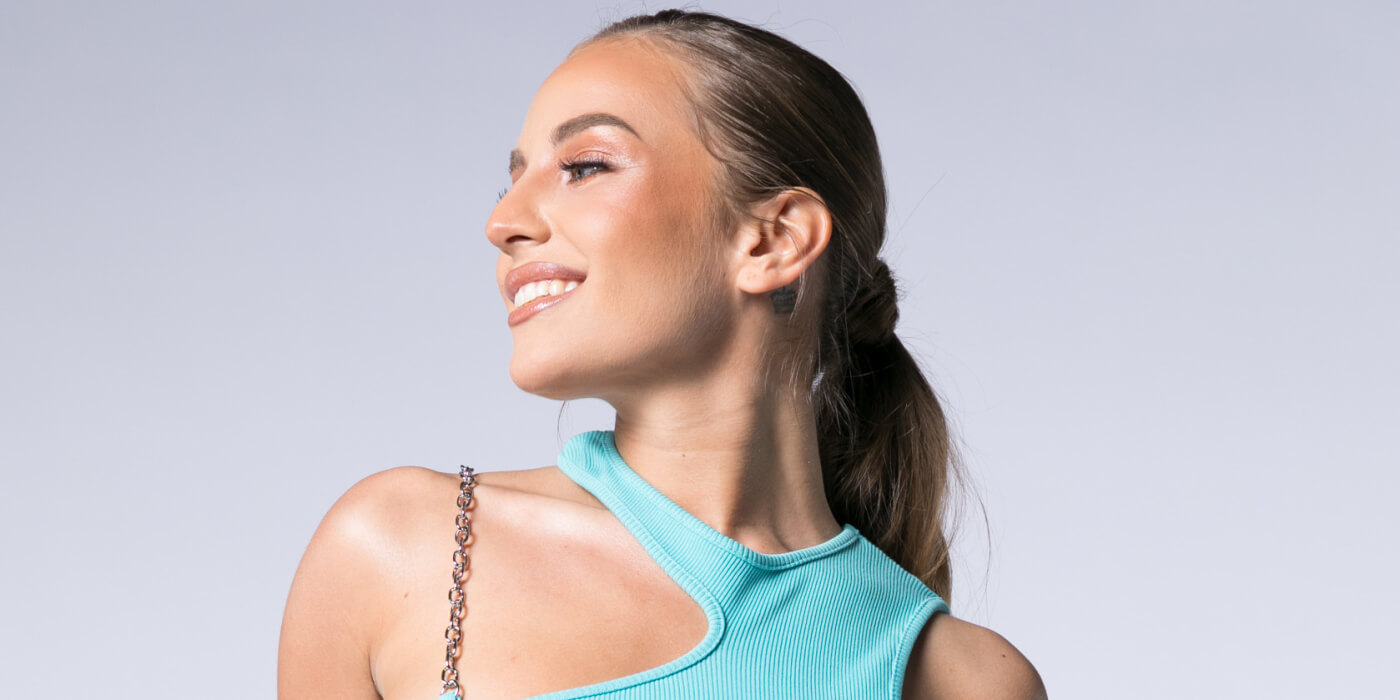 CYPRUS
Andromache: "I just want to honour Cyprus"
INTERVIEW Andromache will represent Cyprus at Eurovision Song Contest 2022 with the song "Ela". We spoke with the Cypriot representative to discuss her Eurovision journey, the seashell on stage and the responsibility of representing Cyprus
Cyprus continues its trend on bringing beautiful and talented women to the Eurovision Song Contest stage. This year is no exception with Andromache and the song "Ela".
She was born in Germany but at the age of nine moved to Greece where she eventually became a known and popular singer.
In the Greek mythology, Andromache was a goddess: wife of Hector and daughter of Eetion. This year's Cyprus representative is not too far from being considered a Greek goddess herself...
– Oh, stop!, Andromache says while covering her face.
Andromache will perform at the second semi-final of the Eurovision Song Contest 2022 and her staging may just be one of the most interesting ones: there's a huge seashell where she stands for the entire act and is joined by two dancers. Focusing on the theme just discussed, does she indeed feel like a Greek goddess?
– I mostly feel like Andromache, like myself. I feel good and I feel really comfortable.
And whose idea was it to bring that big seashell to Turin?
– When I heard the song, the first thing that came to my mind was myself in a seashell singing, so that was my idea. Luckily, we were on the same page as the rest of the team so it was possible to make it happen.
During her second press conference, someone asked if what we see on the stage really is a seashell or waves:
– It's so nice that everyone can have their own interpratation of it. It can be a seashell, the ocean, waves... I see a seashell turning into a wave. We come out of it and sing in order to try to seduce who we love.
For the song "Ela", do not expect a demanding choreography from Andromache to the likes of Eleni Foureira (Cyprus 2018) or Elena Tsagrinou (Cyprus 2021) but expect some moves... Delicate ones. Are those hard to execute standing in that big seashell?
– I mean, this choreography is not that difficult. It's more of the feeling that I have to portray and to give out. On the other hand, the song is difficult.
When we spoke with Andromache, she had just finished her second rehearsal. Is she ready?
– The rehearsals went really well. We did have some problems but we fixed everything in time. I do think I am ready for the big night.
Girl power
We already mentioned previous Cypriot acts such as Eleni Foureira, Elena Tsagrinou but we could add Tamta (Cyprus 2019) to the list. How does Andromache feel coming after such strong, beautiful and talented women?
– That is just beautiful. I feel no pressure because everyone is so different and unique. I am really happy for Cyprus and for the artists before me because they are amazing. I am honoured to fill in their shoes.
"Ela" is a very feminine entry...
– It is in the sense that I have two beautiful, amazing and talented dancers. Nevertheless, in the song, I am actual trying to seduce the man that I love. I tell him to come to me and to put wings in my dreams.
We understand that there's a storyline associated with the song but what does the song mean to her?
– It's a really important turning point in my life because changes are coming. It is also a song that brought next to me amazing people with pure hearts and souls. We have so much pressure but it doesn't make us unhappy or feel bad energies.
This song is Andromache's first song to feature English lyrics. And it will help the viewers and listeners to understand the song better.
– I'd be really happy to sing a full Greek song. That would require more of me. I'd have to try harder to explain the song with my eyes, singing and dancing and, because of that, I am happy because since it has an English part people can understand it.
– Greek is a very melodical language. We have so many words to describe everything you can think of. I think I mostly sing in Greek because, when I was growing up, my father used to sing Greek songs to me and to my sister.
The Eurovision journey
Everyone comes to Eurovision with a goal. What is your goal?
– I want to show exactly who I am. I want to do the best for Cyprus and I want to honour Cyprus and make them proud. That's my goal.
And what is your connection to Eurovision?
– I have always watched Eurovision. I always knew all the songs... I was a Euro fan! I had this connection with the contest but it was never in my mind that I'd be actually here. But look! Here I am! It seemed just so far away but now it's happening.
Andromache's career is in full swing, and in just one week it's time to leave Turin and head home. But what about the future?
– First of all I need holidays, she says while laughing.
– After that we want to visit other countries too... Release new songs, a new album and do a lot of performances in Greece and Cyprus.
And while it hasn't ended, this experience is already marked in Andromache's body:
– I got a tattoo similar to our stage to mark this beautiful journey and my team will get one too!
Andromache will perform at the second semi-final of Eurovision 2022 on 12 May.
Cyprus in Eurovison Song Contest
Since Cyprus debuted in Eurovision Song Contest in 1981, the country has not yet managed to win in any of the 37 times the country has participated.
Cyprus came close to win in 2018 when Eleni Foureira finished 2nd with Fuego, the best result so far.
Since the introduction of the semi-finals in 2004, Cyprus has qualified for 10 out of 16 Grand Finals.