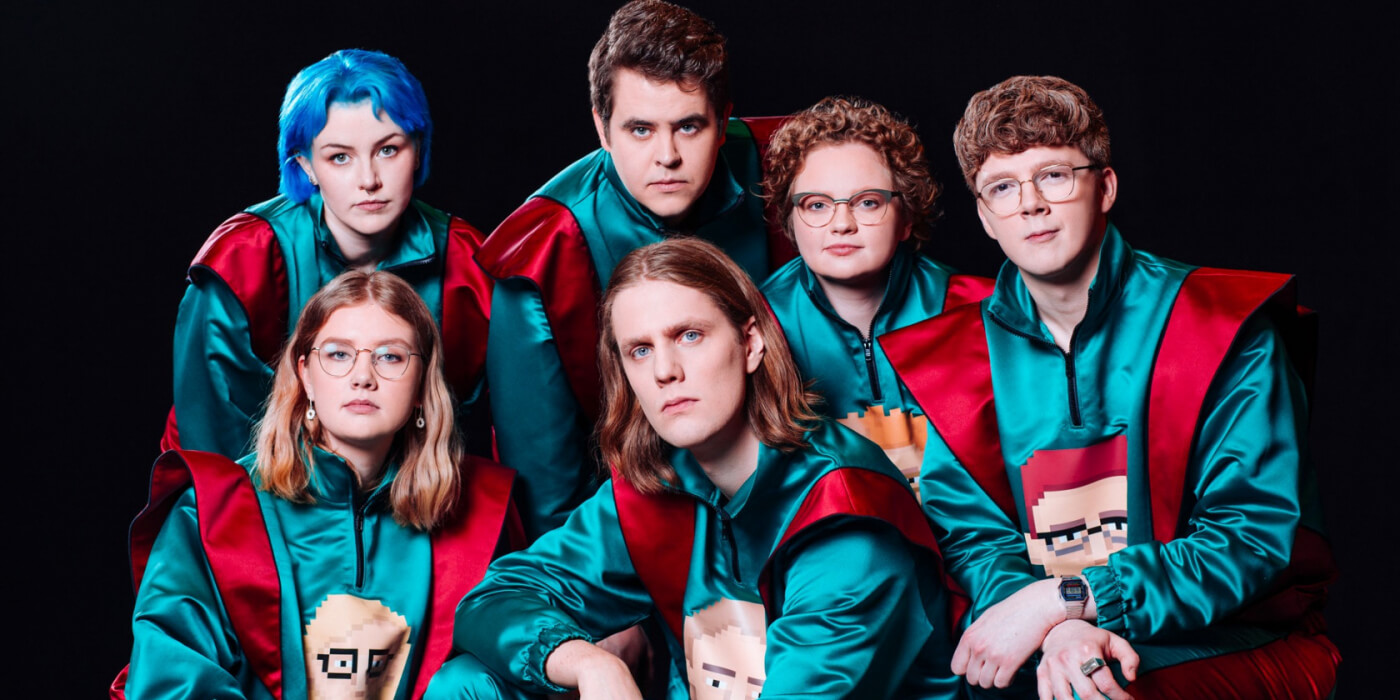 ICELAND
Iceland's Daði & Gagnamagnið: This is the funniest part of Eurovision
INTERVIEW Daði & Gagnamagnið are representing Iceland in Eurovision 2021 with "10 Years". The group is finally in Rotterdam and ready to entertain Europe as much as they can. The rehearsal showed they may just take the trophee home. What would happen if Iceland won?
It has been a month since we last spoke with Daði Freyr. Back then he was still in Iceland impatiently waiting to travel to Rotterdam and take with him Gagnamagnið.
This time we meet, again via Zoom, for another conversation but things have changed. He's joined by his group, wearing the iconic Daði & Gagnamagnið sweatshirts, he is in Rotterdam and there are no secrets between us anymore... We have seen the staging, Daði!
When we last spoke, you told me you wrote "10 Years" having the Eurovision 2021 stage in mind. Can you now explain what did that meant?
– I don't know how specific I am going to be because a lot of people haven't seen it, he starts.
– I knew how the instruments were going to be like.
Wait. I do remember that when I interviewed him back in April: "I can tell you that we'll have new instruments that we haven't showed."
– I made the solo of the song specifically for that. I also knew we'd have a more dramatic moment to kind of play with people's expectations and then go for something very different.
He refers to the beginning of the song where a sad sound of violins make it seem like Salvador Sobral is back to Eurovision with his song "Amar Pelos Dois".
– I also knew there would be a wind machine moment because that's something we need in all of our performances. It's not a Gagnamagnið without that.
Everyone laughs and Árný (Daði's partner) adds:
– You also knew how the stage was going to be so you could match our movements.
Let's go back to the instruments. What inspired those?
– There is always a solo moment in all of our songs. In our first time we had a small guitar keyboard that came to me from the ceiling, then last year in "Think About Things", they turned into a saxophone and now we wanted again something different.
Árný adds:
– We wanted to continue to make something new and we wanted to do it bigger and better.
How do you even come up with that?
– I design them and then I build them with Daði and my dad, who's very good at those things.
A fun rehearsal
As stated above, the group has already taken the stage for their first rehearsal. How did it go?
– It was super fun. I think we're ready for this. It was less overwhelming than we kind of had anticipated.
Will there be adjustments?
– Minor tweaks that we have to figure out but everyone felt good.
We could tell that by the runs of rehearsals that we watched:
– It's a fun moment. We're trying to be as entertaining as we can for 3 minutes because that's the funniest part of Eurovision.
It was less overwhelming than we kind of had anticipated.Daði Freyr
It's impossible not to be entertained watching these guys do their thing on stage but there's a few more questions I can't let go:
I assume those are not the final outfits? After all, they're wearing jeans:
– Sort of. Not the exact ones but yeah.
What about the LED imagery? Is it inspired by your mobile game "Think About Aliens"?
– Yes. The whole asthetic of the game just kind of fits our whole thing so it made sense to put in our act. There's a retro vibe associated with it, Jóhann explains, the "game master" according with Daði.
What if Iceland wins?
Let's talk serious stuff now. Ever since their first rehearsal, the group's chances on winning according with the bookmakers increased.
What if Daði & Gagnamagnið really win for Iceland? As it's been known, and advised by the Eurovision Movie, Iceland does not have an arena to host...
– That's not our problem.
After this, the entire group laughs:
– We're just going to go there and do our best performance. If we win, that would be somebody else's problem... Not ours.
Daði & Gagnamagnið are back to the Eurovision stage tomorrow (13 May) for their second rehearsal. What are the expectations for it?
– We're just going to have fun and make some better camera movements, finishes Árný.
Daði & Gagnamagnið will be performing "10 Years" in Semi-Final 2 on 20 May 2021.