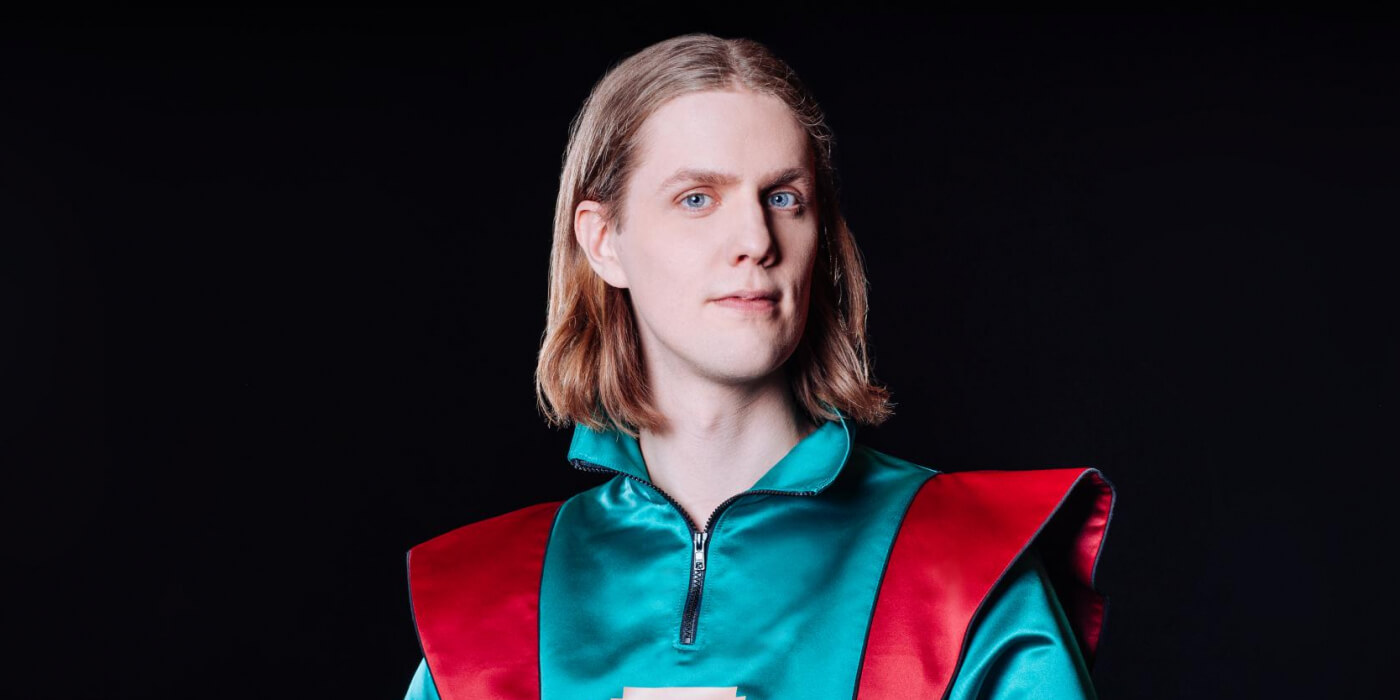 ICELAND
Daði Freyr from Iceland: "I wasn't too sad about Eurovision getting cancelled"
INTERVIEW Despite being a favourite to win, Daði Freyr wasn't too sad about the cancellation of last year's contest. He's back with Gagnamagnið and reveals his main goal for Eurovision Song Contest 2021
It's safe to say that many of us felt gutted, annoyed, sad, mad, rebellious and so on after the announcement that the Eurovision Song Contest 2020 was cancelled due to the COVID-19 pandemic.
Now put yourself in the artists' shoes and imagine that frustration doubled or even triplicated...
Well, unless you're Daði Freyr, the Icelandic representative for Eurovision 2020, invited back for Eurovision 2021. How was his reaction to the cancellation of last year's contest?
– I wasn't too sad, he replies.
I certainly didn't expect that response, especially after he was one of the favourites to win Eurovision 2020 according to the bookmakers:
– For the sake of the song, I wasn't too sad, honestly. What hit me the most was the possibility of not going to Eurovision with Gagnamagnið and finish what we had started. The song had already gone further than I thought it would have.
As for being one of the favourites to win, Daði didn't set expectations too high:
– If we had gone to Eurovision 2020, I didn't anticipate anything at all.
Iceland: Eurovision 2020 and 2021
Daði & Gagnamagnið won the Icelandic national selection Söngvakeppnin last year with the song "Think About Things", and should have represented Iceland at Eurovision 2020.
After the contest was cancelled, the Icelandic broadcaster RÚV decided to invite Daði & Gagnamagnið back for Eurovision 2021, for which Daði Freyr wrote "10 Years".
People compare too much
All eyes and ears were on him ahead of the release of his song for Eurovision 2021, "10 Years". Did he feel under pressure after last year's favourite role?
– Yes and no. The same as when I wrote "Think About Things".
I dare him to choose between his two Eurovision babies, for which he replies "10 Years", but he shares another thought:
– It's really weird to see so much comparison. Of course there was going to be comparisons but I didn't realize how much people would do it.
Did you come up with a similar song on purpose?
– Yes. After all we won the Icelandic competition in 2020. We didn't want to go in a completely different direction of what the people wanted. We wanted a similar feeling and that was what inspired the song.
How was the creation process of a new Eurovision hit?
– I didn't really think of it as writing a new hit. That would be very hard, I just saw it as writing a song that would work in Eurovision, something that would fit the stage and follow Eurovision's set of rules.
The main goal
When it comes to unveiling plans for the Eurovision stage, Daði keeps it secret:
– I can't tell you that much. I can tell you that the dance in the music video will also be on stage and that we'll have new costumes and new instruments that we haven't showed... The song is kind of written for the Rotterdam stage, so we're going to try to use that.
I guess we will have to wait and see, but his Eurovision participation has a main goal:
– We want to go and experience Eurovision. I'd love to get to the final, that's the main goal. To get to Saturday night so it can be a real Eurovision party in Iceland.
In fact, when we talk about the bookmakers and how his entry dropped a few spots since its release, Daði reinforces that idea:
– Well, it looks like we could still go to the final if the odds are accurate. I guess we'll have a clear idea once rehearsals start but the point isn't really to win, it is to try it.
Is everything planned for Rotterdam?
– Yes, pretty much! I have to do some promotional stuff, finish a video game that is coming out in a few weeks but the actual trip is planned.
That caught me off guard... A video game?
– We're going to launch a video game for both iOS and Android, called "Think About Aliens", where you play as Gagnamagnið and you fight aliens... It will be free and amazing!
My 12 points go to...
Still talking about Rotterdam, Daði admits that the COVID-19 situation and the rules every artist has to comply with are the most annoying part of this whole journey:
– It's the most annoying thing that I can't have too much contact with the other contestants but I think we'll get other chances to experience other parts of Eurovision when we're off the competition. We'll take Gagnamagnið to where the contest will be at some point and have an Eurovision party.
Does Daði Freyr have favourite Eurovision 2021 songs?
– My absolute favourite is the Ukrainian song, "SHUM" by Go_A. I also like Montaigne, both of her songs. I like the French one, Lithuanian, Swiss and the Finnish song as well.
Daði & Gagnamagnið will be performing "10 Years" in Semi-final 2 on 20 May 2021.