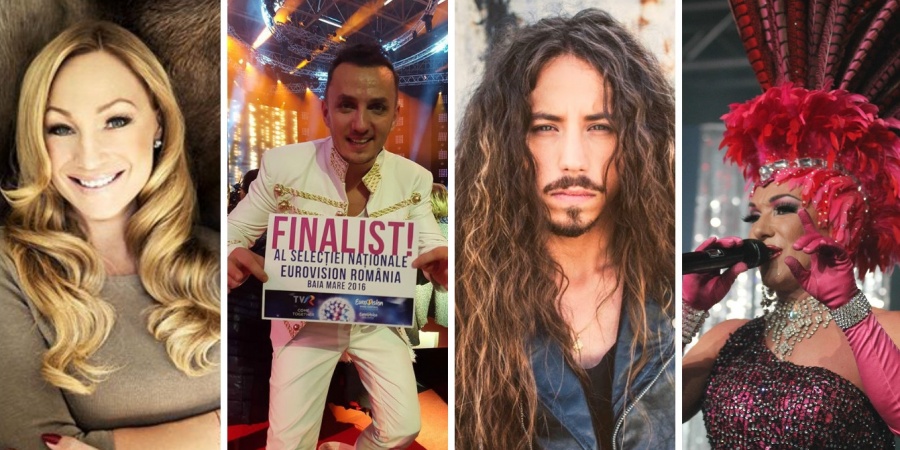 DENMARK
Eurovision stars coming to Aarhus, Denmark
A spectacular experience will be awaiting the audience as both Danish and international Eurovision stars take the stage during the Eurovision Song Concert 2016
Radar in Aarhus will be swarming with Eurovision stars when it gets to host the 2016 edition of OGAE Denmark's annual Eurovision Song Concert on 29 October. In particular, the audience can look forward to Charlotte Perrelli, who has represented Sweden at the Eurovision Song Contest twice, going all the way to victory in 1999.
Sweden's uncrowned Queen of Schlager
Representing her native Sweden, Charlotte Perrelli won the Eurovision Song Contest 1999 with the song "Take Me to Your Heaven". She represented Sweden at the contest again in 2008, when her song "Hero" finished 18th.
41-year-old Charlotte Perrelli is one of Sweden's most popular singers. Apart from having made three attempts at representing Sweden in the Eurovision production of Andrew Lloyd Webber's musical Evita. Charlotte Perrelli has also performed for the Swedish royal family on several occasions, most recently during Crown Princess Victoria's 39th birthday celebrations earlier this year.
Denmark's own Drama Queen
To most people, Peter Andersen is better known as the drag artist DQ, who represented Denmark at the Eurovision Song Contest 2007 with the song "Drama Queen". Even though DQ failed to qualify for the Eurovision final, he remains popular among Eurovision fans all over Europe and has performed at Eurovision parties in cities such as London, Oslo, Amsterdam, Stockholm, and Berlin.
Wearing lots of glitter, sequins and feathers, the former Danish Eurovision representative will perform lots of Eurovision classics, including his own entry from 2007.
More than 34 million YouTube views for Michał Szpak
You could argue that Michał Szpak is Poland's male counterpart to Austria's Conchita Wurst, who won the Eurovision Song Contest in 2014. With his long dark curly hair and a beard, Michał Szpak also looks somewhat similar to Jack Sparrow from the Pirates of the Caribbean films. Michał Szpak, however, is neither a drag artist nor a pirate, but rather one of Poland's most popular male singers. This year, the Polish people selected him to represent Poland at the Eurovision Song Contest. Taking third position in the televote, his song "Color of Your Life" finished eigth overall.
Michał Szpak has proven to be very popular on YouTube, as well. Combined, official uploads of his Eurovision entry have amassed more than 34 million views.
MIHAI – the man with the unique voice
Romanian MIHAI has an quite impressive voice. Alledgedly, he is the only male singer with a voice spanning over five octaves; therefore, he has been referred to as the male Mariah Carey.
In 2006, he gave his home country one of its best ever results at the Eurovision Song Contest, finishish 4th with the song "Tornerò". This year, he made another attempt at representing Romania at the Eurovision Song Contest with the song "Paradisio", eventually finishing 5th in the Romanian national selection.
Ticket sales in full swing
Ticket sales for the Eurovision Song Concert 2016 are already in full swing
- The number of tickets already sold indicates that the Eurovision stars performing during Eurovision Song Concert 2016 are popular, says Johann Sørensen, president of OGAE Denmark.
When the Eurovision stars go on stage at Radar, they'll be performing in front of an international audience.
- So far, tickets have been bought not only by Danes, but also by people from Sweden and England, among other countries, explains Johann Sørensen.
Mylle Award 2016
Immediately before the Eurovision Song Concert kickoff, OGAE Denmark will hold its annual general meeting, during which this year's recipient of the Mylle Award will be revealed.
Named after long-time Danish Eurovision commentater Jørgen de Mylius, the award is given in recognition of outstanding achievements related to the Eurovision Song Contest itself and/or its Danish national selection. Previous recipients of the award include Emmelie de Forest, Birthe Kjær, and Birthe Wilke.
- This year, the award will be given to a person who has been of great importance to the Eurovision Song Contest in Denmark. The recipient has possibly been the single most important person related to the Eurovision Song Contest in Denmark since we returned to the contest in 1978 following an 11-year absence, says Johann Sørensen.
DR asking for the fans' help
Jan Lagermand Lundme, Head of Entertainment at Danish broadcast DR, will also be present to exclusively reveal some of DR's plans for its 2017 national Eurovision selection.
He also hopes to get some good advice and inspiration from the Danish Eurovision fans, to ensure that Denmark grabs a spot in the grand final of the Eurovision Song Contest 2017.
The Eurovision Song Concert 2016 will take place at Radar in Aarhus on 29 October 2016. Tickets for the concerts are available for a price of DKK 250 per ticket.