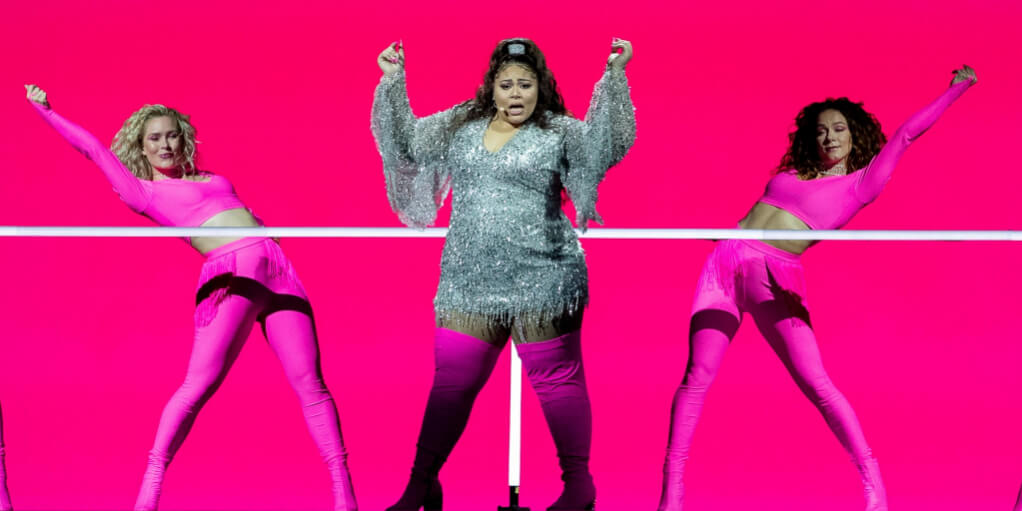 MALTA
Destiny from Malta on dress controversy: "You don't like it? Well, I do"
INTERVIEW Destiny is representing Malta in Eurovision 2021 and took a little of her time to speak with us. In the interview, the Maltese singer tells us how she copes with negative comments as well as with the hype amongst what winning Eurovision means to her
Excuse my French? Destiny from Malta has been one of the bookmakers favourites ever since the release of "Je Me Casse". After winning Junior Eurovision 2015 with "Not My Soul" and also winning the X Factor Malta 2020, Destiny is now in Rotterdam and taking this journey by storm.
Looking beautiful, Destiny expresses her emotions after waiting nearly 2 years, to be at the Eurovision Song Contest in Rotterdam:
– It feels great! I have been working for this and now I'm finally living my dream and really enjoying it. I had two great rehearsals and it's so amazing here. The people here are so warm and welcoming I'm really enjoying it, especially when I'm the arena... My heart melts.
After the Eurovision 2020 was cancelled and the pandemic still going on, was Destiny preoccupied that maybe Eurovision 2021 not happen?
– No, I didn't have a feeling as if it wouldn't happen because I know how safe and restricted Eurovision is, so I knew that they would make it possible no matter what.
And we are so thankful they did made it because we couldn't do another year without Eurovision!
As you just mentioned, you have rehearsed a couple of times but how was it the first time you rehearsed on that huge stage?
– I was very excited but I had so many butterflies in my stomach, I was like "Is it going to be good?, am I going to fall when walking down those stairs?". The first rehearsal was more like to hit my positions, what I have to do, at what time I have to do my movements... The second one, I felt so confident, I was like "I got it!"
When watching Destiny perform one cannot help notice the level of confidence she has but are there moments when she doesn't feel so confident as we think she is?
– No, I don't have a moment where I don't feel confident because I have been working on myself a lot, and now I started to believe in myself. Now I know who I am. Another reason why I am so confident is that I have a great team behind me that supports me and shows me so much love.
Destined for Greatness
Let's discuss "Je Me Casse"
– I chose "Je Me Casse" because the message of the song is all about female empowerment. It's all about women out there knowing their worth, knowing they are beautiful, knowing they deserve the world and to believe in themselves by feeling confident in themselves and in their own skin. I think women need to start supporting each other much more and we need women to love one another, accept and push each other to work hard and achieve their dreams.
I just want to make people feel good and positiveDestiny
What do you want to portray with the staging?
– If Sacha Jean-Baptiste (the stage director) was next to me, she would give you a great answer to that but all I can say is that I am so glad to trust Sacha because she knew exactly what I wanted: a bright and vibrant stage performance. She brought out what we wanted and I am proud of that. I just want to make people feel good and positive after this pandemic. I want people to enjoy my performance and love it.
A number of noticeable differences appeared between the one rehearsal and the other. The first difference was that we've witnessed Destiny being more confident, however a debate sparked over the choice of dress. Many comments turned to hatred while others criticized constructively but how did Destiny react to this?
– To be honest, I saw that people that hated what I was wearing.
I feel the urge to stop her: Not me!
She smiles, thanks me and continues:
– I don't let people get to me and my mind because if that happens, you lose your confidence. I'm like "if you don't like it... Well I like it!, I'm like "je me casse... Sorry hun if you don't like it." I deal with it quite well. It's normal, even if you have everything going well, people will find something to hate on but I accept constructive criticism.
The dress eventually changed. Why did Destiny decide to change what to wear on stage?
– I changed it because I think that's what a rehearsal is all about... Changing and seeing if you look good on stage, if the lights hit well on what you're wearing... We had a lot of outfits because I love clothes and I wanted to try things out. That's why we have options because we want to see how things turn out on stage. Otherwise I felt good and confident, I felt empowered with all the dresses. I didn't have a problem.
Do you like this one better?
– I cannot answer this questions because I love them all equally 😊
Confidence and Diversity
We talked about negativity from certain comments but there is also positivity in the outcome and one of the things that Destiny has brought is hype. Upon the song was released many consider as Malta for the win but does Destiny cope well with this pressure?
– I live for the hype. For the people who support me, all I can say is thank you so much. I appreciate all your support and love, care and messages. I am truly grateful to have you as my supporters and fans. They make me feel good. I am very thankful and love you all so much.
I feel thankful, grateful and great because I think we are finally moving to a better worldDestiny
As Destiny continues to chat with us about her song this year, she expresses some concerns of what scares her the most by performing "Je Me Casse" on the Eurovision stage:
– I think the part that scares me the most is the part of going down the stairs because they are transparent. I didn't fall so far, not once. Other than that I feel confident throughout the entire song.
Any Surprises for the semi-final?
– You can expect everything.
From the Eurovision 2020 song "All Of My Love" to "Je Me Casse", which song Destiny feel is more her style?
– Both represent Destiny because they represent two types of Destiny. "All Of My Love" represents vocal range and "Je Me Casse" represents the cheeky 18-year-old. I cannot pick a song.
What is the message you want to portray with this participation at Eurovision?
– I want the women out there to believe in themselves, to love themselves and to know they are beautiful. Look at yourself in the mirror, every morning, and say like "I'm God's creation and I am god damn beautiful".
This Eurovision edition features a bigger number of artists of color. Diversity shouldn't just be about musical genres but of people too. How does Destiny feel witnessing this?
– I feel thankful and grateful because I think we are finally moving to a better world, being more accepting and we are practicing what we preach. We are diverse, we are accepting different people, races, ethnicities, identities... So it's good.
What does winning mean to you
– It would mean the absolute world to me because, not only I've been working hard for this, but it's my dream and I would love for this dream to come true for me and my country. We are obsessed with Eurovision and we want to win it one day. Let's hope for the best but you guys got to help me.
Destiny will sing "Je Me Casse" in Semi-final 1 on 18 May 2021.