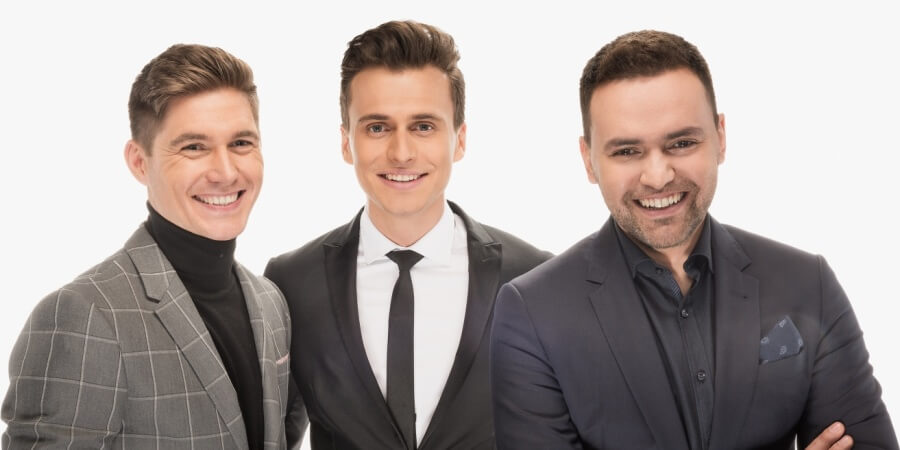 KYIV 2017
Eurovision 2017 hosts: Oleksandr, Volodymyr & Timur
Oleksandr Skichko and Volodymyr Ostapchuk will welcoming whole Europe next May at the 62nd Eurovision Song Contest 2017 in Kyiv. Timur Miroshnychenko will host the Green Room
The Ukrainian broadcaster and producer of Eurovision Song Contest 2017, UA:PBC, has just revealed the hosts for the three shows in May: Oleksandr Skichko, Volodymyr Ostapchuk and Timur Miroshnychenko.
Oleksandr and Volodymyr will host the shows on stage, and Timur will host the Green Room in the arena.
Oleksandr Skichko
Олександр Скічко
Oleksandr Skichko has hosted several popular TV shows in Ukraine such as "Wake Up", "Star Way" and "Sing Like A Star". He began his career in entertainment aged 15, and also went on to appear as a semi-finalist on "Ukraine's Got Talent" where he won the hearts of millions of Ukrainians with his parody act.
Volodymyr Ostapchuk
Володимир Остапчук
Volodymyr Ostapchuk has enjoyed extensive experience of live shows through his involvement in the entertainment programme "Morning with Ukraine", as well as presenting "Shopping Goddess" and "Style Icon". He has had roles as a professional voice artist, including voicing the character of Hans in the Ukrainian version of Disney's animation "Frozen".
Timur Miroshnychenko
Тімур Мірошниченко
Timur Miroshnychenko is a life long fan of the Eurovision Song Contest and has hosted numerous Ukrainian national selections, and both editions of the Junior Eurovision Song Contest that have taken place in Kyiv (2009, 2013). He has also provided Ukrainian commentary for the Eurovision Song Contest, Junior Eurovision Song Contest, Eurovision Dance Contest, and Eurovision Young Musicians. In total he has worked on 30 Eurovision projects in his twelve years of working in television. Outside of Eurovision, Timur has presented the live youth talk show Studio 5, as well as the educational programme "How Is It Made"?
Eurovision hosts