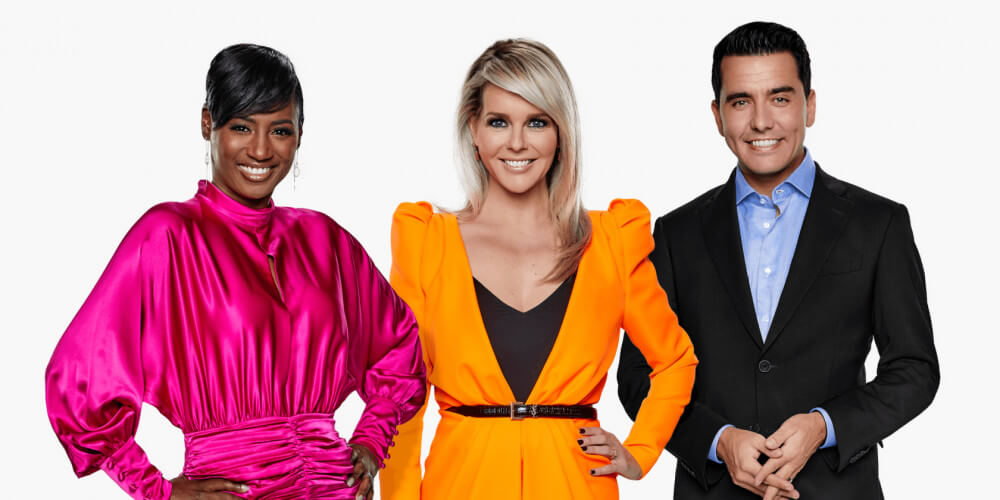 ROTTERDAM 2020
Eurovision 2020: Meet the hosts
The hosts for Eurovision Song Contest 2020 in Rotterdam have just been announced: Edsilia Rombley, Chantal Janzen and Jan Smit
The three hosts who will guide us through Eurovision Song Contest 2020's three shows in May have been announced: Edsilia Rombley, Chantal Janzen and Jan Smit.
Edsilia Rombley
Edsilia Rombley has already represented the Netherlands twice in the Eurovision history, once in 1998 and again in 2007. In 2020 she will be stepping on the contest's stage again but, this time, as a host.
Besides having represented the Netherlands twice, Edsilia Rombley has became a big name in the country after her victory in the Dutch talent show, Soundmixshow - prior to her first Eurovision participation. If stepping on stage twice wasn't enough, the singer has also presented the Netherlands' results twice and hosted last year's Eurovision in Concert.
Chantal Janzen
Alongside Edsilia, the Dutch's broadcasters have also announced the actress and presenter Chantal Janzen.
Chantal Janzen may not have Edsilia's Eurovision curriculum but is graduated in Arts and has been distinguised as the country's Best TV presenter five times! She rose to fame for her acting in musicals (such as Tarzan) and for starring in well-known Dutch movies. Most recently she has hosted several TV shows such as the Gouden Televizier-Ring Gala award show, Holland's Got Talent and The Voice of Holland.
Jan Smit
Jan Smit is a singer, presenter and Eurovision commentator.
Jan has been part of the Eurovision history by being the country's commentator for the past 9 years. On top of that, he is part of the Netherlands' committee responsible for selecting their Eurovision Song Contest entries. Besides being a known presenter, he is also a famous singer known for his Volendam music. In fact, he is well-known in other countries such as Belgium, Germany, Austria and Switzerland.
According to next year's Eurovision Executive Producer Event, Sietse Bakker, the hosts were chosen taking in consideration their "stage experience".
When deciding on hosts, we first and foremost chose 3 people with a great deal of stage experience. They also happen to have started their career as singersSietse Bakker, Executive Producer Event of Eurovision 2020
Eurovision Song Contest 2020 will take place in Rotterdam with the show's Grand Final scheduled for 16 May. 41 countries will participate.