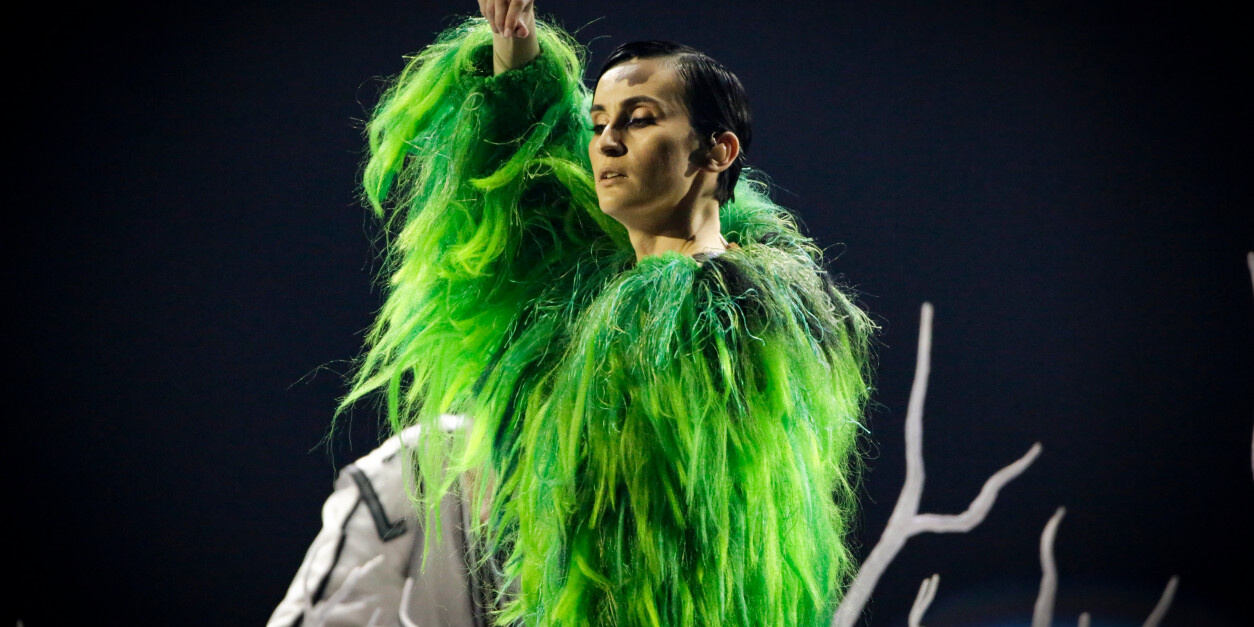 UKRAINE
Go_A from Ukraine on Eurovision performance: "We're evocating life"
INTERVIEW Go_A will represent Ukraine at Eurovision 2021. Their song is hard to label and their performance not easy to understand. We spoke with part of the band to get more details about what they'll be bringing to the world's main stage

Fresh off their first rehearsal, Go_A from Ukraine agree to have an interview with us. Here I am trying to memorize each of the members' names and get the right pronunciation up until the Ukrainian Head of Press texts me: "Pedro, is it alright that only Taras attends the interview?"
I feel relieved and understand he is the producer of the band but, as soon as the camera opens, I see he's joined by someone else. It's the guitarist, Ivan Hryhoriak who I am introduced right after... Problem solved!
It seems like the band has just received their COVID-19 latest results:
– We just heard from our COVID-19 testing, everything's fine. We have to do them every 48 hours.
Those are certainly good news for everyone because the band surely don't want to use their live-on-tape performance, especially after having a first taste of the Rotterdam Ahoy arena stage:
– It's so difficult to put into words what we've felt on stage... Pure emotions, everything was beautiful. It was amazing and the stage is incredible. All of the people working there are also extremely professional and everything went according to plan.
The second rehearsal will happen tomorrow but the band is extremely happy with the first run. When I ask if there will be any changes, it is unlikely:
– We'll see tomorrow. We're very satisfied with it and with the team working with us, we trust them fully. If there are any changes, those should be minor, maybe some camera angles.
In fact, Taras says that one of the highlights of the first rehearsal was indeed understanding the technicalities that go on stage.
Breaking down the staging
The staging chosen by Go_A for their song "Shum" is quite eye-catchy but it isn't exactly easy to understand. How does Taras describe it?
– It is pretty much the continuation of the story of the song.
Our inspiration came from the original Ukrainian folk and danceTaras from Go_A
Well, then wait. Let's just recover the song's meaning quickly:
– First of all, the title of the song ("Shum") is a game of words. In the Ukrainian mythology, "shum" is the spirit of the forest but its literal translation is "noise". We're basically making noise with "shum", he explains.
– Our inspiration came from the original Ukrainian folk and dance. Our ancestors used that to wake up the spirit of the forest and spring. The song is about the evocation of spring but, for us, in the 21st century and in times of a pandemic, it's more about the evocation of people from everyday's problems. It's about looking around and thinking about what we've done to our world, how we can improve it and pass it on to our children. It's about the evocation of life.
We're ready to continue talking about the staging that features a square with fake white trees on it resembling snow and, therefore, the winter season:
– We wanted to show that in the performance. For that we used this allegorical raft to travel from the past to the future.
– We're combining ancient Ukrainian rituals with the world of cyberpunk, he explains.
The band is joined by two dancers onstage that hold what the band calls "cybertambourines" and what I called up until this conversation... Ring lights:
– They mean a lot to the performance because our ancestors believed that the more people reunited, the bigger impact the evocation would have. In the performance, they help Kateryna (the vocalist) awake the spring... It's a magical performance.
I am still not 100% clear. There's another element on the staging that I can't quite understand but it's where the dancers are, during the break of the song, and end up catching something... It looks like sand:
– It's not sand, those are seeds. We're sowing joy and happiness to people, at least we try to do that allegorically. It represents what our ancestors used to do during the spring because they lived their lives based on agriculture so sowing was quite important.
We're sowing joy and happiness to peopleTaras from Go_A
Despite this complex storyline, the fans were quite fascinated by the staging and Ukraine jumped a few spots with the bookmakers. How does the band face this?
– We didn't see a lot of comments because our schedule is tight but that's extremely motivating. When we see those comments, we believe we're doing the right thing. For several years we stayed within the underground music because nobody understood us. In terms of concerts, we were too Pop for Rock festivals, not authentic for Folk festivals...
– So to finally be understood is very motivating.
Let's clarify their music style. When I ask the question, Taras laughs and finds it hard:
– When we write music, we don't think about sticking with a specific music style. We have our Ukrainian folk music, the core of our music and then we mix with modern music, whether it is dubstep, techno, house music... Somebody called it Electrofolk but we don't want to limit ourselves.
Why Eurovision?
– We wanted to show the Ukrainian music and culture and Eurovision is the perfect place to do that. We feel like there's so many songs out there with ethnic elements from India, Middle East but not from Ukraine. We're very honoured to perform on that big stage.
Go_A will sing "Shum" in Semi-final 1 on 18 May 2021 whilst their second rehearsal is scheduled for tomorrow, 12 May 2021.