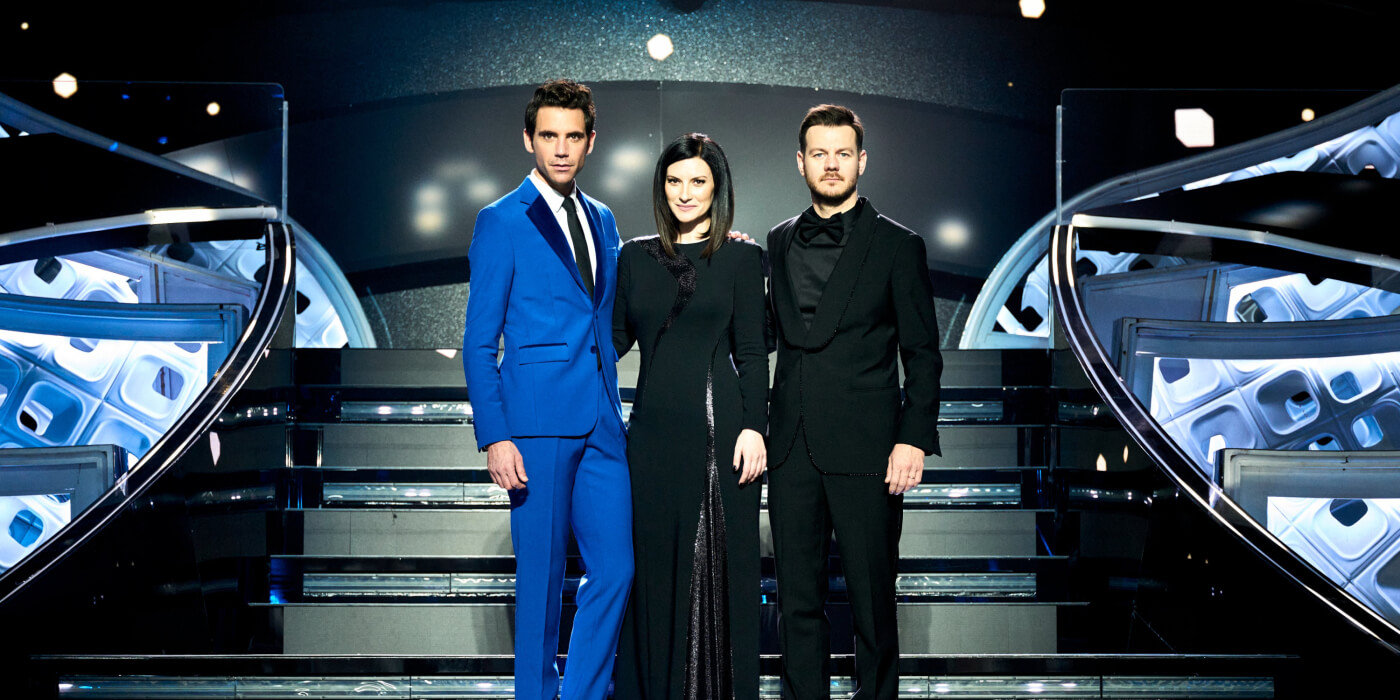 TURIN 2022
Hosts of Eurovision 2022: Mika, Laura Pausini and Alessandro Cattelan
Mika, Laura Pausini and Alessandro Cattelan will host Eurovision Song Contest 2022 in Italy, Turin
The hosts who will guide us through the three shows of Eurovision Song Contest 2022 in Turin, Italy, have been revealed: Mika, Laura Pausini and Alessandro Cattelan.
The announcement took place at tonight's Sanremo Festival in Italy.
Mika
Michael Holbrook Penniman Jr. is a singer-songwriter, live performer, television and radio entertainer, designer and illustrator.
You most probably know him as "Mika" from 2007, when he topped the UK Singles Chart with the song "Grace Kelly", becoming a world-famous pop star in no time. The single sold over 3 million copies worldwide, and his debut album "Life In Cartoon Motion" went straight to number one in UK and 11 other countries, and sold over 7 million copies worldwide.
Mika says:
– More than ever, I believe in the importance of an international community, in our common values. I believe in the union of peoples, in the abolition of walls to celebrate our similarities, as much as our differences.
Laura Pausini
Laura Pausini is possibly the most awarded Italian artist in the world. She has won four Latin Grammys, a Grammy Award and a Golden Globe. In 2021, she was nominated for an Academy Award for Best Original Song with "Io sì (Seen)" from the film "The Life Ahead".
She performs all over the world, and her latest album is also the soundtrack for the upcoming movie "Pleasure to Know You".
Laura Pausini says:
– I am happy that Eurovision is finally back in Italy and honored to lead such an important event, together with my friends Ale (Alessandro Cattelan) and Mika.
– Together we want to show Europe and the world our extraordinary country. My 2022 has started with new music and is the start of a year of great appointments. I want to face Eurovision, a musical event par excellence in Europe, and one of the most important television shows in the world with the same energy that has accompanied me in almost thirty years of my career. We are there, and we are ready ... Indeed, we can't wait!
Alessandro Cattelan
Alessandro Cattelan is very well known in Italy as a TV presenter for 20 years. He has created and hosted late night shows, entertainment evenings and also introduced some new formats to Italy as Total Request Live, Le Iene, and X Factor Italy.
In March, Cattelan will host a brand new show on Netflix, "Alessandro Cattelan: Una Semplice Question" ("One Simple Question"). In the show, he will search for happiness through interviews and unique experiences with celebrity guests.
Alessandro Cattelan says:
– It is an honor to have been asked to host ESC 2022, it is one of the most followed and well-known shows in the world and this year organizing it in Italy represents a great opportunity and a historic event for our country, says Cattelan.
– I know Laura Pausini and Mika for some time, we have already worked together and we have always had a lot of fun. And I'm sure it will be the same this time too.