Italy: Sanremo 2022
Songs
| Artist | Song |
| --- | --- |
| Achille Lauro | Domenica |
| Aka7even | Perfetta così |
| Ana Mena | Duecentomila ore |
| Dargen D'Amico | Dove si balla |
| Elisa | O forse sei tu |
| Emma | Ogni volta è così |
| Fabrizio Moro | Sei tu |
| Gianni Morandi | Apri tutte le porte |
| Giovanni Truppi | Tuo padre, mia madre, Lucia |
| Giusy Ferreri | Miele |
| Highsnub & Hu | Abbi cura di te |
| Irama | Ovunque sarai |
| Iva Zanicchi | Voglio amarti |
| La Rappresentante di Lista | Ciao ciao |
| Le Vibrazioni | Tantissimo |
| Mahmood feat. Blanco | Brividi |
| Massimo Ranieri | Lettera al di là del mare |
| Matteo Romano | Virale |
| Michele Bravi | Inverno dei fiori |
| Noemi | Ti amo, non lo so dire |
| Rettore & Ditonellapiaga | Chimica |
| Rkomi | Insuperabile |
| Sangiovanni | Farfalle |
| Tananai | Sesso occasionale |
| Yuman | Ora e qui |
Sanremo 2022 – 1st night
Date
1 February 2022
Location
Teatro Ariston
City
Sanremo
Hosts
Amadeus
Ornella Muti
Voting
33% TV/printed media jury
33% Web media jury
33% Radio jury
The first half of the artists will perform their songs
There will be no eliminations
Sanremo 2022 – 2nd night
Date
2 February 2022
Location
Teatro Ariston
City
Sanremo
Hosts
Amadeus
Lorena Cesarini
Voting
33% TV/printed media jury
33% Web media jury
33% Radio jury
The last half of the artists will perform their songs
There will be no eliminations
Sanremo 2022 – 3rd night
Date
3 February 2022
Location
Teatro Ariston
City
Sanremo
Hosts
Amadeus
Drusilla Foer
Voting
50% demoscopic jury
50% televoting
All 25 artists will perform their songs
There will be no eliminations
Sanremo 2022 – 4th night
Date
4 February 2022
Location
Teatro Ariston
City
Sanremo
Hosts
Amadeus
Maria Chiara Giannetta
Voting
33% televoting
33% press jury
33% demoscopic jury
Covers night: Each of the 25 artists will perform a song from the 1960s, 1970s or 1980s.

The artists can perform the song solo or together with an acclaimed Italian or international guest artist.

There will be no eliminations.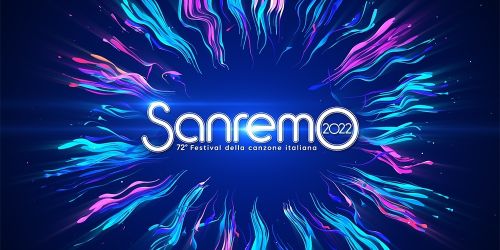 Sanremo 2022 – 5th night
Date
5 February 2022
Location
Teatro Ariston
City
Sanremo
Hosts
Amadeus
Sabrina Ferilli
There will be two rounds:

First Round: All 25 artists will perform their songs. The top-3 will proceed to the Superfinal, decided 100% by televoting.

Superfinal: The 3 super-finalists will perform their songs again. Voting will be reset, and the winner will be decided by 33% televoting, 33% press jury and 33% demoscopic jury.