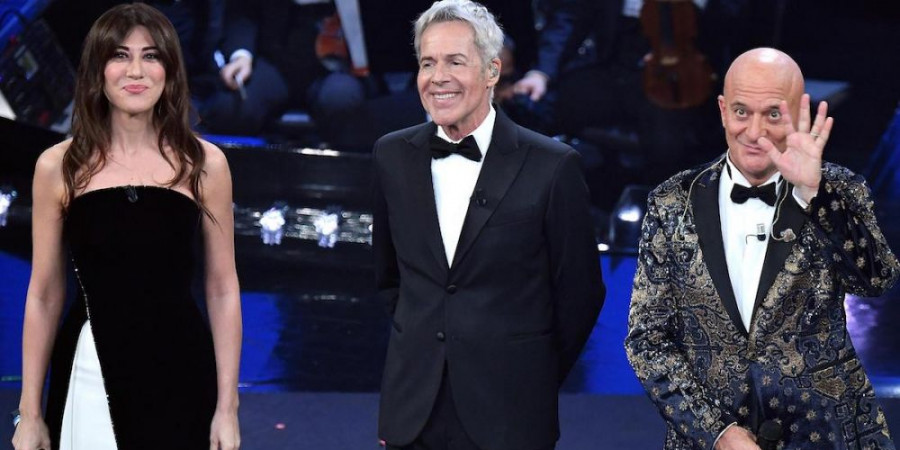 ITALY
Italy: Results of night 3 of Sanremo 2019
The last 12 artists performed for the second time at Sanremo's third night. The partial results from tonight are in
Sanremo 2019 continued tonight with the second half of the 24 contestants performing on the stage in the Ariston Theatre in Sanremo.
Like always, the results were again announced in three groups: Top, middle and bottom. The results were based on 40% public televoting, 30% demoscopic poll, 30% press jury voting, but tonight it was only the results based on the press jury that were announced.
Press Jury Result – Night 3
TOP FOUR
Random order
Simone Cristicchi – "Abbi cura di me"
Mahmood – "Soldi"
Irama – "La ragazza con il cuore di latta"
Ultimo – "I tuoi particolari"
MIDDLE FOUR
Random order
Enrico Nigiotti – "Nonno Hollywood"
Motta – "Dov'è l'Italia"
The Zen Circus – "L'amore è una dittatura"
Francesco Renga – "Aspetto che torni"
BOTTOM FOUR
Random order
Anna Tatangelo – "Le nostre anime di notte"
Nino D'Angelo e Livio Cori – "Un'altra luce"
Boomdabash – "Per un milione"
Patty Pravo con Briga – "Un po' come la vita"
From tomorrow the voting system will change: Televoting will have 50%, Press jury will keep 30%, and an expert jury with 20% will replace the demoscopic jury. The expert jury will consist of Mauro Pagani (president), Ferzan Özpetek, Camila Raznovich, Claudia Pandolfi, Elena Sofia Ricci, Beppe Severgnini, Serena Dandini and Joe Bastianich.
Sanremo 2019 – Schedule
During all 5 nights we have the possibility to listen to all 24 songs and there will not be any eliminations. So all 24 songs will go to Saturday's final.
Sanremo Night 3: Thursday 7 February 2019
Sanremo Night 4: Friday 8 February 2019
Sanremo Final: Saturday 9 February 2019
At Night 1 (Tuesday) all the 24 artists performed their song for the first time. The results of the demoscopic poll were announced in groups. At Night 2 (Wednesday) the first 12 artists each performed their song again, and the results of the Press Jury were announced in groups. At Night 3 (Thursday) the other 12 artists each performed their song for the second time. At Night 4 (Friday) all the 24 artists perform their own song in a duet along with a special guest.
At Saturday's Final, the ranking will be revealed and the top 3 will advance to the Super Final. At the end we have a winner and maybe the Italian entry for Eurovision 2019 (In 2016, Sanremo winner, Stadio rejected Eurovision and second classified Francesca Michielin flew to Stockholm).
Sanremo 2019 – Voting
There are four groups who decide the outcome of Sanremo 2019:
Televoting: Public voting via phone, mobile phone, app and online
Press Jury: Sanremo's accredited journalists
Demoscopic Poll: A sample of 300 fans
Expert Jury: Eight professionals from the music/entertainment/culture industry
The voting system changes between the nights. For the first three nights, the ranking is determined by televoting (40%), press jury (30%) and demoscopic jury (30%).
For the last two nights televoting has 50%, press jury keeps 30% and and expert jury 20%.
Final ranking and top 3 are given by the combination of all 5 nights. Winner will be selected through the voting system of night 5.
Italy has been in Eurovision for 44 contests. They have won twice, in 1964 with the song "Non Ho L'étà" and in 1990 with "Insieme: 1992". Worst result was in 1966 where they finished last.
The most known song is "Nel Blu Dipinto Di Blu" or better known as "Volare" from 1958. It is also the most covered Eurovision Song Contest song. The song has been covered by famous stars such as Dean Martin, Cliff Richard, David Bowie and many more.
Italy had a long pause from Eurovision Song Contest from 1998 to 2010. Since then Italy has been a "Big-5"-country, automatically qualifying for every year's Grand Final.