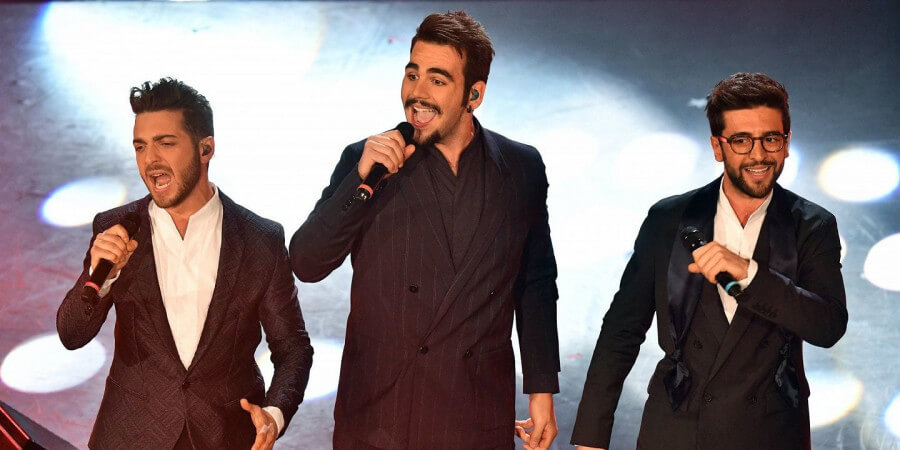 ITALY
Italy: Listen to the 24 songs for Sanremo 2019
Sanremo 2019 has started! 5 nights to select the Italian representative at Eurovision Song Contest 2019. Listen to the songs and vote in our poll
Perché Sanremo è Sanremo (Because Sanremo is Sanremo) and because Sanremo deserves attention considering that it is the popular selection process of the Italian entry to Eurovision.
Sanremo has just begun and like every year it takes place in Ariston Theatre, in Sanremo, Italy.
The shows are hosted by artistic director Claudio Baglioni supported by Claudio Bisio and Virginia Raffaele, co-host of Sanremo 2016.
UPDATE:
Videos unavailable – Removed from YouTube
Demoscopic Jury Result – Night 1
TOP EIGHT
Random order
Ultimo
Loredana Bertè
Daniele Silvestri
Irama
Simone Cristicchi
Francesco Renga
Il Volo
Nek
MIDDLE EIGHT
Random order
Enrico Nigiotti
Federica Carta e Shade
Boomdabash
Negrita
Paola Turci
Anna Tatangelo
Patty Pravo con Briga
Arisa
BOTTOM EIGHT
Random order
Mahmood
Achille Lauro
Nino D'Angelo e Livio Cori
Einar
Ghemon
Motta
Ex Otago
The Zen Circus
Sanremo 2019 – Schedule
During all 5 nights we have the possibility to listen all 24 songs and there will not be any eliminations. So all 24 songs will go to Saturday's final.
Sanremo Night 1: Tuesday 5 February 2019
Sanremo Night 2: Wednesday 6 February 2019
Sanremo Night 3: Thursday 7 February 2019
Sanremo Night 4: Friday 8 February 2019
Sanremo Final: Saturday 9 February 2019
At Night 1 (Tuesday) all the 24 artists perform their song for the first time. At Night 2 (Wednesday) the first 12 artists each performs their song again. At Night 3 (Thursday) the other 12 artists each performs their song for the second time. At Night 4 (Friday) all the 24 artists perform their own song in a duet along with a special guest.
At Saturday's Final, the ranking will be revealed and the top 3 will advance to the Super Final. At the end we have a winner and maybe the Italian entry for Eurovision 2019 (In 2016, Sanremo winner, Stadio rejected Eurovision and second classified Francesca Michielin flew to Stockholm).
Sanremo 2019 – Voting
Voting system changes during the nights. For the first three nights, the ranking is determined by televoting (40%), press jury (30%) and demoscopic jury (30%).
For the last two nights televoting has 50%, press jury keeps 30% and and expert jury 20%.
Final ranking and top 3 are given by the combination of all 5 nights. Winner will be selected through the voting system of night 5.
We have known all participants during Sanremo Giovani in December 2018, where Einar and Mahmood won and joined the "Big artists". They have a different song for Sanremo. Einar's song is "Parole Nuove" while Mahmood sing "Soldi".
Sanremo and the Albanian Festivali i Këngës are the only Eurovision selections that keeps a live orchestra during the performances.
Duccio Forzano, who drives the direction of Sanremo, has wanted making Sanremo stage as similar as possible to one of Eurovision. He has introduced Cue Pilot, a software which combines live performance with lights and breaking shots.
Italy has been in Eurovision for 44 contests. They have won twice, in 1964 with the song "Non Ho L'étà" and in 1990 with "Insieme: 1992". Worst result was in 1966 where they finished last.
The most known song is "Nel Blu Dipinto Di Blu" or better known as "Volare" from 1958. It is also the most covered Eurovision Song Contest song. The song has been covered by famous stars such as Dean Martin, Cliff Richard, David Bowie and many more.
Italy had a long pause from Eurovision Song Contest from 1998 to 2010. Since then Italy has been a "Big-5"-country, automatically qualifying for every year's Grand Final.