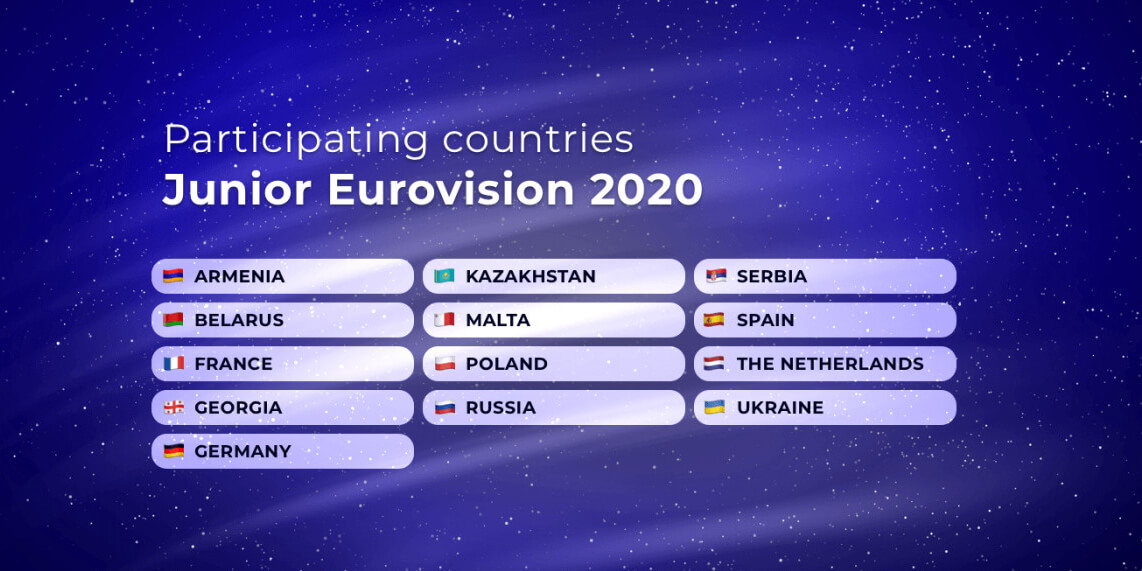 JUNIOR EUROVISION
Junior Eurovision 2020: 12 countries to take part
EBU has announced that 13 countries (UPDATE: 12 countries) will take part in Junior Eurovision Song Contest 2020 – All participants will perform in a studio in their home countries
UPDATE 5 NOVEMBER 2020
Armenia withdraws from Junior Eurovision 2020
Armenia's broadcaster, AMPTV, has announced that Armenia is withdrawing from Junior Eurovision Song Contest 2020.
The broadcaster is unable to complete proper preparations for JESC 2020 due to the introduction of martial law as a result of the ongoing conflict in Nagorno-Karabakh.
With the withdrawal of Armenia, only 12 countries will compete at Junior Eurovision 2020.
Thirteen Twelve countries will Move The World at Junior Eurovision Song Contest 2020. A contest that will be very different from the previous contests, as all participants will perform in a studio in their home countries.
The show will take place in Warsaw, Poland on 29 November 2020 after Viki Gabor won the contest on her home soil in Gliwice-Silesia last year.
This year, we won't be seeing a number of countries but Germany will make their debut in this contest.
Below you'll find the list of the participating countries to take part in the competition: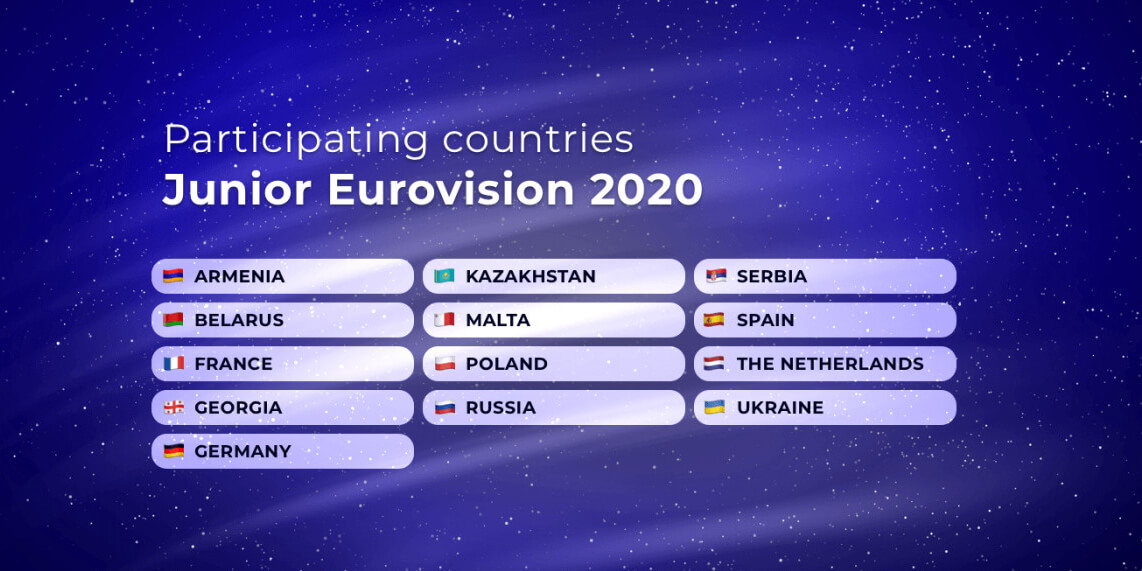 COVID-19: Studio performances from home countries
The 18th Junior Eurovision Song Contest will be hosted live from Warsaw in a studio with all presenters and necessary crew socially distancing. Interval acts will also perform live from Warsaw. It is noted that all the competing songs will be performed in a studio in each participating country.

Martin Österdahl, the Contest's Executive Supervisor had a few words to say about this year's contest and the COVID-19 situation:

– Travel restrictions and the ongoing issues relating to the COVID-19 pandemic mean regrettably we cannot bring all the artists to Poland to compete in person at the Junior Eurovision Song Contest this year. We are determined however that the show must go on and that this competition, held annually since 2003, must continue.
Österdahl is sure that all artists will have a memorable moment:
– Despite the changes this year, all the talented youngsters chosen to represent their countries will still have an equal chance to shine, and, as is tradition, families from around the world will be able to vote for their favourite songs online
History of Junior Eurovision
Back in 2000 the Danish broadcaster Denmark's Radio (DR) held a song contest for children, and in 2002 the "MGP Nordic" was held together with Sweden and Norway. EBU picked up the idea for a song contest featuring children, and the first Junior Eurovision Song Contest was held in 2003 in Copenhagen, with 16 participating countries.
Back then the Junior Eurovision was based on entertainment for kids around Europe. On their level. It has later transformed itself to a copy of the "adult's Eurovision", lacking the soul and unique atmosphere it once had.
Junior Eurovision is only open for children aged 9 to 14.
Winners of Junior Eurovision
2003: Croatia (Dino Jelusić: "Ti si moja prva ljubav")
2004: Spain (María Isabel: "Antes muerta que sencilla")
2005: Belarus (Ksenia Sitnik: "My vmeste" / "Мы вместе")
2006: Russia (Tolmachevy Sisters: "Vesenniy Jazz" / "Весенний джаз")
2007: Belarus (Alexey Zhigalkovich: "S druz'yami" / "С друзьями")
2008: Georgia (Bzikebi: "Bzz..")
2009: Netherlands (Ralf Mackenbach: "Click Clack")
2010: Armenia (Vladimir Arzumanyan: "Mama" / "Մամա")
2011: Georgia (CANDY: "Candy Music")
2012: Ukraine (Anastasiya Petryk: "Nebo" / "Небо")
2013: Malta (Gaia Cauchi: "The Start")
2014: Italy (Vincenzo Cantiello: "Tu primo grande amore")
2015: Malta (Destiny Chukunyere: "Not My Soul")
2016: Georgia (Mariam Mamadashvili: "Mzeo")
2017: Russia (Polina Bogusevich: "Wings")
2018: Poland (Roksana Węgiel: "Anyone I Want to Be")
2019: Poland (Viki Gabor: "Superhero")