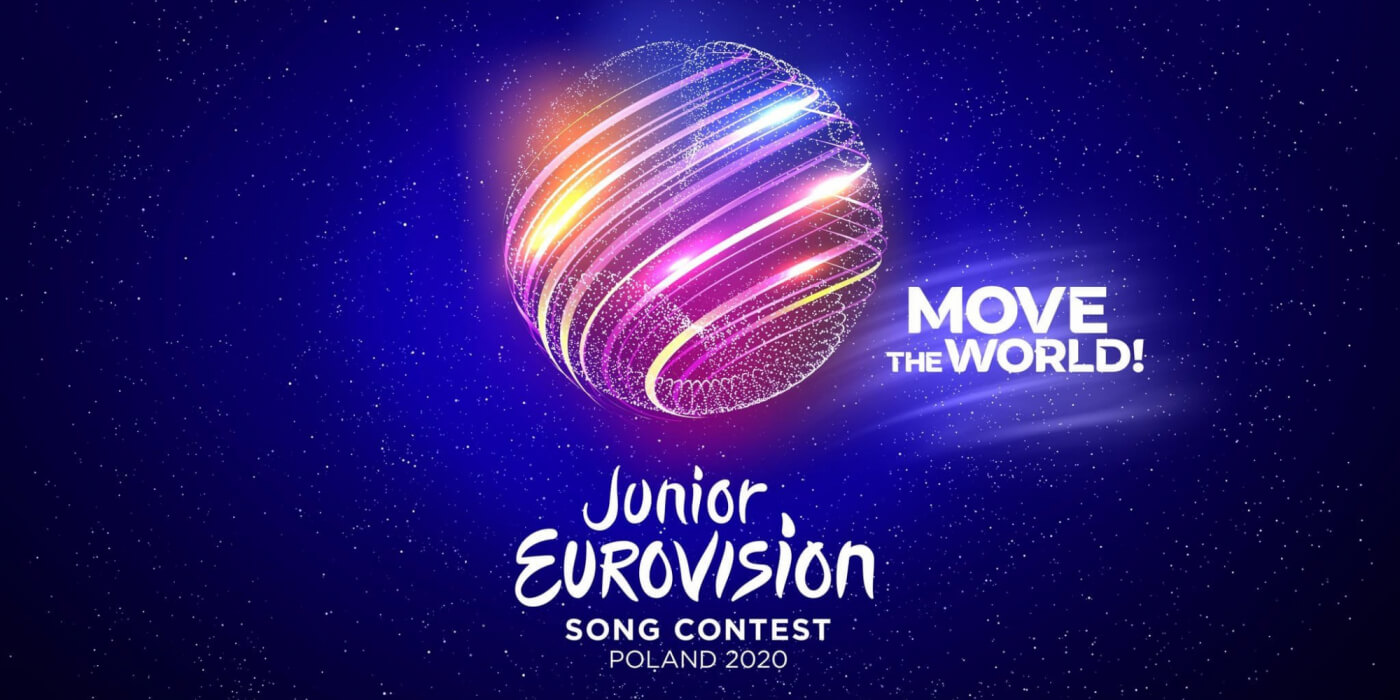 JUNIOR EUROVISION
Junior Eurovision 2020: Logo and Slogan unveiled
Move The World: The logo and slogan for Junior Eurovision Song Contest 2020 was revealed tonight during Europe Shine a Light
During Eurovision: Europe Shine A Light the logo and the slogan for the Junior Eurovision Song Contest 2020 were revealed.
The contest is will take place in the capital of Poland, Warsaw, on Sunday 29 November. Poland won the contest for the second time in a row as Viki Gabor won the contest on her home soil in Gliwice-Silesia.
The Polish broadcaster and the European Broadcasting Union admit, that the developments surrounding COVID-19 will clearly affect planning in the coming months for the Junior Eurovision Song Contest 2020. In an ever-changing and challenging environment, the EBU will work with TVP and its other Members to ensure the continuity of the event in a number of different scenarios.
Maciej Łopiński, the acting President of TVP explains more about the slogan:
– The creative concept behind the slogan is that, as children, we mistakenly believe all important things are done by renowned people: scientists, astronauts, athletes and actors. We want to become them because, in our eyes, they are the ones moving the world. But this is not the case: every day, millions of people around the world perform their day-to-day duties with capability and care. Together, they are the ones really moving the world. This year's slogan honours the collective power we hold together.
History of Junior Eurovision
Back in 2000 the Danish broadcaster Denmark's Radio (DR) held a song contest for children, and in 2002 the "MGP Nordic" was held together with Sweden and Norway. EBU picked up the idea for a song contest featuring children, and the first Junior Eurovision Song Contest was held in 2003 in Copenhagen, with 16 participating countries.
Back then the Junior Eurovision was based on entertainment for kids around Europe. On their level. It has later transformed itself to a copy of the "adult's Eurovision", lacking the soul and unique atmosphere it once had.
Junior Eurovision is only open for children aged 9 to 14.
Winners of Junior Eurovision
2003: Croatia (Dino Jelusić: "Ti si moja prva ljubav")
2004: Spain (María Isabel: "Antes muerta que sencilla")
2005: Belarus (Ksenia Sitnik: "My vmeste" / "Мы вместе")
2006: Russia (Tolmachevy Sisters: "Vesenniy Jazz" / "Весенний джаз")
2007: Belarus (Alexey Zhigalkovich: "S druz'yami" / "С друзьями")
2008: Georgia (Bzikebi: "Bzz..")
2009: Netherlands (Ralf Mackenbach: "Click Clack")
2010: Armenia (Vladimir Arzumanyan: "Mama" / "Մամա")
2011: Georgia (CANDY: "Candy Music")
2012: Ukraine (Anastasiya Petryk: "Nebo" / "Небо")
2013: Malta (Gaia Cauchi: "The Start")
2014: Italy (Vincenzo Cantiello: "Tu primo grande amore")
2015: Malta (Destiny Chukunyere: "Not My Soul")
2016: Georgia (Mariam Mamadashvili: "Mzeo")
2017: Russia (Polina Bogusevich: "Wings")
2018: Poland (Roksana Węgiel: "Anyone I Want to Be")
2019: Poland (Viki Gabor: "Superhero")