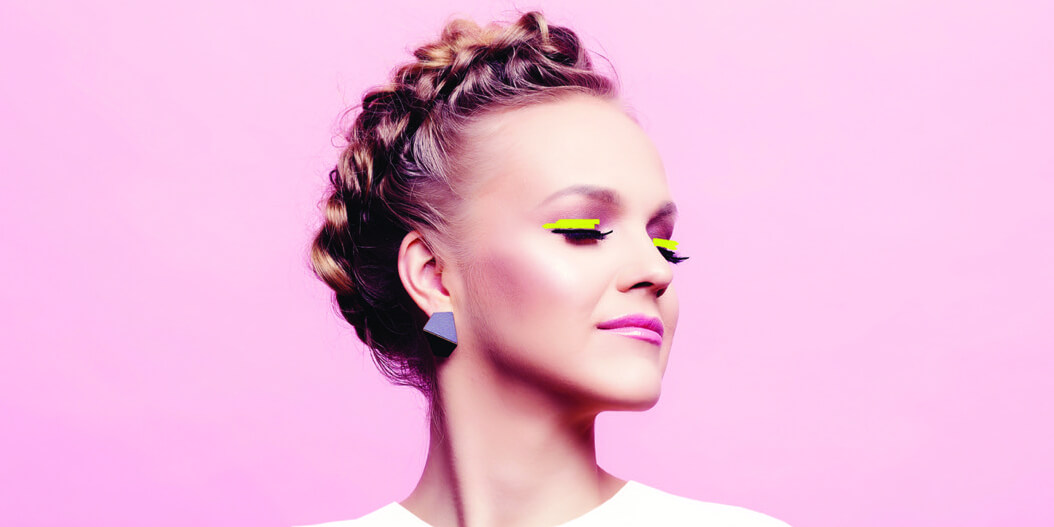 ESTONIA
Kadri Voorand from Eesti Laul: I wanted to share my story, my song and now I can do it again
INTERVIEW This is her first time competing in Eesti Laul and turned the current pandemic into something positive – That is actually one of the reasons why the song "Energy" was born
Estonia's Eesti Laul 2021 is in full swing as it gears up to the Final on Saturday. After two semi-finals, twelve hopefuls will sing their heart out to represent Estonia at the Eurovision Song Contest 2021 in Rotterdam.
Kadri Voorand is one of those hopefuls. She participated in Semi-final 2 of Eesti Laul with the song "Energy" and was one of the qualifiers for the Final. Kadri's song is written and composed by Kadri herself and mixed by Kaur Kenk.
Kadri expresses her joy from her first Eesti Laul experience:
– It feels great. I wanted to share my story, my song and now I can do it again. Being the final performer is an honour, but of course a little challenging as well.
Kadri Voorand
Before going in depth about her music journey and her current competition status, let's put some spotlight on Kadri. Who are you?
– I am a musician, composer, vocalist and a pianist. I started singing in my mom's folk ensemble as far as I can remember myself. It was an ensemble playing Estonian traditional music, performing authentic Estonian traditional music. I sang, danced and played the violin there. It was an act for guests, but reality for me. So I kind of lived like in a magic old world on weekends. Even though I participated in different groups during childhood and teenage years, I did not plan to become a musician, but at the end of high school I found myself suddenly in the Estonian Music Academy, entering jazz studies and since then I have been working as a professional musician,
– Kadri as a person 🤔 Well it is hard to say things like that about yourself. I love dreaming and spending time in nature. Spending time also in the magic world of music. While the music is playing, I can dream of things or situations may never have in real life. But you know, while you are in the state of mind listening to music, every thought is allowed. In the so-called real world, not everything has become a reality, because the world in your thoughts is as valuable. You can have wings through music. This is what I love. In that world I can hear my inner child and be the me I want to be.
Energy
Kadri starts to take us through her personal journey of "Energy" and confesses that this is the first time she has submitted as song to the competition.
– In terms of submission, it is my first. I was supposed to perform in the evening before the deadline of sending the song. My album presentation concert in Berlin Philharmonic hall was cancelled at the last minute. So I was at home and had that night for myself. In Summer I had written the main lines for this song and thought to myself, that this might be something to share with a wider audience. It later came into my mind, I finalized the piece and sent it off. I did not plan this long. Recorded it between 4 and 7 am in the morning of deadline.
Energy is a story that carries different layers of messageKadri Voorand
– I must admit, another reason to send the song is that I need the excitement to write. The feeling that the performance is coming closer and I will have the chance to share my music with the audience and create that magic world of dreaming I music. It makes me feel inspired to write.
– "Energy" is a story that carries different layers of message. First, there is a love story but underneath the top line, there is another layer of meaning. Everyone has been given an amount of energy per one life time. What do you do with it? Very often we use this energy acting out of different fears, fears of losing something, fears of failing etc. Instead we could use this energy to create the values and the world that the inner child inside of you, that you once were, dreamed of. On an emotional level that inner child knows so much more. I have decided to learn to listen to that little girl inside of me better, because she knows the most important answers. Answers for life, answers for love.
– Musically it is just me. I have help from my manager Marili Jõgi but advisors and helpers are also there. Mihkel Mälgand helped me when I was recording it and Kaur Kenk created the mix and final sound. Friends like Jaanus, Liina and Laila helped me to decide on some rapid decisions.
An Eesti Laul without an audience
Eesti Laul has been Estonia's national final to chose a song and artist for Eurovision and was always on a large scale. However due to the current global pandemic, this year, the national final has to be held without an audience with the inclusion of safety measures. Kadri's first Eesti Laul experience will be audience free.
– It is my first time at Eesti Laul, so I have no comparison. Of course it is different in the sense of feedback in the end of the song, but when the song starts, I simply dive into that and just do my thing. But of course it would be much more enriching with the audience. A concert virtually is totally another thing, because there you have to continue after one song with another and the intermission filled with audience feedback is more necessary. In a TV show it is filled with other material.
A positive perspective of the pandemic
In 2020, the world faced a different challenge, a global pandemic. Life was put on hold and many industries suffered, one that being the Music industry. However this did not stop Kadri with her own music journey in life.
– It was one very interesting year. My album "In Duo With Mihkel Mälgand" was internationally released just before the crisis and most of the tour was cancelled, so yes, it had an effect on me. Lot of preparation work with no result. But I did not sit back, I had more concerts in Estonia this year than in the previous, when I was travelling more, also made several digital shows and tried to reach my audience differently. Emotionally the time at home gave me a chance to grow as a person and look deeper into myself. And that is actually one of the reasons why the song "Energy" was born. So there is no bad without good.
Eesti Laul and Eurovision
We turn our attention to the main competition and Eurovision itself. Kadri keeps her feet on the ground for Eesti Laul and has no idea what will eventually happen on the final night.
– I really don't have any clue what will happen and who is my competition because all the songs are in different styles. It depends so much on the mood of a listener. If he or she feels like partying or soulful inner feelings. And for each song I think there is a different state of mind, so it is almost impossible to predict.
But a question remains, will Kadri change her performance for the final night of Eesti Laul?
– With every performance the song gets another layer in my own presence. I think emotionally it will be again on another angle. If I feel like putting on another dress on the performance day, I'll do it. I'll listen to the feeling in my stomach. But the most important is to deliver the song. There is a story to be told. And I believe in storytelling, because my own life is definitely touched by different stories I have heard. I just continue my everyday work, creating music. And besides that let that song through my system a little more.
You'll see a musician, an emotional woman singing a storyKadri Voorand
Kadri dreams of representing Estonia in Eurovision.
– It is always an honour to perform, no matter where. But the beauty is that I could sing my song, tell my story and share my world of sounds and dreams with so many people. But even if only one person will open his or her heart to my song and let the feelings come into their minds, the magic for me has happened, I have won for myself. In Eurovision you'll see a musician, an emotional woman singing a story.
Having the dream to represent Estonia at Eurovision doesn't come without any favourite songs from the past for her.
– Of course I have a favourite and it has to be Tanel Padar and Dave Benton with the song "Everybody". It was a winning song for Estonia in 2001 and Tanel is my childhood friend and neighbour in our home village Haljala. That performance will never be forgotten.
Whilst closing the interview they want to share a message for the readers of Eurovisionworld:
– Dare to let your dreams go to unexpected places while listening to music. Dare to listen to music more than just randomly in a car or couple of songs. Let yourself get lost into this magical world for hours. It takes a little courage and practise, but I can tell from personal experience, when your there, it is like all in love all the time, narcotics in a way, but one extremely healthy one.
Meanwhile we would like to wish all the Eesti Laul 2021 contestants the best of luck. You can listen to all the songs on our National Selection page for Eesti Laul 2021.