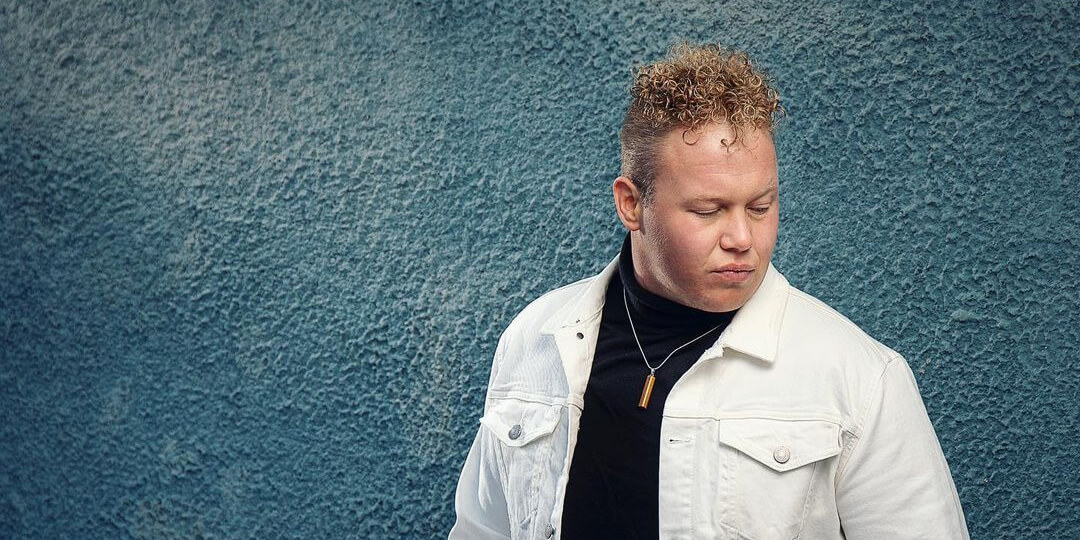 NORWAY
KIIM from Norway's MGP: "I hope that the underdog can win this year"
INTERVIEW It's his first time competing to sing in Eurovision but his ambitions are high. KIIM wants no less than a top 4 position in Eurovision but is also aware that this year's Final of Melodi Grand Prix will be a "blood bath"
KIIM!
I am not shouting at him but I could be if he dared to be late to our interview. After all, his stage name was inspired by the fact that he is always late:
– When I was thinking about a stage name, I thought on having it backwards and all that but then I remembered... People don't call me "Kim", it's always "KIIM!" because I am always late, he shares confidently.
KIIM is competing in this year's Norwegian Melodi Grand Prix with the song "My Lonely Voice". He won the fourth heat of MGP and is now one step closer of representing Norway at Eurovision Song Contest 2021. The competition is fierce and with KEiiNO (Norway 2019) back to the game, he's aware it'll be a tough night:
– This final is going to be a blood bath, he says laughing.
– I think there's like four or five songs that could go to Eurovision and do well. It's going to be exciting to see what the Norwegians and what the foreign voters have to say.
Being a favourite upfront is not always a positive thing. I hope that the underdog can win this yearKIIM
That's right. NRK – the Norwegian public broadcaster – is allowing international fans to vote just by registering on their website. KIIM sees that as an advantage "only to KEiiNO" but knows that anything can still happen.
Do you feel like an underdog?
– I do, I am one of the least known faces in the finals. I think that the only plus for me is that I have one of the few ballads in the competition and it's something that Norway has sent before and has worked.
The ballad guy
KIIM joins the MGP family one year after Ulrikke's victory last year with "Attention" who also brought a big ballad to the stage. Could he be the right follow-up having that similarity in mind?
– That's a fun perspective. It's kind of this year's "Attention" and that's a responsibility. You can't hide when you sing a ballad. It's just you, the song and the vocals but it's fun because it's challenging.
Can we call you "the ballad guy"?
– Yeah, I am the ballad guy but if you asked my colleagues a couple of months ago before the song was released, they'd think I wouldn't do a ballad.
That's when he shares a curiosity:
– I was in a songwriting camp for MGP and Eurovision. We had two days together and in the first day, we wrote "Walking In My Sleep" which is also up for competition at this year's MGP.
"Walking In My Sleep" performed by Ane.Fin competed at the fifth heat of Melodi Grand Prix but ended up not making it through to the final.
– It was on the second day that "My Lonely Voice" was born. When we wrote the song, I said: "Ok. This is going to Eurovision. It's made for it", he recalls.
– You can say what you want about Eurovision but you need to have its vibe on a song. In a ballad, for example, there needs to be a built up, you need an explosion.
First time competing for Eurovision
KIIM first rose to fame back in 2007 with his participation in the Norwegian version of Pop Idol. He finished third but only now he decided to give Eurovision a try. Why?
– I didn't want to be that guy. I wanted to build my career from bottom to top but as you grow older, things change but I also think that both Eurovision and MGP have changed in the past five years. Back then the focus was on how we could have a freak and weird song and I am not that type of artist, he explains.
He admits he had been invited before:
– I haven't taken part in competitions mostly due to the song. I didn't feel like I had the right song for it, the timeless song I could sing in every gig.
He shares yet another curiosity:
– Do you remember "Grab The Moment"? I was in an audition for that song and almost got to enter Eurovision back then.
Sometimes Eurovision needs a sad story
"Grab The Moment" sounds quite opposite to "My Lonely Voice" but it goes out to show that Eurovision is a space for every sort of music:
– I feel like a lot of songs in Eurovision are about partying and having fun, but sometimes you need to tell a sad story and show emotions. I just want to be naked on stage.
After this last sentence, KIIM goes silent for a moment:
– Not physically, he says before laughing out loud.
He goes on to say that "My Lonely Voice" is one of those songs that you can use to let go of heartbreak. After all, the song was inspired on one of KIIM's personal experiences:
It's a struggle between your heart and your mind.KIIM
– The song is inspired on the feelings I had back in September 2019. A few months before I had been in London and I met a guy who I immediately thought was "the one". We had the best weekend and we stayed in touch.
He had to eventually go back to Norway but promised to be back soon which he did, but things weren't the same:
– When we met each other again, something was off. The magic wasn't there anymore and we couldn't tell why. This song reflects the feelings and emotions I felt when I left for the last time.
His performance in MGP, where a dancer appears in a cage surrounded by ropes, is also a representation of what the song's about:
– It's a struggle between your heart and your mind.
KIIM promises changes for the final performance but wants to keep it "minimalistic" with the main focus being the vocals.
Aiming for top 4 in Eurovision
It might be KIIM's first time participating in Norway's MGP and he may be aware that the final will be a tough battle. Nonetheless, he expects no less than top 4 if goes to Eurovision:
– I am not participating just because. I'm aiming for top 4 and that's the reason why I am here. The song feels good, it's personal and I really hope I can make it.
– If I manage to [be in top 4], then I really have good ears for music, he says laughing.
Nonetheless, Eurovision is more than just a competition for the Norwegian singer:
– It's that one time of the year where Europe is united and everyone talks about the same thing. There's acceptance and I think that's why the LGBTQI+ community love it. It's the most peaceful weekend of the year and I see it as a blessing, he concludes.
KIIM will be back on the MGP stage on 20 February for the final, hoping to be selected to sing for Norway in Eurovision 2021. In the meantime, you can check his Eurovision covers of Loreen's "Euphoria" and Sanna Nielsen's "Undo".