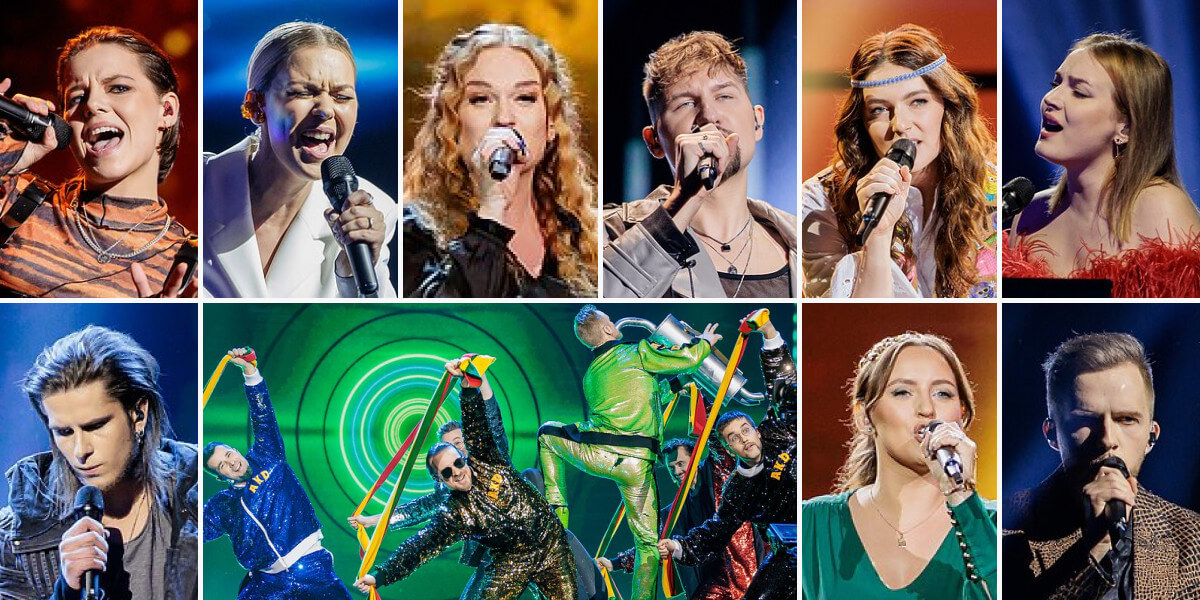 LITHUANIA
Lithuania: Last semi-finalists chosen for Pabandom iš naujo 2023
10 more artists have been selected for the Pabandom iš naujo 2023 semi-finals, continuing their run to become Lithuania's next Eurovision representative
Two shows down and three more to go.
The first phase of Lithuania's Pabandom iš naujo 2023 is officially a wrap, with 20 artists moving on to the show's semi-finals starting next week, 4 February.
Tonight's heat saw 10 more artists qualifying. The final decision came from both the televote and the professional jury, each worth 50%.
TV hosts Giedrius Masalskis and Augustė Nombeko were in charge of hosting the main show, whereas Richardas Jonaitis moderated the jury room.
Tonight's jury panel featured:
Ramūnas Zilnys (LRT's music editor-in-chief)
Vytautas Bikus (music producer)
Giedrė Kilčiauskienė (singer)
Stanislavas Stavickis-Stano (music producer)
Ieva Narkutė (singer-songwriter)
Pabandom iš naujo 2023 – Heat 2
Pabandom iš naujo 2023
Lithuania will select its representative through a national selection, Pabandom iš naujo 2023. There are five shows which will be used to select their representative for Liverpool.
Heat 1: 21 January 2023
Heat 2: 28 January 2023
Semi-final 1: 4 February 2023
Semi-final 2: 11 February 2023
Final: 18 February 2023
All five of the scheduled shows are hosted by Giedrius Masalskis, Augustė Nombeko and Richardas Jonaitis, and broadcast live from LRT studios in Vilnius.
Lithuania in the Eurovision Song Contest
Lithuania has taken part in the Eurovision Song Contest 22 times since its debut in 1994.
In their debut year, 1994, Lithuania finished last. Their best result is from 2006, when LT United performed the iconic song "We Are The Winners (of Eurovision)." Although they didn't win, they finished 6th.
Since the introduction of the Semi-finals in 2004, Lithuania has been in Eurovision every year, and qualified for the Grand Final 11 out of 18 times.
With Estonia's victory in 2001 (Everybody) and Latvia's victory in 2002 (I Wanna), Lithuania is the only Baltic country that hasn't won the Eurovision Song Contest.