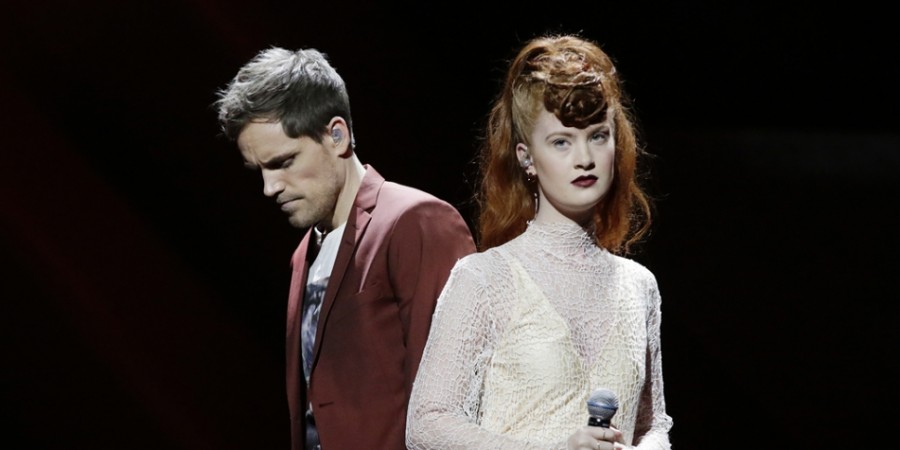 NORWAY
Mørland, Norway: "I hadn't realized Eurovision was so big"
INTERVIEW: The Norwegian-English Kjetil Mørland talks about the song "A Monster Like Me", Nocturne and the Eurovision circus. And he aims to finish in top 10 in Vienna
Many people underestimate Eurovision Song Contest. But when they become a part of it, they get to know its glory. Such a case is it for the Norwegian-English singer Kjetil Mørland, who speaks with Eurovisionworld.
Together with Debrah Scarlett they sing the song "A Monster like Me". They are not and don't look like monsters themselves, so they are singing about a total different situation.
Honey, I'm telling the truth
I did something terrible in my early youth
My mind went blank, I lost control
I was just a little boy, I did not know
How does the music get along with the lyrics?

»I think the music compliments the mood of the lyrics very well. I also like the way there is a sense of hope in the melody that gives the song another level.«
Which Eurovision song do you admire?

»Hmm... I haven't really followed Eurovision that much, so it's all a bit new to me. I never realized it was this big! But a few songs I remember... Of course Waterloo is a classic, and I really like Rolf Løvlands Nocturne (Secret Garden). I spoke to him after we won and he really likes my song, which was nice to hear. Rather embarrassing though I didn't realize it was him I'd talked to before someone told me afterwards!«
What do you like about Nocturne?

»So. It's just a classic well composed piece of music with a very compelling melody«
In which position do you aim?

»Top 10«
You said that you didn't follow much Eurovision, but how does it feel for you that Australia joined the competition?
»I think it's great that Australia have joined. Apparently there are a lot of Eurovision fans down under.«
Can you tell us more about yourself as an artist?

»You'll find my music under "Mørland" or Morland if you don't have our fancy character (laughs). My music is very influenced by British music as I've grown up listening to a lot of British artists and have also lived in and around London for most of my adult life. I've fronted and written for a band called "Absent Elk" in the UK where we released the album "Caught in the Headlights". Nowadays I'm working on my solo album which I plan to release later this year - it's already shaping up well!«
Can you predict who will be this year's winner?

I hope the best song wins. I think Eurovision needs that - to celebrate the music rather than every other thing around it.
Kjetil Mørland
Kjetil Mørland comes from Grimstad in Southern Norway but has been living in United Kingdom for most of his adult life, which has influenced him a lot as an artist and songwriter.
Recently, he established himself as a solo artist using the name Mørland and in Eurovision he presents with his partner a dark love ballad.
"A Monster Like Me" is about confronting something unresolved from the past, and about having to let go of the one you love... It's about facing up to your inner demons and confronting a dark secret from your past - something that has been haunting you that you never managed to talk about. You don't feel good enough for the person you are with because of what you have done and don't feel worthy of their love.
Mørland and Debrah Scarlett won the Norwegian selection "Melodi Grand Prix" with 88,869 votes back in March 2015.
You can follow Mørland & Debrah Scarlett here:
Facebook: www.facebook.com/morlandanddebrahscarlett
Kjetil Mørland:
Homepage: www.morlandmusic.com
Twitter: @kjetilmorland
Debrah Scarlett:
Homepage: www.debrahscarlett.com
Facebook: www.facebook.com/DebrahScarlett
Twitter: @DebrahScarlett