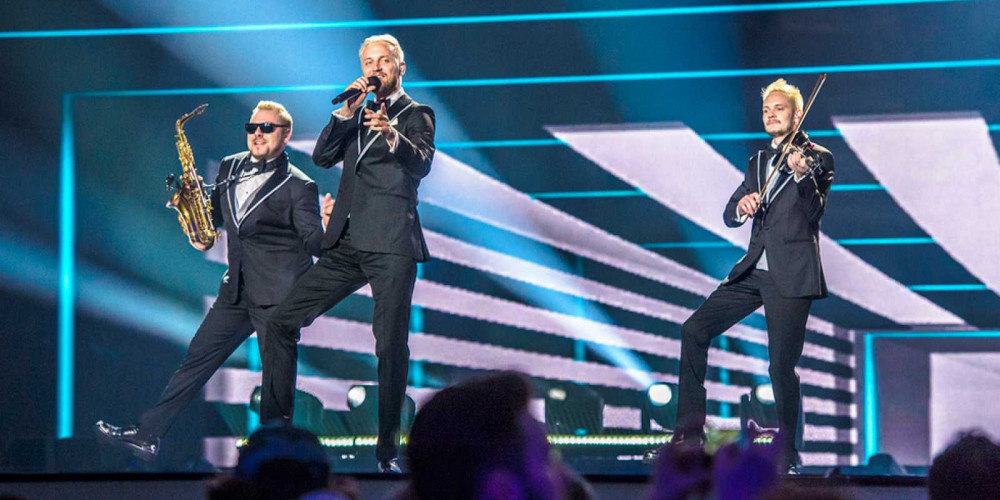 MOLDOVA
Moldova's SunStroke Project: Our friends were afraid of going to Eurovision
Interview: They gave Moldova their best place in Eurovision Song Contest which has made a few artists in the country intimidated of competing in the show. Two years after we last saw them on Europe's biggest stage, SunStroke Project remembers their participations, speaks about the future and shares their opinions on Moldova's two latest acts
No one will ever forget the "epic sax guy" that went viral in 2010 and came back to Eurovision Song Contest stage seven years later to score Moldova's best ever result in the show. We're talking about Sergey Stepanov from SunStroke Project.
The duo – also represented by the vocalist Sergei Yalovitsky – made their Eurovision debut in 2010 with the song Run Away. It qualified for the final but didn't manage to be within the competition's top 20. Seven years later, in 2017, SunStroke Project were back and made quite an impression by coming third with Hey Mamma and giving Moldova its best ever result.
We met with the duo, talking about their 2010 and 2017 participations:
– In 2017, we felt stronger. We had the goal of coming amongst the top 10 but we didn't expect to come at third place. We were shocked and it was great, says Sergei Yalovitsky, not forgetting that the jury wasn't impressed by the catchy "Hey Mamma":
– We know that the jury didn't love our song but the people did and that was more important for us because we had the people's vote!
SunStroke Project currently holds the record of Moldova's best place in Eurovision Song Contest, and it has become a kind of benchmark for artists thinking about running for Moldova:
– Well, when we spoke with our friends after Eurovision 2017, they said they were scared to go after us because they thought they couldn't do any better, says Sergey, "the epic sax guy", and continues:
– I think it's more important to be on that stage and share your music than to rank higher. The first time we went to the show, we came at 22nd and many people were disappointed because they liked our song. That is the main thing for an artist, the vocalist of the duo adds up.
Eurovision is like sex
It was inevitable to compare SunStroke Project's two Eurovision participations but Yalovitsky is ready to talk about it:
– Everybody wants to know the differences. Well, Eurovision is like sex. The first time we were very, very shy and all that. The second is more... You know what to do, laughs Yalovitsky, and continues:
– Eurovision is a big world and you always have fun... Not only on stage but the entire atmosphere.
The duo is also well-aware that a decent Eurovision participation needs to have financial support and that led us to speak about this year's Moldova representative, Anna Odobescu, who failed to qualify to the show's Grand Final:
– In other countries, whenever an artist goes to Eurovision, they have a lot of financial help and a big team. Anna didn't, it was all on her and she had less support, says Sergey. Taking the opportunity, he brings DoReDos into the conversation:
In other countries, whenever an artist goes to Eurovision, they have a lot of financial help and a big team. Anna didn't, it was all on her and she had less supportSergey Stepanov about Anna Odobescu (Moldova 2019)
– Take last year, for example. Philipp Kirkorov is such a big star in Russia. Moldova is such a small country that whenever a big star comes to help, it means a lot.
Nonetheless, don't think that the guys from SunStroke Project didn't reach out a hand to Anna:
– We spoke with her and to her husband before Eurovision and helped her because that's important. It's not just about the artist, it's about the country. We were disappointed that she didn't qualify, she has a great voice.
SunStroke to Eurovision again?
– Life will show us the way but it's most likely that we won't comeback, says the duo's vocalist.
– We don't make plans to go, or not to go, to Eurovision. As I said, life will show the way. If we find a good song, if we have a good financial support, then we'll go.
Well, either way, a third place is already something to brag about...

– Yes and if we go again, we need to understand that we need to finish third place or higher!
But that's not the only reason why they may not return:
– In the future, we want to give the opportunity to more artists from our country to go because Eurovision is such a great experience and we want to share it, explains the "epic sax guy".
While a third time on the Eurovision stage may seem unlikely for now, SunStroke Project are not going anywhere. Even though an album is not on the plans, just a few weeks ago, the duo released their latest single "D.F.M.M." that does share similarities with their most recent Eurovision entry and has the chance of becoming a hit as it has already been added into Sweden's playlists.
Moldova has participated in Eurovision Song Contest every year since its debut in 2005.
The best result was in 2017 where Sunstroke Project finishing 3rd with the hit Hey Mamma.
Out of the 15 times we have seen Moldova in Eurovision, they manage to qualify for 10 Grand Finals.