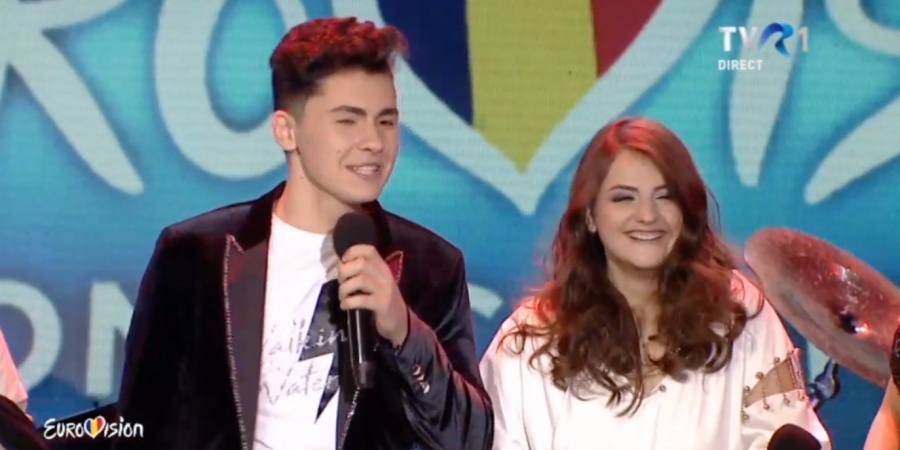 ROMANIA
Romania: Selecţia Naţională 2018 Heat 1 results
Selecţia Naţională 2018 had it's first live show tonight: The first heat where 11 contestants fought for 3 tickets to the final. See the results here
Selecţia Naţională 2018 had it's first show tonight out of six shows in total. Eleven songs competed for three tickets to the final of the Romanian national selection for Eurovision Song Contest 2018. The show took place at Teatrul Municipal "Maior Gheorghe Pastia" in Focșani, Romania.
A jury selected 3 songs to qualify for the final on 25 February 2018.
Selecţia Naţională 2018 – Heat 1 results
Alexia & Matei – "Walking on Water" (53 points)
Echoes – "Mirror" (38 points)
Eduard Santha – "Me som romales" (35 points)
Johnny Bădulescu – "Devoted" (34 points)
Alex Florea – "Nobody Told Me It Would Hurt" (28 points)
Elena Turcu – "The Perfect Fall" (27 points)
Lina – "A Love Worth Falling For" (24 points)
Hellen – "From Underneath" (22 points)
Liviu Anghel – "Rise Up" (20 points)
Waleska – "Renacer" (7 points)
CornEL – "Take Me Away" (2 points)
Tom Hartis – "Teardrop Rain" (withdrawn)
Tom Hartis withdrew due to health problems. It is not known if he will be allowed to take part in another heat
Eurovision Unește România!
In Selecţia Naţională 2018 there will be five heats and one final. 12 songs will compete in each of the five heats, and 3 songs from each heat will qualify for the final of Selecţia Naţională 2018 on 25 February 2018:
21 January 2018: Heat 1 (Focșani)
28 January 2018: Heat 2 (Timișoara)
4 February 2018: Heat 3 (Craiova)
11 February 2018: Heat 4 (Turda)
18 February 2018: Heat 5 (Sighișoara)
25 February 2018: Final (Bucharest)
Each show will take place in a different city in Romania. In each heat a jury will determine which 3 songs will qualify to the final. In the final the winner will be determined by televoting.
Jury members of Selecţia Naţională 2018:
Marian Ionescu –Founder of the band Directia 5.
Nicu Patoi – Has been part of the Romanian music industry for over 30 years
Liliana Stefan – Composer, Producer and lyricist.
Viorel Gavrila – Member of the Union of Composers and Musicologists of Bucharest
Romania had its debut in 1994, and has been participating 18 times since. They have never won the contest, but came 3rd in 2005 (Luminita Anghel & Sistem - "Let Me Try") and 2010 (Paula Seling & Ovi - "Playing With Fire").
Romania was expelled from Eurovision 2016 due to unpaid dept to EBU, so the winner of Selecţia Naţională 2016, Ovidiu Anton didn't participate in Stockholm.
Since the introductions of semi-finals in 2004, Romania has qualified to the Grand Final 13 out of 13 times.