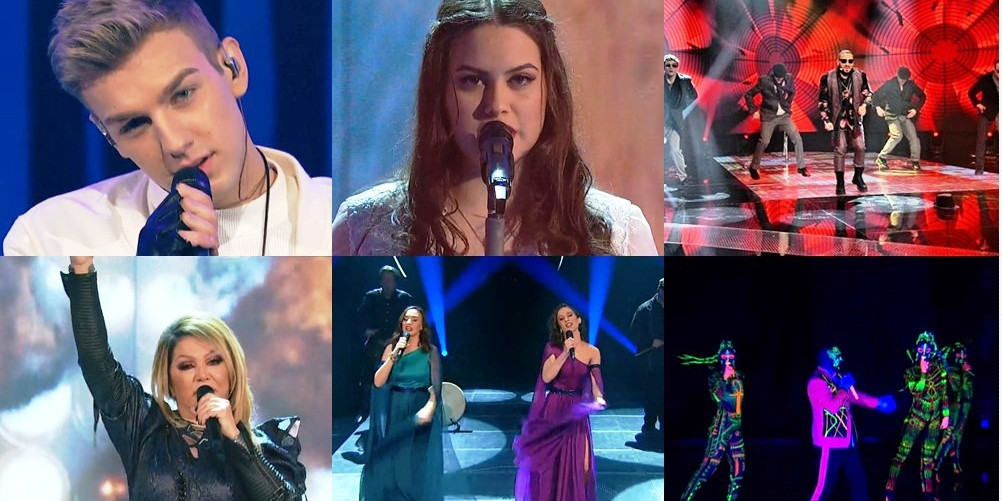 SERBIA
Serbia: Here are the first finalists of Beovizija 2020
The very first semi-final of Serbia's Beovizija has selected the first six finalists that will come back to the stage next sunday, 1 March, hoping to represent the country in Eurovision 2020
Serbia may be one of the last countries to initiate its national selection season but soon will have it done.
With the first semi-final coming to an end and the first six finalists selected, we are now two days away of finding out this year's Beovizija winner.
Andrija Jo, EJO, Igor Simić, Marko Marković, Neda Ukraden and Thea Devy have convinced the jury and the public and qualified.
Beovizija 2020 - Semi-final 1 Results
Andrija Jo – "Oči Meduze"
EJO – "Trag"
Igor Simić – "Ples za rastanak"
Marko Marković – "Kolači"
Neda Ukraden – "Bomba"
Thea Devy – "Sudnji dan"
Bilja & Amvon duo – "Raj"
Ivan Kurtić & Mistik Cello – "Sabajle"
Karizma – "Ona me zna"
Milica Mišić – "Kiša"
Sanja Bogosavljević – "Ne puštam"
Srđan Lazić – "Duša i telo"
The six qualifiers were decided by a combination of votes from a jury panel and the Serbian public.

The show
The show was hosted by Dragana Kosjerina and Jovan Radomir, both known in Serbia for their TV work. Tijana Bogićević (Serbia 2017) opened the show with a rendition of last year's winner, "Arcade".
The entries were performed with quick visits to the green room with the help of Kristina Radenković and Stefan Popović.
The lines for the televoting were opened for 15 minutes. As soon as those were closed, an homage to Ljiljana Petrović (Yugoslavia 1961), who passed away earlier this month, was paid.
Tijana Bogićević came back to the stage twice more. First to perform her Eurovision entry, "In Too Deep" and later to sing "Hold Me Now" (Ireland 1987) with Maya Sar. Milan Stanković was next to perform his 2010 entry, "Ovo Je Balkan", and later Mahmood's "Soldi" (Italy 2019).
Maya (Bosnia & Herzegovina 2012) also performed her Eurovision entry amongst other surprise guests.
Beovizija 2020
Beovizija will select the Serbian entry for Eurovision Song Contest 2020 during three shows: Two Semi-finals and a Final. All to be held in Studio 8 of RTS in Belgrade:
28 February 2020: Semi-final 1
29 February 2020: Semi-final 2
1 March 2020: Beovizija 2020
Serbia has been a part of Eurovision since 2007 except 2014, where they chose not to participate.
The best result was in their debuting year, where Marija Šerifović won the Eurovision Song Contest 2007 with the song Molitva.
Out of the 12 participations they qualified to the Grand Final 9 times.