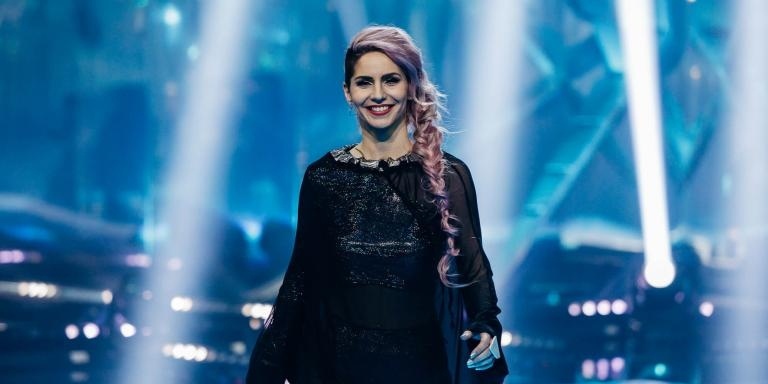 SLOVENIA
Slovenia: Lea Sirk wins EMA 2018
Lea Sirk will represent Slovenia at Eurovision Song Contest 2018 after winning Evrovizijska Melodija (EMA) 2018 with the song "Hvala, ne!"
Slovenia held the final of this year's Evrovizijska Melodija (EMA), to select the Slovenian representative at Eurovision Song Contest 2018 in Lisbon.
Eight candidates competed in the final of EMA 2018, but the main name tonight was Lea Sirk who won EMA 2018 with the song Hvala, ne! (English: Thanks, no!). Lea Sirk will represent Slovenia at Eurovision Song Contest 2018 in Lisbon.
Hvala, ne! is written by Lea Sirk and Tomy DeClerque.
EMA 2018 – Result
Lea Sirk – "Hvala, ne!" (116 points)
BQL – "Promise" (106 points)
Nuška Drašček – "Ne zapusti me zdaj" (88 points)
Lara Kadis – "Zdaj sem tu" (74 points)
Proper – "Ukraden cvet" (54 points)
Ina Shai – "Glow" (38 points)
Indigo – "Vesna" (18 points)
Marina Martensson – "Blizu" (10 points)
Lea Sirk
Lea Sirk, 28, is a Slovenian singer and songwriter. Her musical journey began when she was five, starting flute lessons. She has received several awards and recognitions at national and international competitions, and since 2007 she has been studying at the Conservatory of Music in Geneva – still flute as her instrument, but with a growing passion and talent for singing.
In 2014 she released her first – and only – album, Roža. She has released several singles from 2007 until today.
EMA 2018
EMA 2018 had two shows: A semi-final and a final. All the 16 songs performed in the Semi-final, where 8 qualified to the final of EMA 2018: 4 of the finalists chosen by a jury and 4 chosen by televoting.
Semi-final: 17 February 2018
Final: 24 February 2018
In the final the winner was chosen by 50/50 jury/televoting. There were six different juries in the final, containing five members each:
Singers Jury
Composers Jury
Radio Jury
Television Jury
Fan Jury (members of OGAE Slovenia)
International Jury
The sixteen artists competing in the 22nd Evrovizijska Melodija were revealed two months ago, and 10 days ago their songs were released also.
Slovenia had its debut in Eurovision Song Contest 1993, and since then participated 23 times in Eurovision. They have never won the contest, and the best result for Slovenia is two 7th places in 1995 and 2001.
Since the introduction og Semi-finals in 2004, Slovenia only managed to qualify for the Grand Final 4 times out of 14.