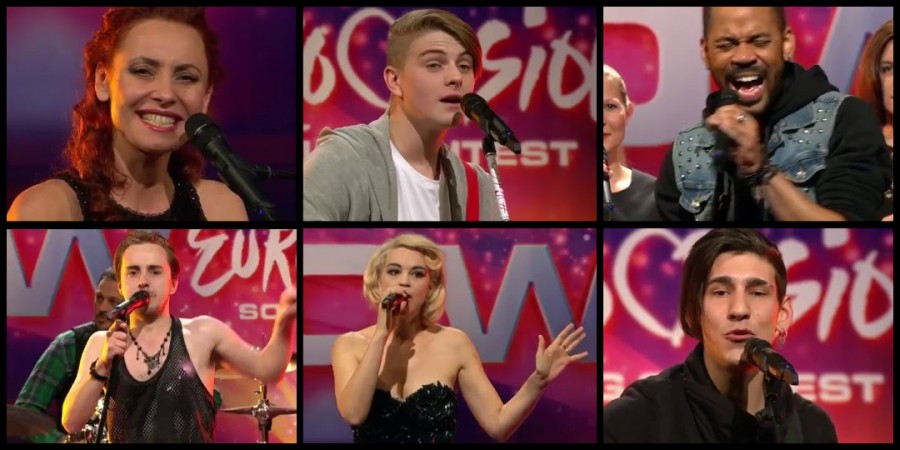 SWITZERLAND
Switzerland: "Die Große Entscheidungsshow" finalists decided
The 6 finalists in "Die Große Entscheidungsshow" were chosen in sunday's "Expert Check". They will now fight for the ticket to Eurovision Song Contest 2016 in Stockholm. Watch the videos of all the finalist's performances here. UPDATE: Stephanie Palazzo disqualified
UPDATED 28 January 2016:
Running order and cover songs updated
UPDATED 11 December 2015:
Stephanie Palazzo has been disqualified. Her song "Perché mi guardi cosi" was earlier released with a French title in 2013. She is replaced by the band Kaceo with their song "Disque d'or"
Six finalists are ready for "Die Große Entscheidungsshow" in Switzerland. 19 candidates performed their songs in front of a panel of experts at sunday's marathon "Expert Check", streamed live on the internet. The participants were judged on live performance, voice, vocal technique and stage performance by an expert jury.
In Die Große Entscheidungsshow the six finalists will perform their own song and a cover version of another song. Who the Swiss representative at Eurovision Song Contest 2016 will be is up to the public televoters and an expert jury to decide (50/50 decision).
Die Große Entscheidungsshow takes place on 13 February 2016 at 20.00, and will be broadcasted live from Bodensee Arena in Kreuzlingen.
Just like previous years, the contestants will each sing a cover version of a song as well as the entry they plan to perform in Stockholm in May.
Die Große Entscheidungsshow 2016 – finalists
Running order (cover-song in brackets)
Vincent Gross – "Half a Smile" ("Astronaut" by Sido)
Bella C – "Another World" ("Empire State Of Mind (Part II)" by Alicia Keys)
Kaceo – "Disque d'or" ("Video Killed The Radio Star" by The Buggles)
Theo – "Because of You" ("Photograph" by Ed Sheeran)
Rykka – "The Last of Our Kind" ("Love Me Like You Do" by Ellie Goulding)
Stanley Miller – "Feel The Love" ("Hello" by Adele)
Stephanie Palazzo – "Perché Mi Guardi Cosi?" (disqualified)
The expert jury
Tanja Dankner, singer and vocal coach
Rafael Antonio, choreographer from Germany
Daniel Meister, SRF, Eurovision editor
Catherine Colombara, RTS
Andrea Bignasca, RSI
Switzerland has been in Eurovision Song Contest since it's beginning in 1956 - in Switzerland. And the winner of the first very Eurovision Song Contest was... Lys Assia from Switzerland with the song "Refrain". Since then, Switzerland won the 1988-contest by an, back then, unknown girl, Céline Dion with the song "Ne Partez Pas Sans Moi" (only ONE point to number two, United Kingdom). A Star was born.
Since then, Switzerland haven't had huge succes in Eurovision. Since the introduction of Semi-finals in 2004, Switzerland only managed to qualify for the Grand Final 4 out of 12 tries. Switzerland is a proud member of "Club Zero", with four contests without any points.