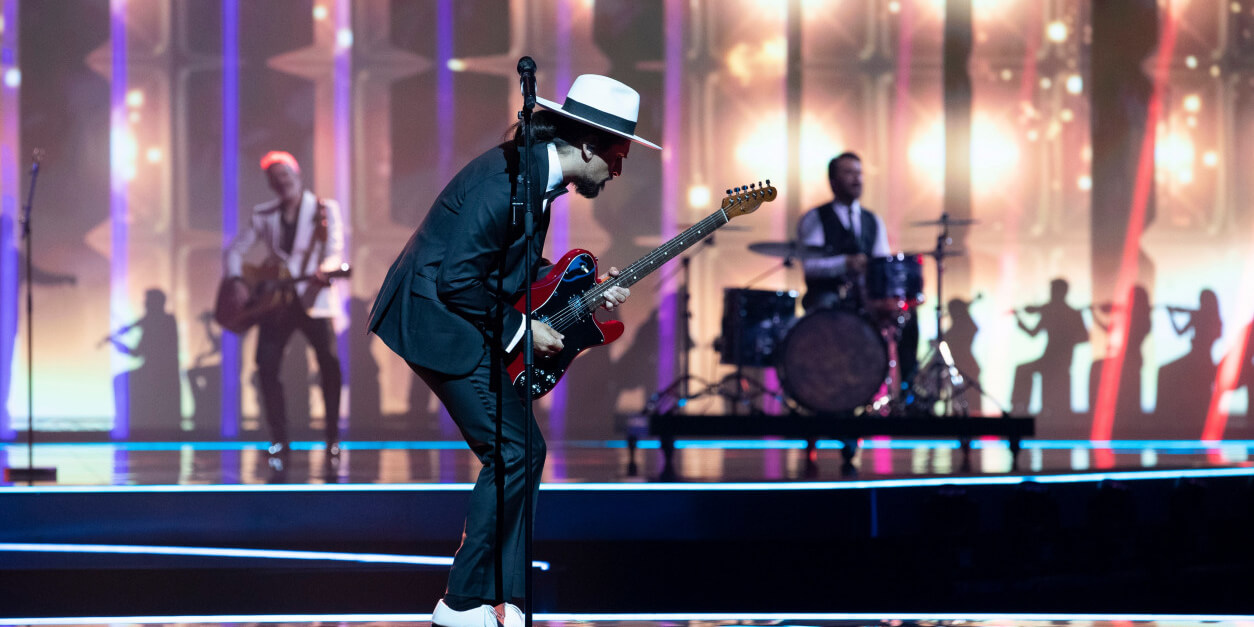 PORTUGAL
The Black Mamba from Portugal: "We didn't come to play"
INTERVIEW The Black Mamba will represent Portugal at Eurovision 2021 with the song "Love Is On My Side". The band admits their expectations have been succeeded and clarify that they're in the contest with specific goals in mind
It is safe to say Portugal's The Black Mamba are one of this year's underdogs. Once seen as non-qualifiers, as soon as their first run of rehearsals ended, the bookmakers changed their minds about that.
When I inform them of such, they can't help but to feel happy:
– Well, fellas! It seems like it's all going well, says Pedro Tatanka, the vocalist of the band.
It is indeed. Not only they're excited with the news, but they're also quite happy with their rehearsals:
– The rehearsals exceeded our expectations. The professionalism level is out of this world. We had never experienced something like this. It was surreal.
– There is no space for mistakes, adds Miguel Casais.
As if that wasn't enough, they didn't feel nervous at all! Who's to blame? The Eurovision team:
– That level of professionalism gives us trust and breaks any nervousism we may feel. You can't help but to feel like you're in good hands. You know all is going to go well and you don't have to worry a thing.
How does Eurovision compare to the huge stages you've had the opportunity to perform in?
– It's very different. To start, the reach of Eurovision is not comparable with the festivals and gigs we've done in the past. On top of that, there your range of ideas is always very limited. In Eurovision, you don't have a limit, almost everything is possible.
The first full English song for Portugal
After The Black Mamba were announced as the winners of Portugal's Festival da Canção, many questioned the band's intentions. I speak to them about that:
– It's incredible to have an opportunity like this. We didn't come to play. We've been doing this for years and this is our life. We put all of our efforts in our music and we would never come to Eurovision to just play. It's completely out of our ethical code.
– We also want to take this opportunity to make our band go international and, of course, dignify our country. It's something so different from everything we're used to. There's so many people watching, completes Miguel.
Besides the band's intentions, the fact that "Love Is On My Side" is Portugal's first ever full English entry didn't please everyone. How did the band react to that?
– We love music and music is a universal language. We're extremely proud to symbolise this change in Festival da Canção's history and we hope we're able to break any prejudice related with that.
Music does have a magical and unique power.Pedro Tatanka
Salvador Sobral (Portugal 2017) arrives to the conversation:
– I remember seeing this old lady crying her eyes out while listening to Salvador Sobral's "Amar Pelos Dois" in Kyiv. She didn't understand a word of what he was singing but somehow the song was touching her heart. Music does have a magical and unique power. It really is an universal language, says Pedro.
Salvador Sobral is actually a close friend to the band. Has he given any advises to The Black Mamba?
– Actually, I had dinner with him the weekend before coming to Rotterdam, says Pity, the guitarist.
– He told us to be ourselves and to be faithful to ourselves, something we've always done.
– He was a very important statement for Portugal in Eurovision. It was the first time we won and he proved that music can get anywhere. We're so thankful to him and we feel like Portugal is seen with other eyes thanks to him. We feel like we're respected thanks to him, finishes Pedro.
A full circle
Life can be quite ironic and the story of "Love Is On My Side" is one of a kind. The song's idea was born in the Netherlands. It was recorded in Portugal and is now back to its country of origin:
– It's about a lady that we met in Amsterdam. We were staying in the crazy world of the Red Light District and we thought it would be a nice idea to write an album inspired by that very peculiar world, Pedro explains.
– While we were there we met this older lady who told us her story. She left Eastern Europe in the 60s with a lot of expectations and dreams but things didn't go her way. She ended up becoming a drug addict and a prostitute but the pretty part of this story is that she always felt that, no matter what, love would prevail. It was fascinating to witness someone who's had such a tough life to continue having that shine in her look.
If we make it through the Finals... You never know.Pedro Tatanka
If you pay close attention to their performance, you'll be able to see the imagery present in Portugal's LEDs telling this same exact story.
The Black Mamba are performing "Love Is On My Side" in Semi-Final 2 on 20 May 2021 and they have one last message before I let them go:
– In rehearsals we made a few technical changes but if we make it through the Finals... You never know.