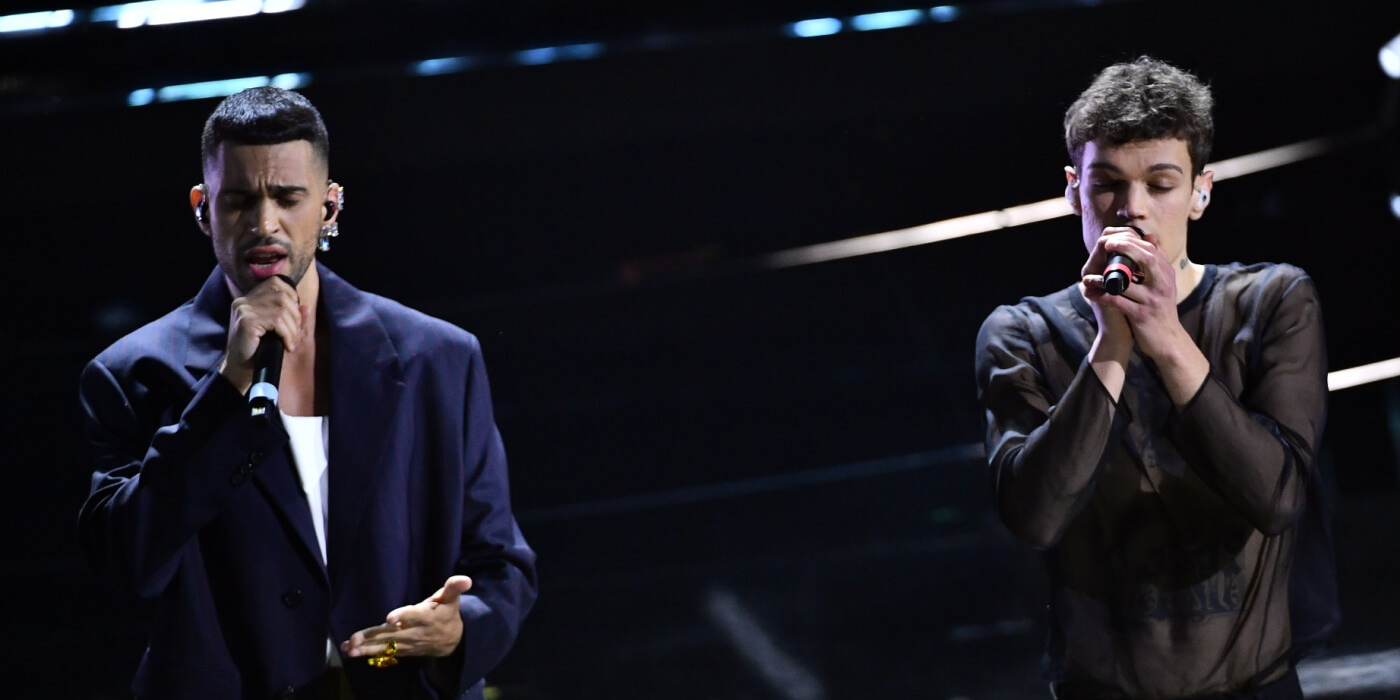 ITALY
Italy: Results of the first night of Sanremo 2022
First half of the contestants taking part in Festival di Sanremo 2022, Italy's national selection for Eurovision Song Contest, have performed for the first time
Today, the first night of Festival di Sanremo 2022 took place for the first time with a full audience as it was previously announced. During the first night, the first 12 of the contestants performed their song for the first time.
At the end of the show, the songs were ranked and were fully decided by a press jury (representing TV/printed/web media and radio). These results are for guidance however an average of these results will be taken into consideration when combined with the public televote on the final night to determine the super-finalists.
Tonight's best ranked was the duo Mahmood (Italy 2019) & Blanco with the song Brividi.
The remaining 13 acts will be presented Wednesday evening at the second night of Sanremo.
Sanremo 2022
1 February 2022: Sanremo Night 1
2 February 2022: Sanremo Night 2
3 February 2022: Sanremo Night 3
4 February 2022: Sanremo Night 4
5 February 2022: Sanremo Final
At Nights 1 & 2 (Tuesday & Wednesday) all the 25 artists perform their song for the first time, half of them sang in the first one, the other half will sing in the second night. The outcome of both nights is decided by a press jury (representing TV/printed/web media and radio).
At Night 3 (Thursday) all the 25 artists will perform their own song again. Televoting and a demoscopic jury (a jury selected by RAI that represents the Italian population) will form the results of the night and a new ranking will be elaborated, where the previous votes from the first two nights will be added.
At Night 4 (Friday) all the 25 artists will be given a chance to choose and to perform a cover of a song from the 20th century. The artists can perform the song solo or together with an acclaimed Italian or international guest artist.
At Saturday's Final, every contestant will perform their songs again, and the top 3 songs will proceed to the Superfinal. A new voting will take place and at the end of it, we will have the winner of the 72nd edition of Sanremo Music Festival, and will have first refusal to represent Italy in the Eurovision Song Contest 2022.
Italy in Eurovision Song Contest
Italy has been in Eurovision for 46 contests. They have won three times:
Worst result was in 1966 where they finished last.
The most known song is "Nel Blu Dipinto Di Blu" or better known as "Volare" from 1958. It is also the most covered Eurovision Song Contest song. The song has been covered by famous stars such as Dean Martin, Cliff Richard, David Bowie and many more.
Italy had a long pause from Eurovision Song Contest from 1998 to 2010. Since then Italy has been a "Big-5"-country, automatically qualifying for every year's Grand Final.