ITALY
Ready for Eurovision: Mahmood & Blanco win Sanremo 2022 in Italy
Abbiamo un campione! Mahmood & Blanco have just been crowned as the winners of the 72nd Festival di Sanremo in Italy with the "Brividi". They have announced that they will represent Italy at Eurovision 2022
The Italian Sanremo Music Festival 2022 has come to an end after five nights full of music, special acts and notable guests.
In tonight's Final, all twenty five participating artists performed their songs for the very last time. Tonight's result was first decided by the public where three superfinalists were decided after adding up the public vote together with the previous nights average provisional rankings.
For the Superfinal round, all votes were zeroed so the winner was decided by the combination of votes from the demoscopic jury (33%), the press jury (33%) and the public vote (34%).
Mahmood & Blanco were crowned as the winners of Sanremo 2022 with the song "Brividi" after beating Elisa and Gianni Morandi in the Superfinal.
The bookmakers and visitors of Eurovisionworld who voted in our poll were not in doubt who the winner of Sanremo should be.
"Brividi" is written by Alessandro Mahmoud, Michele Zocca and Riccardo Fabbriconi.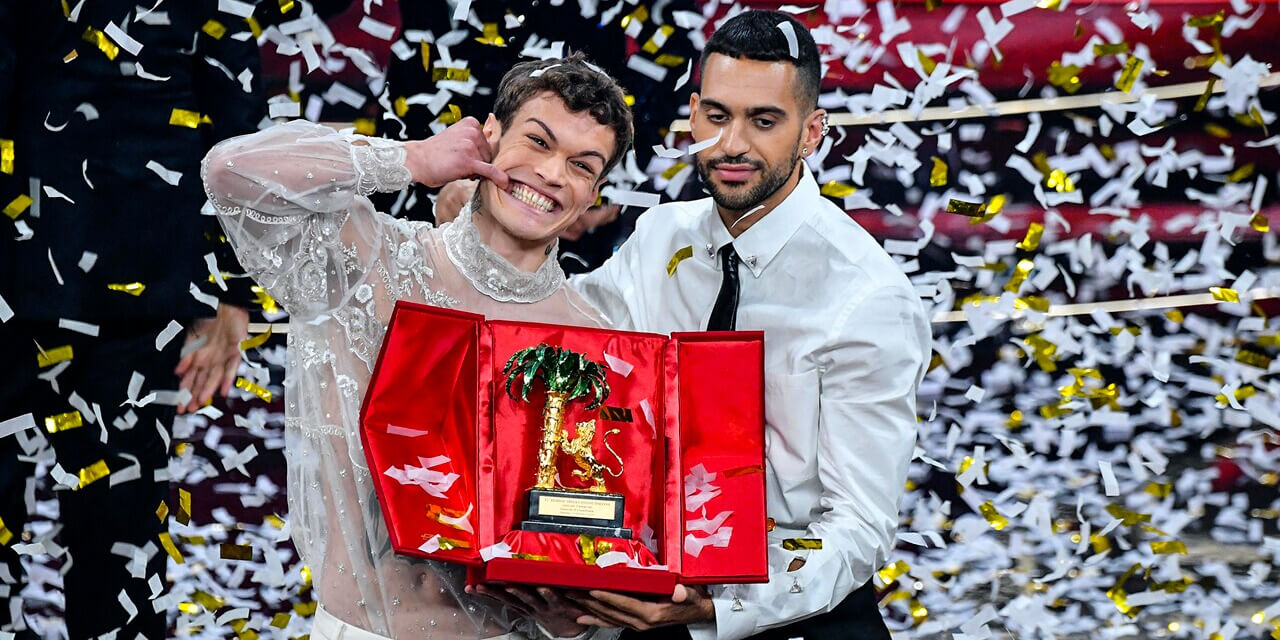 The winner of Sanremo has the option to go to Eurovision. At a press conference shortly after their Victory, they confirmed that they will represent Italy at Eurovision Song Contest:
– We will definitely go to Eurovision, we are very pleased to be there especially because it will be held in Italy, says Blanco.
Sanremo 2022 – 5th night
First round
Superfinal
Mahmood & Blanco
Alessandro Mahmoud (29) is from Milan, Italy where he was born and raised.
He participated in the sixth season of X Factor Italy in 2012, where he was initially eliminated at Judges Houses, but returned as a wildcard and participated until the third round after which he was finally eliminated from the program.
He won Sanremo 2019, and represented Italy at the Eurovision Song Contest 2019 in Tel Aviv with the song "Soldi", where he finished in second place.
Mahmood writes songs himself, and has worked in bars, attended music school, piano and music theory.
Mahmood's released their first single "Fallin 'Rain" in 2013. His debut album "Gioventù bruciata" was released in 2019 and reached number one on the Italian album chart.
Riccardo Fabbriconi (18), known as Blanco, is from Calvagese della Riviera, Brescia.
He released his first EP "Quarantine Paranoid" on SoundCloud in 2020, and quickly got a record deal with Universal. His first studio album "Blu celeste" was released in September 2021, and reached number one on FIMI's album chart and was certified triple platinum.
The most famous of Blanco's songs is "Mi fai impazzire" (featuring Sfera Ebbasta), which topped the Italian singles chart for a full eight weeks and was certified sextuple platinum in Italy.
Sanremo 2022
1 February 2022: Sanremo Night 1
2 February 2022: Sanremo Night 2
3 February 2022: Sanremo Night 3
4 February 2022: Sanremo Night 4
5 February 2022: Sanremo Final
At Nights 1 & 2 (Tuesday & Wednesday) all the 25 artists performed their song for the first time, half of them sang in the first one, the other half sang on the second night. The outcome of both nights was decided by a press jury (representing TV/printed/web media and radio in Italy).
At Night 3 (Thursday) all the 25 artists performed their own song again. Televoting and a demoscopic jury (a jury with 1000 public viewers all over Italy) formed the results of the night and a new ranking was elaborated, where the previous votes from the first two nights were added.
At Night 4 (Friday) all the 25 artists were given a chance to choose and to perform a cover of a song from the 20th century. The artists could perform the song solo or together with an acclaimed Italian or international guest artist.
At Saturday's Final, every contestant performed their songs again, and the top 3 songs proceeded to the Superfinal. A new voting took place and Mahmood & Blanco was crowned as winner of the 72nd edition of Sanremo Music Festival, and later confirmed that they will represent Italy on home soil at Eurovision Song Contest 2022 in Turin.
Italy in Eurovision Song Contest
Italy has been in Eurovision for 46 contests. They have won three times:
Worst result was in 1966 where they finished last.
The most known song is "Nel Blu Dipinto Di Blu" or better known as "Volare" from 1958. It is also the most covered Eurovision Song Contest song. The song has been covered by famous stars such as Dean Martin, Cliff Richard, David Bowie and many more.
Italy had a long pause from Eurovision Song Contest from 1998 to 2010. Since then Italy has been a "Big-5"-country, automatically qualifying for every year's Grand Final.