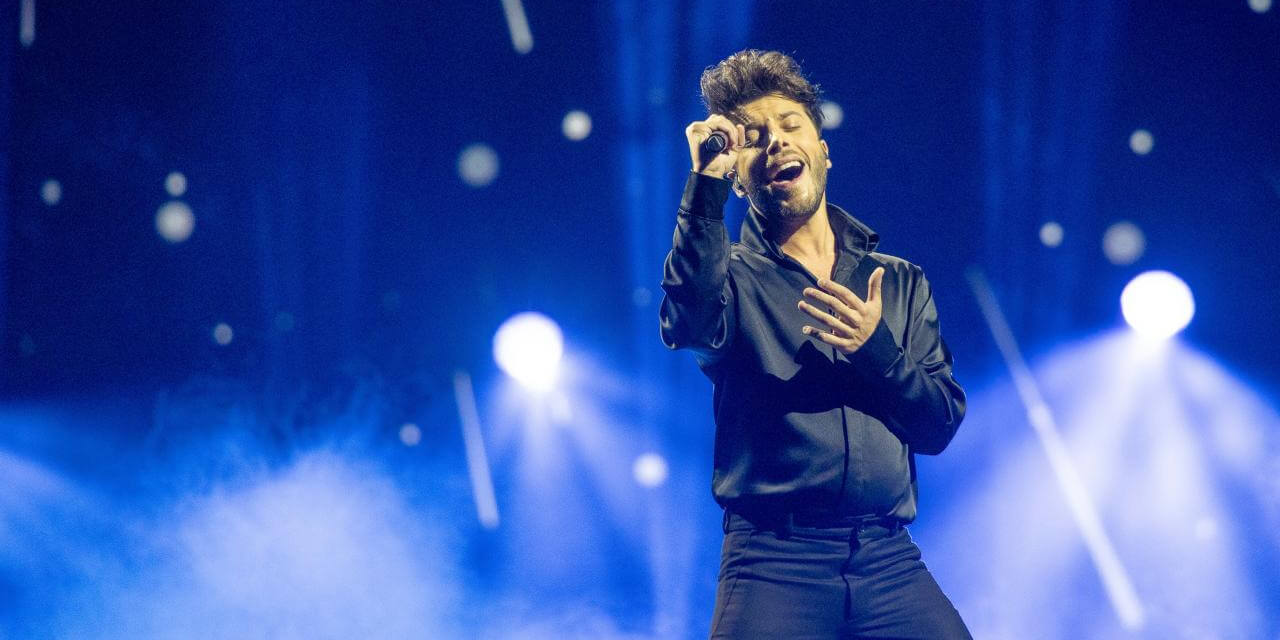 SPAIN
Blas Cantó from Spain wrote his song in homage to his grandmother: "On stage, I'm in heaven with her"
INTERVIEW Blas Cantó will compete in Eurovision 2021 to represent Spain. The singer took some of his time to talk to us and elaborate on the message he wants to portray in Eurovision's Grand Final
Blas Cantó was internally chosen to represent Spain in Eurovision 2020 with "Universo" but the cancellation of the event didn't make the Spanish broadcaster lose their faith in him. The singer is back this year with a rather emotional story song, "Voy A Quedarme".
The first thing we notice as we start this Zoom interview is Blas smiling and radiant, so it was very nice to have this opportunity and chat.
After waiting for two years, how does it feel finally being in Rotterdam?
– This is the moment of my life, he starts by saying.
– It's been hard and different but I feel good to be here. It is an honour for me as an artist because I'm doing the thing I love the most. It's pretty beautiful and amazing. I'm thankful for this opportunity.
We can all tell that Blas truly is thankful for the opportunity to be in Rotterdam. The singer continues to describe his strong emotions when stepping on the big stage in the Rotterdam Ahoy arena for the very first time:
– I was impressed! I was like "Ok, I'll try my best". My heart was beating so fast, but it felt like adrenaline at the same time... Like Senhit from San Marino.
We both laugh.

A meaningful conversation
How did your rehearsals go?
– They were great even though it was also challenging because I have a noise going on all the time due to the moon I have on stage. It's a balloon and they need to inflate it. So when I started listening to it, I was like: "Really? Do I have to sing with this noise behind me?", he says.
On top of that, he confesses that "Voy a Quedarme" is not exactly an easy song to sing:
– It's a very difficult song to sing mostly due to the vocal changes throughout the song but also due to the story behind the song. I can't transform the emotion in a problem for my voice because I have to sing. I have to focus on being there and remember it's my moment.
Its not necessary to have her physically to talk with herBlas Cantó
"Voy A Quedarme" is the most personal song in this year's contest. Blas wrote the song in homage to his grandmother who died from COVID-19. How can he hold back the tears?
– I try to not think too much about its story. If I did, I'd be crying all the time.
You can tell Blas is emotional while speaking about this:
– I also remember that this is not a sad song but a song about hope. It's not easy to not cry because if I think of her, my voice will break and become unstable.
After witnessing several rehearsals performed by Blas, one can note that the staging is visually beautiful, with the moon and stars. A very intimate setting and Blas explains us the concept behind it:
– It's like a conversation. Whilst passing these though times and this tough moment with my family, I told my mother: "Listen, I don't want to be here anymore, I want to be with her".
It was a conversation with his mother that made "Voy a Quedarme" born:
– I had a conversation with my mother and she made me promise that I would stay here. So now, I'm singing in the Eurovision Song Contest to her and when I am on this stage I feel like I am in heaven with her. She was like a mother to me... I grew up with her and now I have the opportunity to be up there and talk to her. It's beautiful.
So basically the moon and staging represents heaven?
– Yes. Since I am still on earth, there I am in heaven with her.
The Big-5 status
Countries such as France, Italy, Spain, Germany and the United Kingdom have the Big-5 status in the Eurovision Song Contest. They are given an automatic right to compete in the Final as they are the highest-paying EBU members which significantly fund the contest each year.
In a competition you need to be within the same conditionsBlas Cantó
In several years, we've seen these countries struggle to make it to the left side of the scoreboard, with some exceptions.
How do you feel about it? Would you prefer to compete in the semi-finals?
– This is a competition, and as a competition, we should all compete in the semi-finals, he starts by saying.
– This method was set roughly 21 years ago and we have to change it. In a competition, we should all be within the same conditions and not go straight into the finals. On top of that, having the chance of performing your full song in the semi-final can enhance more people. It's not my call but that's what I think.
Our time is coming to an end but what's the main message Blas wants to portray with his song?
– We shouldn't forget what's happening because it is not part of the past. It's part of the present and we all have to be in this together. I have to bring hope to the entire world, not only Europe, Blas is not forgetting Montaigne (Australia 2021):
– We also have Australia with us and, as you know, Montaigne cannot be with us in person and it's a message of hope because we can make it possible together.
What about your Eurovision goal?
– This is forever, this is the most beautiful experience in my life and I'm meeting a lot of beautiful people. Not only as a singer and performer but also as a composer. It's an opportunity, a great moment. Eurovision is about freedom and diversity and to be part of this is amazing.
Obrigado! Blas Cantó says as we close the interview.
Blas Cantó is performing "Voy A Quedarme" in the Final on 22 May 2021