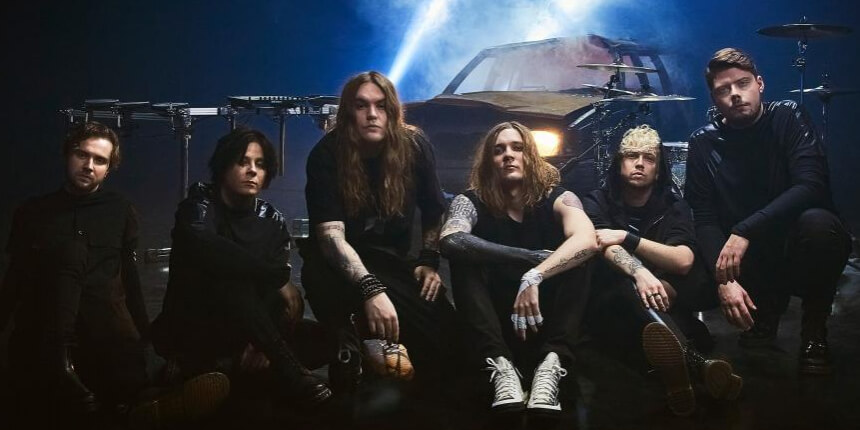 FINLAND
Blind Channel from Finland: "It's going to be one hell of a show"
INTERVIEW The UMK winners, Blind Channel, will represent Finland at Eurovision 2021 with a song to release frustration and anger. The band is excited to perform in Rotterdam
With less than a month away for Eurovision Song Contest 2021 in Rotterdam, preparations are in full swing with artists ready for their final part of their journey.
After news broke that the Eurovision Song Contest 2020 was cancelled due to the COVID-19, the participating artists were doubtful if they can fulfil their Eurovision dream. Whist others got the second chance to do so, Finland took a different approach. The Finnish broadcaster YLE decided that a new round of Uuden Musiikin Kilpailu (UMK) would decide the 2021 representative.
Blind Channel won UMK 2021 with a landslide receiving 47% of the total points with the song "Dark Side".
Finland is known to bring a number of rock entries in Eurovision but what made this particular band apply for UMK 2021 to try to represent the nation in Rotterdam?
– We had just released our third album called "Violent Pop" early 2020 and the pandemic started so everything was cancelled for us. We had big plans to tour during summer 2020 and a lot more things to do but they all got cancelled. We didn't wanna just stay in our rehearsal space and wait until Covid is over, so we decided to do something totally different and apply for UMK.
Was "Dark Side" the only song submitted for UMK 2021?
– Yes. We only submitted "Dark Side"
Dark Side
Blind Channel starts explaining about the song and how the process came about:
– The first versions of "Dark Side" were actually recorded when the pandemic started and everything was cancelled.
For everyone who wants to put their middle fingers upBlind Channel
– We like to say that this is an anthem for everyone who is feeling this kind of frustration we have felt during the past year, for everyone who wants to put their middle fingers up and scream their lungs out for everything that pisses them off.
"Dark Side" was an immediate hit with the fans when the song was released before the actual selection and won with a landslide on the night. Were Blind Channel expecting this?
– We always knew we had something different and original. the amount of votes we got was something we didn't expect to be honest. We're really thankful for everyone who voted for us.
Rocking Rotterdam 🤘
Like every other artist this year, Blind Channel had to record a backup performance for Eurovision in case they will not be able to make it in Rotterdam. The band shares their experience on this.
– We filmed our live on tape performance the same week we won UMK. The performance is definitely energetic and it shows 100% what Blind Channel is made of. We're really happy with the outcome.
Without giving too much away as they intend to surprise the viewers, Blind Channel hint about what we are about to witness in Rotterdam.
– We don't want to spoil the show with details of the performance. We can definitely tell you it's going to be one hell of a show. Something different!
We are now just weeks away from the Eurovision shows and Blind Channel divulges on how they are preparing themselves on this journey.
– We are currently practicing, a lot! We want everything to be perfect in our show and we want to be at our best too. We look closely at every detail. We are feeling really confident and happy about our show to be honest. It's gonna be a great one.
The competition in Eurovision 2021 is not one to take lightly to but what does the band think of the competition this year?
– Some of us heard some songs but to be honest we haven't listened to them all yet! We don't want to compare ourselves to other Eurovision artists because we are one of a kind and we have our own thing. We are focusing to be the best at it.
What is your main goal throughout this journey?
– We want to be the biggest rock band in the world. We are six boys from Finland but we are sure ambitious and we have guts and patience to focus on what we want to achieve.
This year delegations will face different challenges while in Rotterdam. Artists especially, will be restricted to what they can do due to the current pandemic situation and to prevent any disappointment. Blind Channel will turn these restrictions into a positive aim.
– We have planned to record in our spare time in between rehearsals and performance in Rotterdam. We might write of finish writing some songs for our upcoming album. I don't think we're gonna actually record anything there but definitely maybe write something and finish other songs we are currently working on. We have so many great songs in the work so the album is gonna be a great one.
Before ending this interview, Blind Channel have a small message to share with our readers:
– We are really looking forward to perform in Rotterdam. Thank you so much for all your support. It really means a lot to us! We can't wait to get to meet you all live. Stay safe everyone.
Blind Channel will be performing "Dark Side" in Semi-final 2 on 20 May 2021.