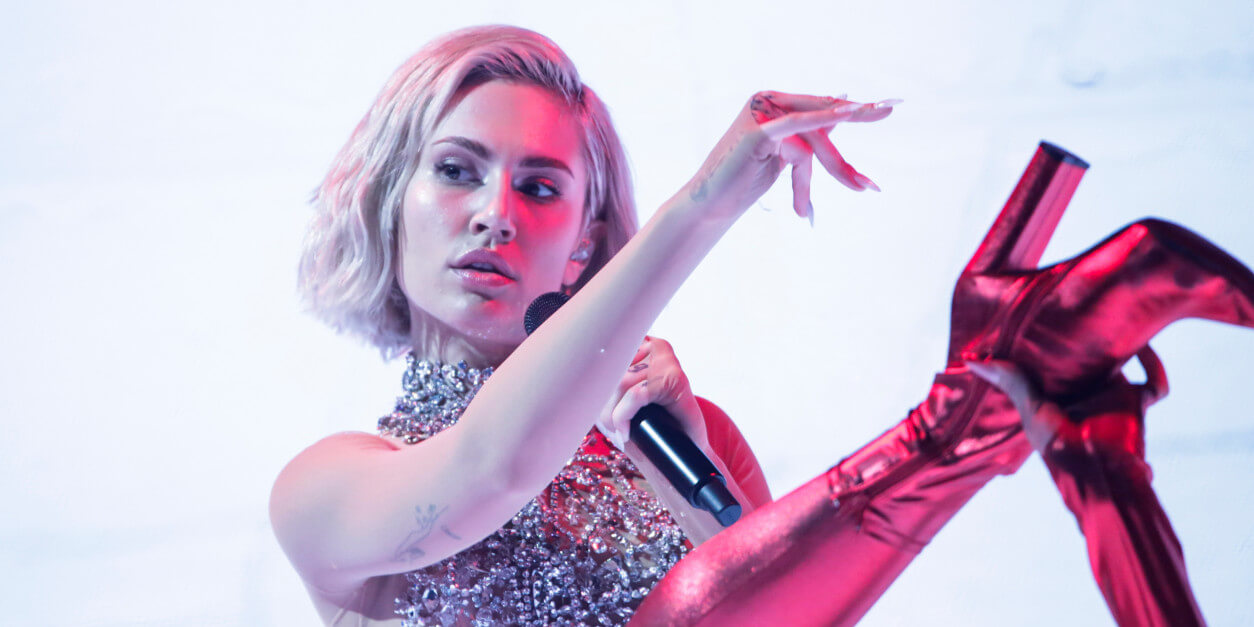 CYPRUS
Elena Tsagrinou representing Cyprus teases "a lot of secrets" for the semi-final performance
INTERVIEW Elena is representing Cyprus at Eurovision 2021 and has already rehearsed her El Diablo stage concept. We caught up with the singer to get her reaction from the first rehearsal – and she is keeping a secret
Is it just us, or is it getting hot? Oh no, wait! It's just El Diablo!
As the artists from the first semi-final have had their first rehearsal the team from Eurovisionworld caught up via Zoom with Elena Tsagrinou who is representing Cyprus with "El Diablo".
As we start the interview, the first thing we notice is her positive and huge smile especially while she explains how Rotterdam is treating her:
– I'm fine and sleeping good! At the moment we are staying only at the hotel and this is a new experience for me to work with people who are passionate about the project and me. Everyone is busy with me everyday.
Due to the current restrictions, many events are either cancelled or online but has Elena had the opportunity to meet the other artists?
– Yes and today I will be meeting with the German Representative, Jendrik and the Italian band, Måneskin and I'm excited.
It's my time on stageElena Tsagrinou
In the meantime, we shared some information which TIX spoke about, that he loves Elena Tsagrinou's song and kept singing it backstage. Elena was pleased to hear such feedback and cannot wait to meet him in person.
Cyprus had revealed, back in November that Elena Tsagrinou will represent Cyprus with "El Diablo". After a long journey, it was time to get familiar with the actual stage in Rotterdam. Elena express her feelings she felt when entering the arena for the first time:
– I felt the most powerful feeling inside me because it's a huge a stage and we're all going to have the best moment of our lives there. After finishing all rehearsals and head to the semi-final we will all be ready to be super cool and good about the package. We are doing what we love to do. It's my time on stage and for all the viewers to have fun with us.
El Diablo
Elena continues to divulge more of what happened during the first rehearsal and if she, together with the team, are happy with the first try out:
– Overall yes but we've seen some problems we have, we are taking it and we will go higher with what we've done so far. We took onboard what we want to fix and we are practicing in the hotel. Today we have another practice rehearsal to do just before the official second rehearsal on Wednesday.
What are the problems you are referring to?
– It has more to do with camera angles, some dress issues and for the dancers not to be hurt with the mirror. We have a lot of things which we haven't used yet but will soon.
When I look myself in the mirror, I say "go away" and I don't want to lookElena Tsagrinou
A very noticeable prop for the El Diablo performance is the mirror but what does this represent and how does it connect with the stage concept?
– When I see myself in the mirror, it's like my other half who is trapped in a bad relationship and it keeps me there. So, when I look myself in the mirror, I say "go away" and I don't want to look and say that this is not for me.
– Towards the end of the song, I want to show that I have taken myself away from my relationship with El Diablo with fire!
The pressure is on for Elena especially that Cyprus has been quite the focus within the fandom especially during the past few years. How has Elena coping with this pressure especially that bookmakers are shortening the odds after the first rehearsal?
– Exactly, every year the pressure is higher but when I have my feet on stage, its the time to be myself because I worked so hard for this. I think El Diablo is a song for everyone.
Since both the artist and song were both internally chosen, we of course ask Eleni how was the process and was El Diablo the only song on the table for Cyprus to present at Eurovision?
– I was chosen specially for El Diablo or let's say, El Diablo chose me 😈
During the interview Elena expresses that while in Rotterdam it would be her ideal dream to just enjoy the city, go out with her friends and have a beer! We are with you on this!
– It's sad because although this is a competition and the pressure is quite high we need to stay inside but health is priority.
Who is your personal favorite from the Eurovision 2021 songs?
– Montaigne from Australia, I like the song very much and Destiny from Malta, I like this entry very much. Then I really like Stefania from Greece. In fact I know the producers and herself quite well but everyone has a good song.
As we close off the interview, Elena stops me for one last message:
– I have a lot of secrets that you didn't see yet and I want them to stay with me until the semi-final performance. Thank you for all the love and support. My mobile is getting burned with messages 😊
Elena Tsagrinou' will be performing "El Diablo" in Semi-final 1 on 18 May 2021 whilst her second rehearsal is scheduled on 12 May 2021.
Since the introduction of the semi-finals in 2004, Cyprus has qualified for 9 out of 15 Grand Finals.