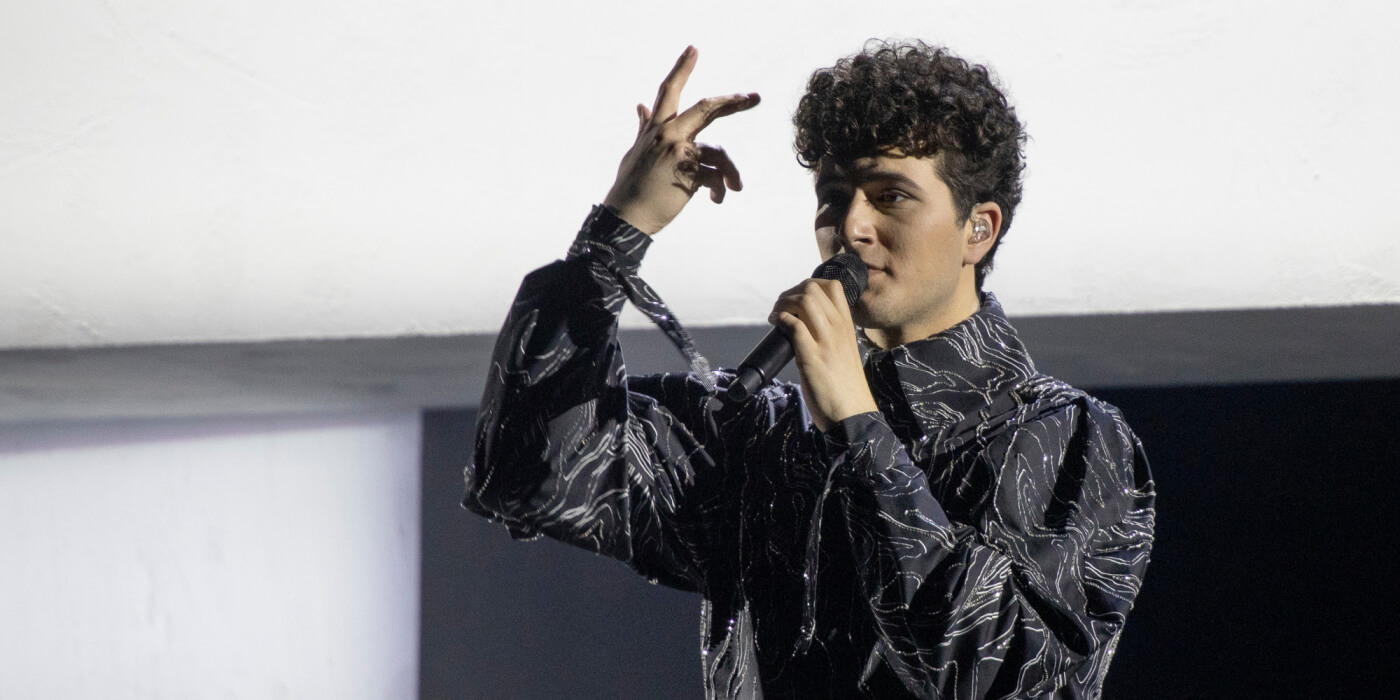 SWITZERLAND
Gjon's Tears from Switzerland on his performance: "We wanted to break the ballad mood"
INTERVIEW Gjon's Tears will sing for Switzerland in Eurovision 2021 with his song "Tout l'univers". We spoke with the singer to get his first reactions to rehearsals and discuss how the staging represents the cycle of life
We spoke with Gjon's Tears a few days before his departure for Rotterdam. Back then, he was at home, in quarantine and still very secretive about his performance. This time around, he is already in the Netherlands, has rehearsed a couple of times and we've watched it. The singer remembers us:
– I remember you! We spoke a week ago, he says.
How's it to finally be in Rotterdam?
– I am super happy to be here and the experience is amazing. Nevertheless, due to the COVID-19 situation, it is all a bit weird because we need to be in the hotel and cannot really meet the other contestants.
When our interview happened, the Turquoise Carpet event was yet to take place and Gjon was certainly excited:
– Thankfully, on Sunday, we have the Turquoise Carpet event so we will see eachother.
Destruction and reconstruction
In our previous interview, we carefully made a comparison between Gjon and last year's Eurovision winner, Duncan Laurence.
His response teased that he was about to present something very different from what Duncan did in Eurovision 2019: "It's funny that people compare me with Duncan but I also think we aren't the same in the way we want to present ourselves on stage."
Well, he was for sure right. Unlike the simplicity of Duncan Laurence's staging back in 2019, Gjon's Tears executes choreography while standing a huge platform. What's this all about?
– Since the song speaks about the cycle of life, Sacha Jean-Baptiste and I spoke about props. The one you'll see onstage was chosen because it looks like it. It's like I am playing with it like a puzzle.
Are you happy with how it looks?
– I am! Aesthetically it is way more avant-garde. We didn't just go on stage with a burnt car. It's more artsy and that's what I love about Sasha. She always tries to push it to the top. We wanted to break the ballad mood. That way we can play with the dynamic of the cameras and break the slowness of it all.
Everyone was expecting something else all this timeGjon's Tears
Alright. Now we know what the structure onstage represents but by the end of Gjon's performance, the pieces are seperated. Why?
– At that moment, we can rebuild it. It's the same as the music video concept, we finish with the car accident and not with the car fixed.
You are ready to have a second opportunity. Is that it?
– Yes, I want to make it feel like it's time to rebuild it.
Who's Gjon's Tears?
In our last conversation Gjon interestingly compared himself with Måns Zelmerlöw (Sweden 2015) in a way that the Swedish singer was able to tell his story in a just 3-minutes performance. Based on your performance, who would you say is Gjon's Tears?
– I'm just someone who tries to challenge myself because, as I said, I am normally in front of my piano. I'm trying to do something different but people in three minutes are not going to see that. They don't know that I play piano, he explains.
– I am unpredictable. Or, at least, I hope I am, because everyone was expecting something else all this time. I am trying to be myself which is a weird thing because I'm trying to move and be super sharp.
Even though you want to be unexpected, are you still being faithful to yourself?
– Yes, completely! I am not trying to compare myself with Lady Gaga because she is on the top but I like the fact that in one day she can show up with a meat dress, the next day she is singing jazz and the following day singing Electro-Pop with an implant. That's who I am as well. I like to try completely different things on stage, to sing something really sad and then dance to a disco song. The main important thing is to have a different mood, different puzzles and just try them.
We wanted to break that ballad moodGjon's Tears
Gjon's Tears has completed both rehearsals days and is now waiting for the actual performance to happen but how did he actual feel about the rehearsals so far?
– During the first rehearsal, I was a bit afraid because they just discovered me and I just discovered them, the team and the whole people in Rotterdam. I was not so confident but in the second rehearsals, it was like day and night. A complete difference because I was feeling more on my feet and they were understanding the direction I wanted to go with.
Gjon's Tears will perform "Tout l'Univers" in Semi-final 2 on 20 May 2021.