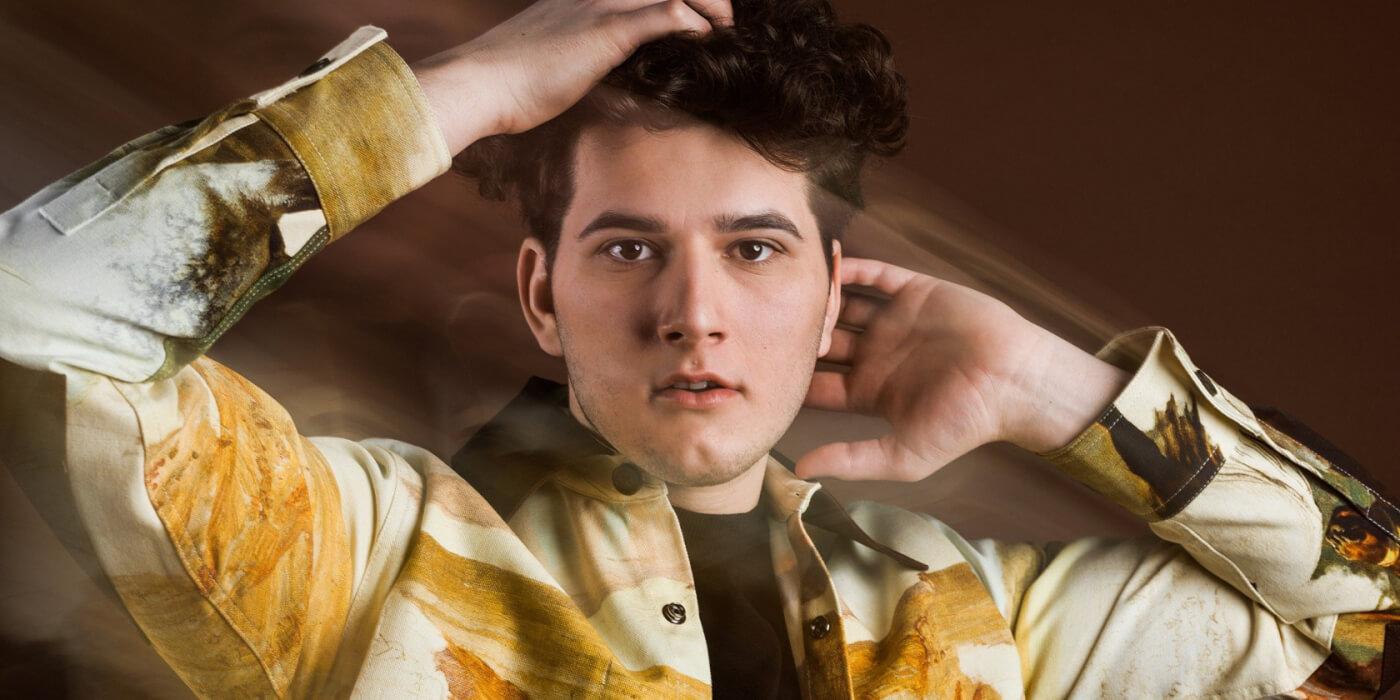 SWITZERLAND
Gjon's Tears from Switzerland: "I am scared of myself"
INTERVIEW Say hello to Gjon's Tears. He will represent Switzerland in Eurovision 2021 and a few days before the rehearsals begin, he tells us all about his Eurovision experience and speaks out on the comparisons with Duncan Laurence
It's 9 o'clock in the morning and here comes another day filled with interviews for Gjon's Tears who will represent Switzerland at this year's Eurovision with the song "Tout l'univers".
He's currently at home, in Switzerland, days before travelling to Rotterdam to officially start the rehearsals for Eurovision 2021 and he has just woken up.
"Hello Gjon! How are you?", I ask enthusiastically. Before he can even reply, I stop and ask:
I mean... Am I pronouncing your name correctly?

I said it as "John" but I've heard other ways of saying his name.
– Yeah! It's exactly like that.
We're introduced, Gjon has his hot drink in front of him and we're ready to start our conversation about his Eurovision journey which has been unusual. After all, last year's contest was cancelled for the very first time ever. It was so unusual, he didn't believe it:
– I was looking forward the show so much that I didn't really realize it was indeed cancelled. On top of that, a week before, my delegation had told me that there were other possibilities being explored. It only hit me when I saw the "Eurovision: Europe Shine a Light" event at home, in my pajamas, eating bad things.
I didn't live the Eurovision experience.Gjon's Tears
The Swiss broadcaster didn't turn its back on Gjon's Tears and invited him back. It's safe to say he did hesitate:
– I had to question myself "should I go again?" It was only after speaking with my delegation that I realized I had to. I didn't live the Eurovision experience. Releasing a song and a music video... That's what every artist normally does. I didn't experience the fireworks, the colours, the LED screens and all that crazy stuff that to me represent Eurovision.
The crazy songwriting process
One year later, Gjon's Tears is officially back with a new song. Just like last year, he's one of the favourites to win according with the bookmakers but the journey wasn't as simple as he thought it was going to be:
– I told my team I would only compete if I could compose my song again. They didn't hold any barriers but there were some organizational aspects that I didn't agree with.
It seems that the team wanted Gjon to come up with, at least, 12 potential songs:
– I was like... Why? Three or four songs would work just fine.
He couldn't bypass that and ended up attending multiple songwriting camps for a month a half where he would go back and forth between different studios constantly:
– At the end of the day, it was a great experience because I met a lot of producers, composers and songwriters but musically, it wasn't as interesting because you're not making music naturally.
He shares a curiosity:
– It's funny though because "Tout l'univers" was actually the first song from the first camp we did. I remember I was so impressed because I only gave Nina Sampermans and Wouter Hardy a few production references and they understood me so well.
The release of "Tout l'univers"
Even though Gjon's Tears didn't exactly feel much pressure on writing a follow-up to "Répondez-Moi", he was really nervous about releasing the song:
– I really wanted to stay true to myself. Many people were asking me why didn't I comeback with an uptempo song but all I wanted was to comeback with a song that represented me. In a format like Eurovision, I think it's important to go with something that touches you.
Like it or not, the expectations and hype will always be around. He is not tricked by that:
– You can't expect the entire 200 million people who will watch Eurovision to follow you and your music after the show. They will watch it at a specific time and only comeback to it next year.
I am scared of myself, not of the entire 200 million people who watch the show.Gjon's Tears
In fact, Gjon is way more concerned about himself than the average 200 million viewers in Eurovision:
– The biggest pressure is coming from myself. I am scared of myself, not of the entire 200 million people who watch the show.
The song came out. The fans fell in love with it and the bookmakers are certain that Gjon's Tears is a potential winner of Eurovision 2021. Nonetheless, many compare "Tout l'univers" with Duncan Laurence's "Arcade", the winner of Eurovision 2019.
Uncomfortable question? Maybe. I bring this topic into the conversation.
– That's a really good question and not uncomfortable at all and you asked it with a lot of courtesy, he says.
– We're humans, we like to compare. Yeah, there are some similarities because I worked with Wouter Hardy.
– When I met Wouter, I really felt like he had his own style and even if you listen to his songs, you can hear a few similarities with "Arcade". It's the same person, it's his brand. The same happens to me. A lot of people can recognize me by my singing as well.
Time for another curiosity:
– Actually, I had another song for Eurovision that finished second and I worked with Duncan in it. I met him, I spoke with him and he's an amazing artist but we have so many differences too, he says.
– For me, it's a compliment (being compared to Duncan). It's alright to be compared but sad when people accuse you of copying someone. I feel like in Eurovision people see it as having a ballad or an uptempo song. It's not like that.
According with the Swiss singer, both of his entries shouldn't be seen as ballads rhytmic-wise. Instead as slow mood songs. To exemplify what he stated above, he goes back to last year's Ukrainian entry from Go_A:
– Do you know "Solovey"? It's not exactly an uptempo. It's a traditional song because of the way
Kateryna (the vocalist) is singing. She's doing something special for her country. That's why I get sad that people are so strict with their thoughts.
No link between the music video and performance
I try to get Gjon to tease us a little about his upcoming performance:
– How can I say something without teasing too much? Well, as I said it's funny that people compare me with Duncan but I also think we aren't the same in the way we want to present ourselves on stage. That's all I can say.
My mind imagines million different scenarios:
So I am assuming the video won't inspire your performance?
– We did the staging for the live-on-tape performance before the music video so there's no link between them. We thought of incorporating parts of the video on stage but, for me, it seemed unnecessary. We already had the theme for the song: the cycle of life... Destruction, reconstruction.
The Eurovision goal
Without any intention, this interview ended up going in a chronological way. So what's Gjon's Tears ambitions and goal with this participation?
– My main goal is to deliver a quality performance but you only have three minutes to show who you are.
Isn't it possible?
– I think it is but it's a very demanding exercise. When we think of Måns Zelmerlöw (Sweden 2015) with that screen telling a whole story, I think it's possible but not everyone has the same possibility, he clarifies.
– That's why I am so proud to be in Eurovision. I want to touch people with my music and do something good!
As for the competition, Gjon decided to stay away from paying too much attention to the remaining 38 entries:
– Last year, I wanted to know what everyone was doing and it made me feel so much pressure for nothing, I started to think that everyone else's ideas were better than mine. So, this year, I only watched a recap and listened to the songs that really surprised me. For me, Roxen's "Amnesia" is so underrated. I want her do so well, I love that song. When I discovered "Discoteque" by The Roop, it was like a crush. I also love Daði Freyr's song and I am so happy he's back.
He goes on to share he was with the Icelandic representative last year in a songwriting camp and that he inspired him to value local people and brands:
– I really like his attitude and that's what I want for my music too. That's why I kept Aliose, they did the translation of "Tout l'univers" that was originally in English. I am also working with a Swiss brand from Lausanne for my clothes for Eurovision. I think it's important to do this and that's why winning Eurovision would be so imporant for me so I could prove that there's good music being made over here.
Gjon's Tears will be performing "Tout l'univers" in Semi-Final 2 on 20 May 2021.