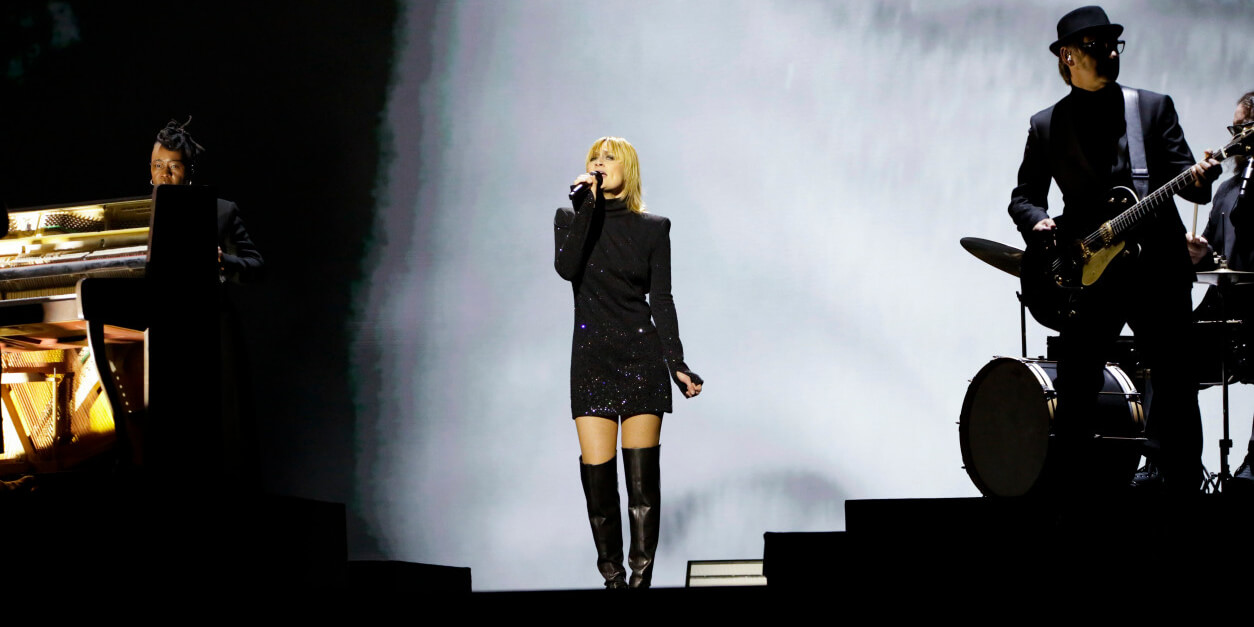 BELGIUM
Hooverphonic from Belgium: "Eurovision won't launch nor break us"
INTERVIEW They've been doing music for so long and now Hooverphonic get to represent Belgium in Eurovision 2021. We caught up with the band to get their first reactions to the rehearsals as well as their thoughts on this Eurovision journey
26 years into their career, Hooverphonic are still adventuring themselves through fields they've never explored before, the Eurovision Song Contest being one of them.
The band was supposed to represent Belgium in last year's edition with the song "Release Me" but, as it's widely known, due to the COVID-19 situation, the competition didn't take place. The Belgian broadcaster invited them back and here they're with a new song and... A new, or maybe not so new, vocalist.
Even though this Eurovision adventure started with Luka Cruysberghs, ahead of this year's contest, the band reunited with Geike Arnaert who had already been the vocalist of the group from 1997 until 2008 which meant Luka was out of the race.
The Eurovision fandom wasn't really happy with this choice. In fact, they weren't also happy that Hooverphonic didn't take part in last year's special "Eurovision: Europe Shine a Light". How does the band cope with such negative comments?
– We just ignore them, says Alex.
– With that event, I tried to ignore the whole thing because I knew there would be a storm online. My manager called me and said the situation was getting out of hands and I made the mistake of checking it. I didn't sleep the whole night.
We need to learn to say noAlex from Hooverphonic
Geike is standing right next to him and adds:
– I think criticism is valid but we need to stick to who we are and do what we believe in.
Alex continues:
– Just like Geike said. We're artists and we need to stick with our guts. We have to learn when to say "no". Otherwise, you end up being a slave. We live in a quite vicious society.
– I wish every artist did what they felt like doing. When you don't do that, you end up not recognizing yourself, Geike concludes.
Fair enough. Let's change topics: How are you?
– We're great! We have an harbor view and this morning, there's a big Cruise ship blocking our view...
And just after that, their internet connection drops.
– I am sure it's because of the Cruise ship, Alex jokes when they're back on.
As stated above, this is Hooverphonic's second year in Eurovision. What's the feeling of finally being in Rotterdam?
– It's great, this is not too far from us, though. It's a one hour drive but it feels like holidays because we had to stay home for an entire year!
The first rehearsals
The group has already had two round of rehearsals and, next Tuesday (18), you'll an unusual staging for a band. Instead of having Geike at the front of the remaining band, you'll see her in the middle of them. Why did they decide to go with this stage disposition?
– Well, because she is the wrong place.
Duh!
– That was what the director said straight away: "Let's put her in the wrong place". But it's also great because we're closer to eachother and we support eachother more. When we're about to start, it gives a more relaxing feeling.
The stage director is Hans Pannecoucke who has worked with the band before but also who has a nice Eurovision resume:
– We've worked with him for years and he actually started doing Eurovision with the Dutch delegation by working with The Common Linnets. He understands our work.
Alex goes on to tell me that the biggest part of their team is built off people who've worked with them for years... It's like family.
– It is important to be supported by people you trust, he says, followed by Geike:
– It does help to keep your feet on the ground.
Focusing on rehearsals, how did they go?
–Pretty well! We were a bit hesitant about the first rehearsal but once we were in the designated room to check our in-ear monitors, all of the stress was gone. For Geike, that's very important so knowing that the sound was perfect, gave us a lot of confidence. On top of that, the work done by the stand-in rehearsal also helped a lot.
The risk of not qualifying
As stated above, Hooverphonic have been in the music industry for 26 years. They're established artists. Does that add extra pressure to qualify for the Eurovision final?
Eurovision won't launch or break usAlex from Hooverphonic
– Not really. We just see it as fun. We are here because we like and follow the show. Me and Raymond watched it when we were kids and it was our dream to participate in it instead of watching it in a couch. I wouldn't normally say this but, in this case, participating is more important than winning.
– Just like you said, we already have a career. Eurovision won't launch or break us. We enjoy being here and, if we qualify, then cool. If we don't, at least we had a good performance, Alex concludes.
And how does this participation compare to the band's huge curriculum?
– There's nothing like it, Geike starts.
– The organization is incredible, it's like an alternative world.
– We're a live band. We do festivals and venues, we normally play for 1,5 hours and here we just do one song for three minutes and it's a competition! We've never done that... Even though we try not to see this is as a competition but as a celebration of diversity.
Speaking of diversity, the semi-final Hooverphonic are in is filled with Pop bangers. How does the band look at that? An advantage or a disadvantage?
– I think it's good. We're probably the only alternative song up for competition and that's good. We are between Croatia and Israel, two very uptempo. We're in the position we wanted to be in, people have been calling us the dark horse for weeks.
Hooverphonic's hidden stories
Just last week, the band released their brand new album. "Hidden Stories" features 10 songs including "The Wrong Place". I challenge them:
If you had to choose any other song from the album to compete at Eurovision, asides from "The Wrong Place", what would it be?
They all look a little bit scared:
– That's difficult because an Eurovision song needs to have a set of rules... Maybe "Thinking About You" would be great. It is kind of The Cardigans meets ABBA... It's an alternative ABBA. Or maybe "Fuel Moon Duel".
Alex confirms that, in fact, that was the top 3 alongside "The Wrong Place".
– "Circus" too, Geike says.
– In fact, a lot of people in our delegation wanted "Hidden Stories" or "Circus" which are not the most obvious songs.