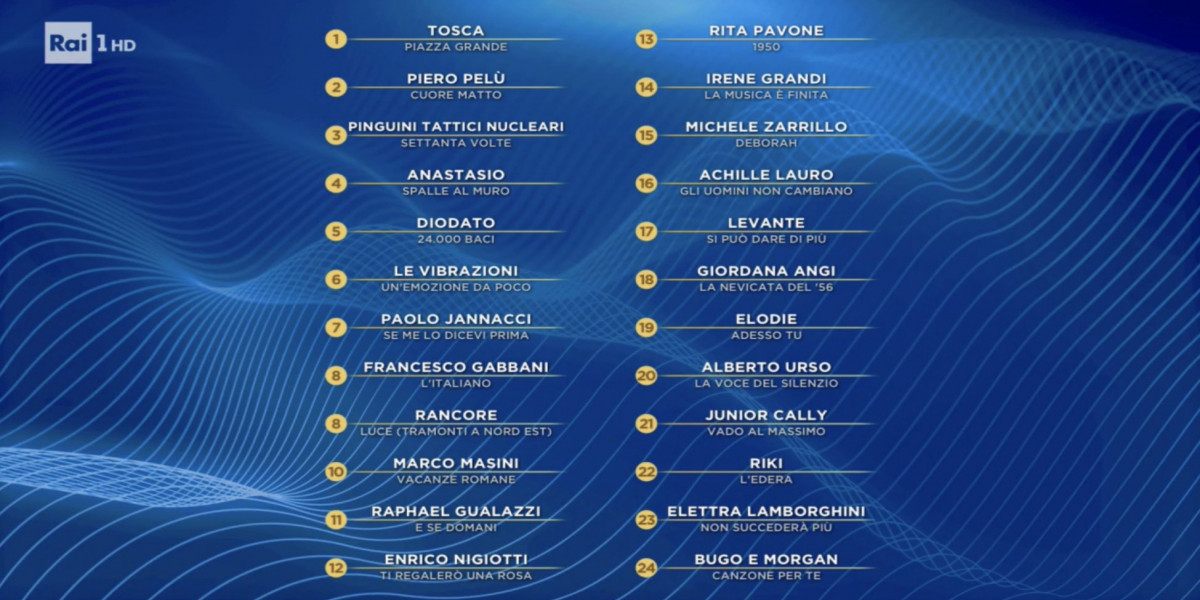 ITALY
Italy: Results of night 3 of Sanremo 2020
Tonight, the 24 competing artists at Sanremo Music Festival 2020, Italy's selection for Eurovision Song Contest 2020, brought to the stage songs from previous editions of contest
Cover Night in Italy!
The results of the third night of Sanremo 2020 are ready – all the 24 contestants were given the opportunity to choose any song from the past 69 editions of the festival. The artists had to choose if they wanted to perform on their own or with another singer/group.
After a true marathon (5 ½ hours), the result of tonight was ready – decided by voting among the members of the orchestra and choir.
Orchestra Result – Night 3
(Small: Guest Singer)
Tosca – "Piazza Grande" (Silvia Pérez Cruz)
Piero Pelù – "Cuore matto" (Little Tony - 1967)
Pinguini Tattici Nucleari – "Medley di Papaveri e papere"
Anastasio – "Spalle al muro" (Premiata Forneria Marconi)
Diodato – "24 mila baci" (Nina Zilli)
Le Vibrazioni – "Un'emozione da poco" (Canova)
Paolo Jannacci – "Se me lo dicevi prima" (Francesco Mandelli/Daniele Moretto)
Francesco Gabbani – "L'italiano"
Rancore – "Luce (tramonti a nord est)" (Dardust/La Rappresentante di Lista)
Marco Masini – "Vacanze romane" (Arisa)
Raphael Gualazzi – "E se domani" (Simona Molinari)
Enrico Nigiotti – "Ti regalerò una rosa" (Simone Cristicchi)
Rita Pavone – "1950" (Amedeo Minghi)
Irene Grandi – "La musica è finita" (Bobo Rondelli)
Michele Zarrillo – "Deborah" (Fausto Leali)
Achille Lauro – "Gli uomini non cambiano" (Annalisa)
Levante – "Si può dare di più" (Francesca Michielin/Maria Antonietta)
Giordana Angi – "La nevicata del '56" (Solis String Quartet)
Elodie – "Adesso tu" (Aeham Ahmad)
Alberto Urso – "La voce del silenzio" (Ornella Vanoni)
Junior Cally – "Vado al massimo" (Viito)
Riki – "L'edera" (Ana Mena)
Elettra Lamborghini – "Non succederà più" (Myss Keta)
Bugo & Morgan – "Canzone per te"
Sanremo 2020
Sanremo Night 1: Tuesday 4 February 2020
Sanremo Night 2: Wednesday, 5 February 2020
Sanremo Night 3: Thursday, 6 February 2020
Sanremo Night 4: Friday, 7 February 2020
Sanremo Night 5 (Final): Saturday, 8 February 2020
At Nights 1 & 2 (Tuesday & Wednesday) all the 24 artists performed their song for the first time, half of them in the first one, the other half in the second night. The outcome of both nights was decided by a demoscopic poll.
At Night 3 (Thursday) all the 24 artists had the chance to choose and to perform songs that have competed at previous editions of Sanremo Music Festival. The members of the orchestra and choir decided Thursday's ranking.
At Night 4 (Friday) all the 24 artists will perform their own song again. The press jury will judge every act and a new ranking will be elaborated, where all the previous votes from previous nights will be added.
At Saturday's Final, every contestant will perform their songs again. In a first stage, the voting will be determined by a system involving the demoscopic jury (33%), the press jury (33%) and the televote (34%) - songs will be ranked from 24th to 4th place.
The top 3 acts qualify to the Superfinal. A new voting will take place and at the end of it, we will have the winner of the 70th edition of Sanremo Music Festival, and Italy's representative for Eurovision Song Contest 2020.
Italy has been in Eurovision for 45 contests. They have won twice, in 1964 with the song "Non Ho L'étà" and in 1990 with "Insieme: 1992". Worst result was in 1966 where they finished last.
The most known song is "Nel Blu Dipinto Di Blu" or better known as "Volare" from 1958. It is also the most covered Eurovision Song Contest song. The song has been covered by famous stars such as Dean Martin, Cliff Richard, David Bowie and many more.
Italy had a long pause from Eurovision Song Contest from 1998 to 2010. Since then Italy has been a "Big-5"-country, automatically qualifying for every year's Grand Final.