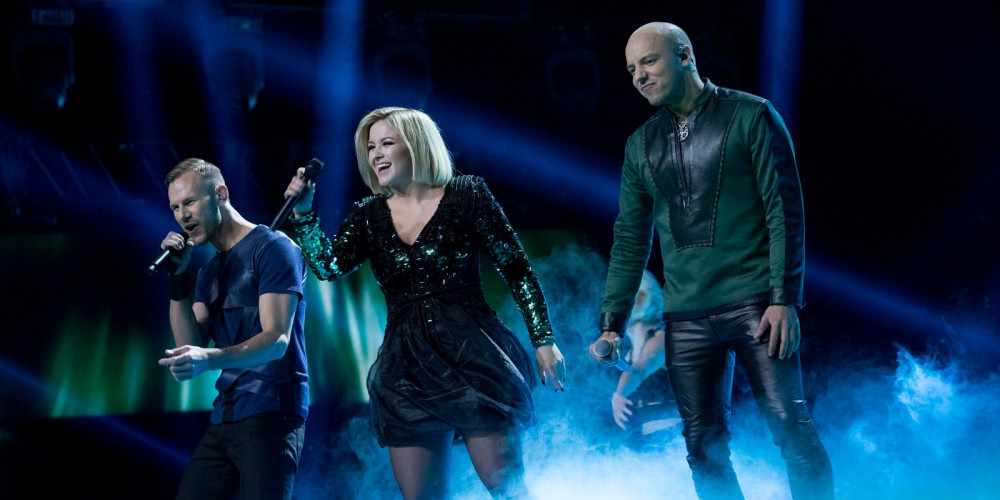 NORWAY
KEiiNO from Norway: Joik should be rap
He-lo e loi-la! They have conquered the hearts of so many Eurovision fans already. KEiiNO sat down for an interview with Eurovisionworld and revealed that the joiking that characterizes the song should have been a rap
3 singers, each with a personal story of not being accepted, made their dreams come true joining forces: Tom Hugo, Alexandra Rotan and Fred Buljo. The three names may not sound familiar to you but if we say that together they are KEiiNO, you'll be well aware of who they are.
They won Melodi Grand Prix 2019 in Norway nearly two months ago with the song Spirit in the Sky, and now they are ready to represent Norway in Tel Aviv. KEiiNO rehearsed for the very first time on the Eurovision stage yesterday and have literally set it on fire. Nonetheless, don't think they are done with the surprises.
Alexandra says:
– The rehearsal you saw today is not the final performance. There are more exciting stuff to come, she teases.
Comparing what was seen in their first attempt to what was presented when they won Melodi Grand Prix, there are less people on stage which is the main difference according to Alexandra:
– The main difference is that now we focus on ourselves as individual people. There are no drummers, no dancers or anything like. We want people to see our show and realize: "Oh! They're from Norway", she adds keeping in mind that the beautiful northern lights are represented in the performance.
On Tuesday's rehearsal, each of the singers started to sing in a different part of the stage to then reunited in the center. Spirit Of The Night is an empowering song, this reunion makes total sense:
– We all have this story of being told we are not as good as the majority. Me for being a queer, Alexandra for not fitting within the typical Popstar and Fred for being Sámi - indigenous people of the North of Norway. We've had our struggles but when we were working together, things happened and people wanted to hear our message, says Tom.
– We did much better than what we did alone and that's what we want to transmit. We come from different places and we are joined by joiking. Its magical power makes us overcome our problems.
He-lo e loi-la!
Nonetheless, and because life is made of decisions, the joiking could have not happened according to Fred:
– I was actually supposed to rap in the song but in the studio we figured out that we would try joiking, he says, before confessing it was the very first time he ever did:
– It was the first time I ever did it and it defined my inner Sámi. Before I only did joiking within my kindergarden.
As mentioned earlier, KEiiNO are a brand new band. Despite the fact that Tom and Alexandra had already wrote a song together, they didn't know Fred:
– My husband and I wanted to write a song about the theme of acceptance and we decided that we wanted to include a Sámi songwriter, Tom explaines.
That was when he met Fred through other people:
– Fred loved the idea and the values of the song. At last we thought we needed a great female, Alexandra... In fact, I saw that today has been 4 years since we became Facebook friends, he says to Alexandra.
– Seriously? Aw!
– Well, she also wanted to be part of the group, Tom concludes.
Taking over the odds
Norway is running in the second semi-final of the competition and according to the bookmakers, they're expected to qualify. Even though they try not to follow the odds – because they believe in what they do – Alexandra admits "it's inevitable" and when talking about the fans support she goes on:
– It's a dream come true. We're a totally new band and no one has ever heard of us before so to get this response is amazing.
Tom goes on by explaining on how fans are so important to the contest:
– We don't have a big label nor a manager. We have fans and the fans have helped us. Without the fans we would be nothing, it's the most important thing. That we make fans dance and sing.
Since the debut in 1960 Norway has participated 57 times in Eurovision. They have won the competition three times:
In 2009, Alexander Rybak's Fairytale was the song that has received most points with the old voting system: 387 points – got 12 points from 16 countries. But Norway holds another Eurovision record: The country that ended last most times – 10 last places!
Since the introduction of Semi-finals in 2004, Norway has been very succesful with qualification to the Grand Final 12 out of 14 times.