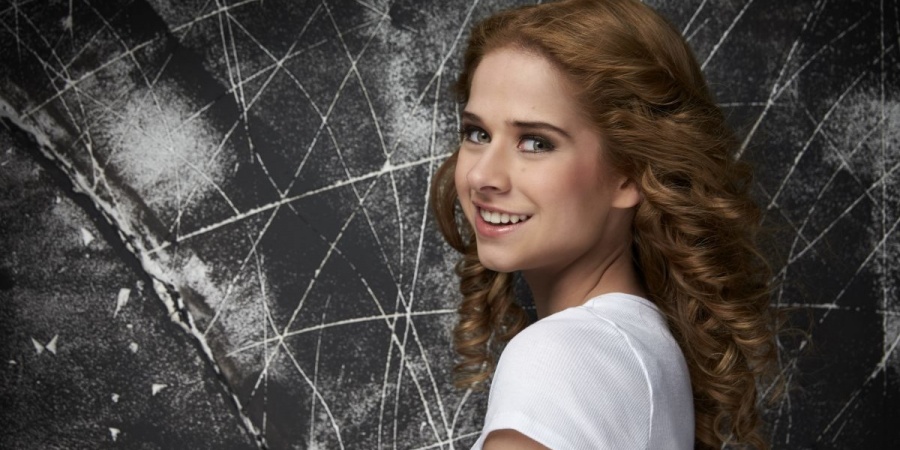 BELGIUM
Laura from Belgium: I go to Stockholm to make my country proud
INTERVIEW: Laura Tesoro talks about music trends in Eurovision, making her home country proud and not going to Eurovision parties
She won this year's Eurosong in Belgium, and is currently representing Belgium at Eurovision Song Contest 2016 with the song "What's The Pressure": Laura Tesoro.
If I am asked, who is going to win the ESC in Stockholm this year, I always answer professionally that I have absolutely no clue like every year and that you can give a damn about the polls. When I quietened a bit I say a country that fits best my comprehension about something I call "music-majority of ESC". It is a mixture of an open-minded, hot-selling, boring Eurobeat and a meaningful text you can construe everything into it. How to win the masses? You need to be shallow and keeping up with the time a little. I'm very happy that every year has its own upgrowth built from politics, life style and artist personality. It didn't sound so, but I love ESC. I love it for the strange music, outfits and artists. I love it for the community (it welcomes everyone – the real idea of inclusion). And I love it for the surprises. But to be honest, nearly never the musically best song wins. And rarely ever my "private favourite song" – the song I like to listen most – makes it far.
Loreen was great and fusion between ESC and EDM and my only personal-favourite that won. A year later no one thought of the country-style sing-songwriters Common Linnets and they made it second place behind the must-win-artist Wurst. But my favourite kind of music is Funk and Soul – the "real-stuff" from the 70's; George Clinton, James Brown, Maceo Parker, Herbie Hancock – this is never on ESC stage. But this year all changed, thanks to Belgium, thanks to Laura Tesoro. An uptempo-funky tune beamed through the decades and transformed into 2016 with a pumping bass and pop-sound brass section. Sure, after Bruno Mars made to the top of every billboard-charts and more and more DJ's use 70's disco-beats-samples for their songs and sets funky tunes are en vogue. But I never believed that Belgium decided for Laura Tesoro's song "What's The Pressure". I'm really happy with this decision because this song is by far my favourite in 2016. It has soul, spirit and esprit. Perfect. But I'm yet annoyed about her placing in the contest. The song must get into the Grand Final (or I'll leave ESC forever) but it will end up in the low mid-field.
But let's ask Laura directly.
You sure get to Stockholm to win, but a funky-tune in the ESC is like going to a job-interview with blue dyed hair. You stand out but the chance to get job it quite small. What are your goals for the ESC?
– Oh, I don't see it like that. Funky pop music has been playing on the radio for quite some time now - Bruno Mars, for example. So it's not that uncommon. There is a trend in Eurovision lately to not only send "typical" Eurovision songs, but also modern pop songs that you would hear on the radio. So I don't think that the chances to win are small because of that. Of course the competition is big and there are a lot of good artists participating. But I just hope that the viewers will appreciate my song: it is full of energy and positivity. I go to Stockholm to make my country proud. If I don't make it to the finals, I will be disappointed of course. But I will do my best and if I feel like I have given my all, I will be satisfied.
You are multi-talented and on TV and stage for more than 10 years already. Even if the representation for Belgium is the biggest thing yet, can you concentrate just on one topic or is your brain always exploding with ideas and your lively way is sometimes an obstacle, too?
– Haha, I don't feel like my brain is exploding, no. I like having many interests, and I love singing, dancing, acting and presenting a lot. I haven't felt that it was an obstacle yet. I see all these things as a big plus: performing on stage sometimes requires a bit of acting, and with my energetic song some dance moves are a big plus to have.
How are the next stops to the Grand Final or how does your next days look like?

– Well, I have already practiced my act on the big Eurovision stage twice. Tonight I will go and look at the first semi-final, and tomorrow I have the big show for the jury. Exciting!
– I also had the chance to see Stockholm last Friday, which was amazing. Such a beautiful city! I probably won't be going to any late night Eurovision parties – rest is important for a singer, and I want to be at my best on Thursday and hopefully Saturday.
Belgium has been participating 57 times in Eurovision since the beginning in 1956. They won the contest in 1986 (Sandra Kim - "J'aime La Vie"), but finished last 8 times (two of them with Zero Points). Since the introductions of the Semi-finals in 2004 Belgium only qualified for the Grand Final 4 out of 12 times (In 2010 they came first in Semi-final 1).