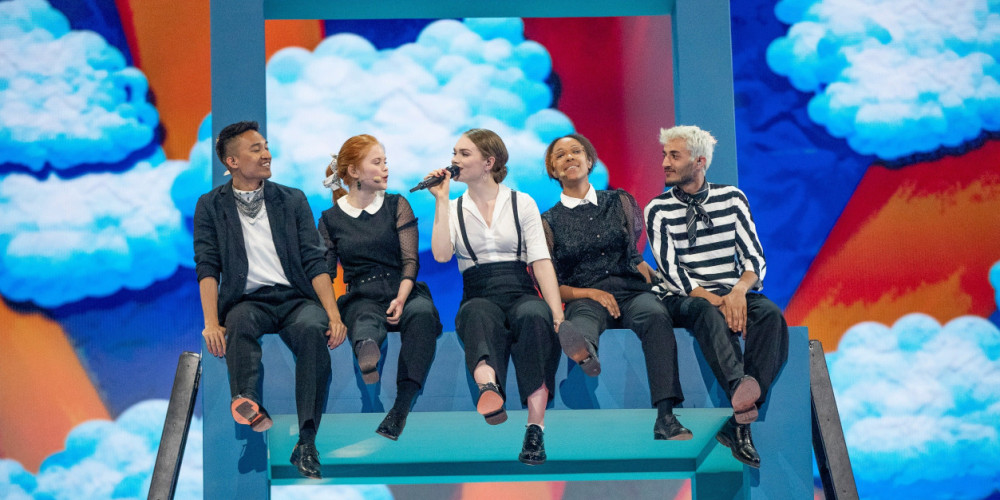 DENMARK
Leonora from Denmark: "My goal is first place"
Denmark is competing at tonight's Grand Final with "Love Is Forever". Even though she is not quoted as one of the obvious winners, Leonora told us her goal is to win the contest
Leonora Jepsen was back then a figure skater but is now focusing solely on her music career. How and why would a successful figure skater take on a music career?
– Well, figure skating in a higher level is a lifestyle and its practice would have to become a priority in my life, Leonora explains.
– My curve of development kind of stopped going upwards and it stopped being fun for me
Music, on the other side, is challeging to her and will surely prevail:
– I am writing my own songs and I am planning to record them once I get home. Hopefully release an album.

We met Leonora right after her second rehearsal, in which she was already very comfortable with the staging:
– The rehearsal went really well. We didn't really have to change anything so we were quite comfortable.
She doubts anything could go wrong as she's very well prepared.
Following Emmelie de Forest
"Love Is Forever" is a song penned by a group of composers where Lise Cabble - reponsible for Denmark's 2013 winning song "Only Teardrops". Even though Leonora won't take anything for granted, she admits it's "comforting":
– It's comforting because I know she's good at what she does and every time she had a song in Eurovision it went top 5.
In fact, when I ask what is her goal with Eurovision, she doesn't hesitate:
– First place! she says followed by claps by her team.

Leonora isn't part of the composers but that doesn't stop her from relating to the song and making it her own:
– I can relate to the song as I really like it and its rhythm is similar to what I write myself. That makes me connect easily with it.
Speaking of such music genre, Leonora also reveales that "Amar Pelos Dois" - Eurovision's 2017 winner - is her favorite song.
Bookmakers were correct
Before her semi-final performance, she was one of the finalists according to the bookmakers which ended up being right:
– I personally don't pay attention to it but I know my crew does.
Despite being told she was one of the qualifiers according to the bookies, she doesn't let herself get too comfortable:
– I don't take anything for granted. I still have to go on stage and perform but I do think the song is strong enough and deserves to make it through.
Denmark has been participating in Eurovision Song Contest 47 times. Since its debut in 1957, Denmark has won the contest 3 times:
Worst result was in 2002 (last). Since the introduction of the Semi-finals in Eurovision in 2004, Denmark has qualified for the Grand Final 11 out of 15 times.