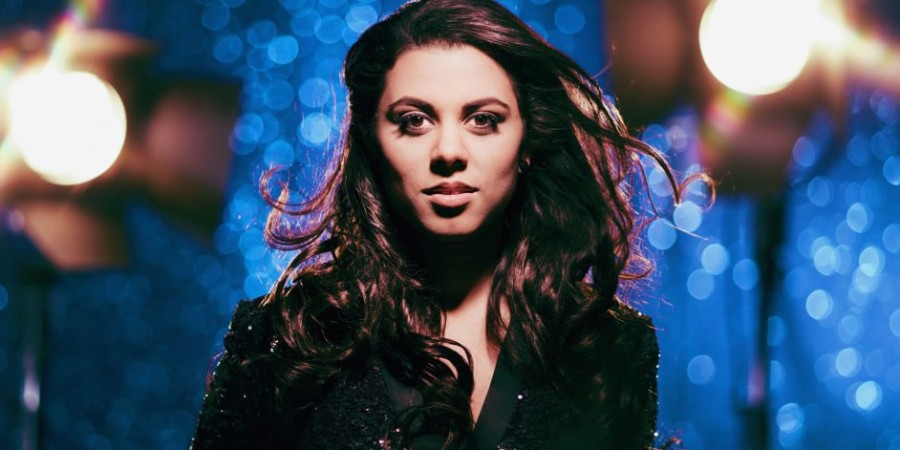 SWITZERLAND
Mélanie René, Switzerland: "The sky is the limit"
INTERVIEW: She used to be shy and introvert, but now it's "Time To Shine". Music gives Mélanie René from Switzerland high hopes for her future, and Eurovision is just one step for that, as she says to Eurovisionworld
The 24 years old musician is a person with spiritual quest and she transfers all her beliefs through her creation for the contest of Austria.
Mélanie René is a daughter of musicians and discovered her passion for music at the age of seven. For several years she trained in the performing arts and song-writing at the Funambule Theatre in Nyon, Switzerland.
She has been honored in different competitions and in George Grigoriu Festival in Braila, Romania, she was awarded the grand prize in 2009.
Mélanie René is the composer, the writer and the singer of the Suiss entry this year.
Staying true to who who you are
»I wrote "Time to Shine" at a time in my life when I realized how much I had grown, both in my personal and musical life. For the first time I felt like I knew where I was going in life, and it made me feel free. It is this feeling of freedom that I tried to portray in my song.
It is a constant reminder for me to stay true to who I am, and to what I believe in, even if it means having to walk alone sometimes. "Time to Shine" is not about "bling bling" or glitter, but more about embracing who you are.
"Time to shine" is about realizing it is okay to be who you are and not to be afraid to stand up for what you believe in.«
From shy and introvert to "time to shine"
»My song was inspired by the album "Alive" by Jessie J. I used to be quite shy and introverted, afraid of other people's judgement. When I went to England to study music I learnt to appreciate and embrace who I truly was, and it made me feel free. Listening to Jessie J's album made me want to write a song about it.
I know there are a lot of people still feeling like this out there and through this song I want them to understand that there is nothing standing between them and their dreams: "The sky's the limit".«
Do you feel antagonism from other artists' songs?

»I have listened to a lot of the other contestants, and I can't pick a favourite! They all have their own style, their own universe, and I personally believe that this is what makes this contest so interesting!«
Switzerland has won Eurovision two times (1956, 1988).
»There have been so many really good songs, but my old time favourite is "Ne partez pas sans moi" by Céline Dion in 1988.«
What are your goals for this year's contest?

»I would love if people remember the message and emotion I will be sharing with them in my song and performance. For me, music is all about sharing something with the audience, so if I manage to do this, I will be happy.«
So, you are not anxious to be in high places?

»No. I don't think about that a lot.«
Australia is new in Eurovision. What is your opinion about this entry?

»I think it is a great idea for Eurovision Song Contest to do something special for its 60th anniversary!«
You are a daughter of musicians. How have they influenced you in your music?

»I grew up listening to whatever my mum or dad were listening to: Sega (typical maurician music), chansons françaises, country, gospel, soul, funk, reggae and so many more genres! Thanks to them I now have quite an eclectic taste in music, ranging from different styles and languages.«
What is your opinion about the other entries?
»I know the competition is going to be tough as there are so many talented artists participating in this contest with different styles and concepts. At least no matter how great they are, it is always up to the tele voters and the judges to decide who goes through to the Final.«
Follow Mélanie René
Homepage: www.melaniereneofficial.co.uk
Facebook: www.facebook.com/MelanieReneOfficial
Twitter: @srfesc
Youtube: www.youtube.com/channel/UCzrBKkt...
Switzerland has been in Eurovision Song Contest since it's beginning in 1956 - in Switzerland. And the winner of the first very Eurovision Song Contest was... Lys Assia from Switzerland with the song "Refrain". Since then, Switzerland won the 1988-contest by an, back then, unknown girl, Céline Dion with the song "Ne Partez Pas Sans Moi" (only ONE point to number two, United Kingdom). A Star was born.
Since then, Switzerland haven't had huge succes in Eurovision. Since the introduction of Semi-finals in 2004, Switzerland only managed to qualify for the Grand Final 4 out of 11 tries. Switzerland is a proud member of "Club Zero", with four contests without any points.