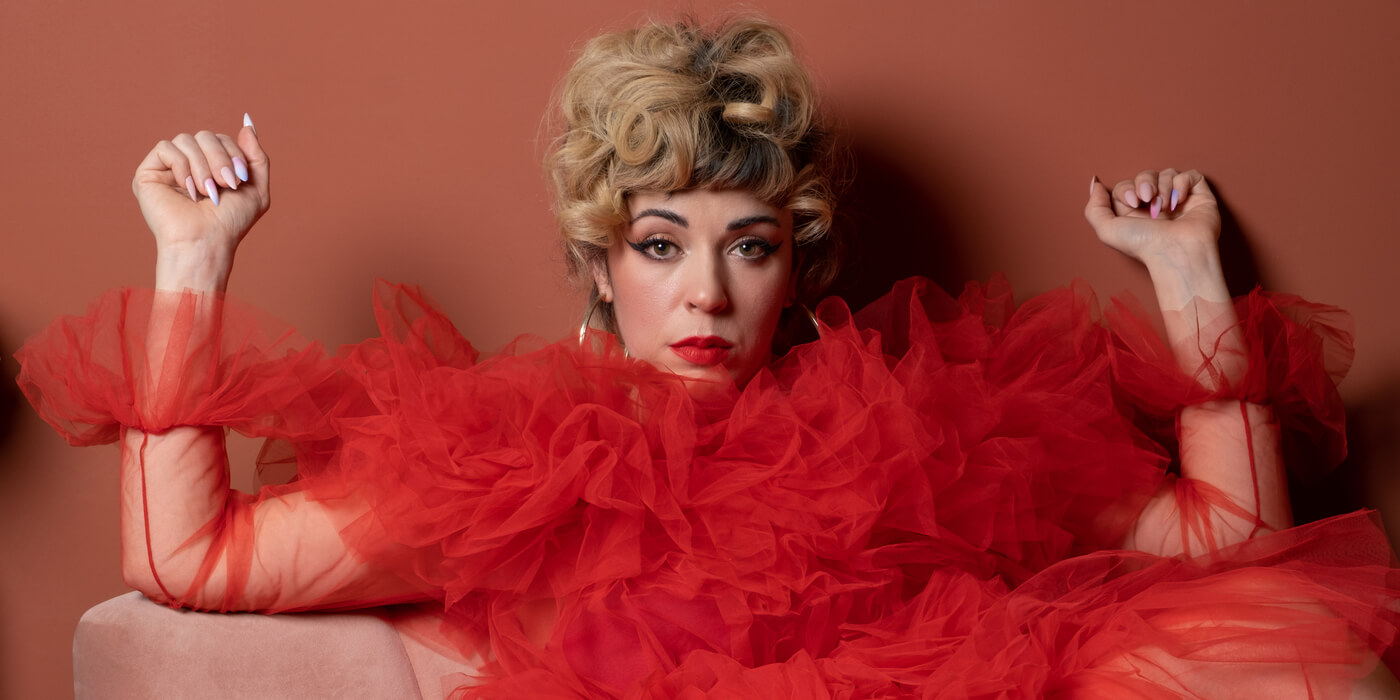 PORTUGAL
Mimicat from Portugal: "We will make a luxurious and glamorous cabaret"
INTERVIEW Portugal's Mimicat won Festival da Canção and is preparing for the Eurovision Song Contest 2023. We met with her to talk about this rollercoaster that Eurovision is, the peculiar way her song "Ai Coração" was born, and how her performance in Liverpool will be
For the first time ever in Portugal's Festival da Canção, a song coming from the free submission, in other words, a song that was not composed by one of RTP's invited songwriters, won the contest and is going to represent Portugal at the Eurovision Song Contest 2023 in Liverpool. That is "Ai Coração" by Mimicat.
Marisa Mena, or just Mimicat, is a 38-year-old Portuguese singer who was born in Coimbra, and who has been trying her luck in the music industry for a long, long time. In fact, she recorded her first album when she was only 9, and six years after she competed at Festival da Canção 2001 ("Mundo colorido") under the name Izamena.
She would unveil her alter ego (Mimicat) in 2014 under Sony Music management. She has released two albums, but they were never enough for her to break through as a mainstream artist known to the general public until now:
– I did try giving up on my music career many times, but I guess music was always stronger. I invested a lot of money I didn't have, made family sacrifices, and finally things are happening.

Mimicat tries to inspire others not to give up:
– Up until now, no one knew who I was. This victory is for all the underdogs out there.

She does admit that despite being one of the favorites, she never actually believed she'd be the one winning Festival da Canção 2023 and going to Liverpool:
– I knew that I was amongst the favorites, but I always thought it would be a close race between me, Edmundo Inácio and Cláudia Pascoal.

It wasn't. Mimicat won both the public and jury voting:
– I was surprised that Cláudia wasn't amongst the most voted by the public, but I believe that both me and Edmundo really needed this boost in our careers.

The fact that music couldn't pay her bills forced Mimicat to get a side job, she worked as a real estate agent for 15 years. It was actually while waiting for a customer 10 years ago, "Ai Coração" came to her:
– I was sitting in an empty house, waiting for people to come to see it. I was so bored and suddenly this melody and lyrics came to me. I wrote it all on the spot and it was born in 10 minutes.

The song wasn't exactly Mimicat's cup of tea as it didn't fit with the music genre she was presenting at that moment:
– I knew it wasn't for me and I thought about giving it to someone else, but my husband kept telling me not to. He said, "That is your best song, keep it."

I always thought about giving "Ai Coração" to someone elseMimicat
It seems he was right, as "Ai Coração" is becoming more and more well-known within Portugal and internationally given the Eurovision exposure. It helps that Mimicat is also a versatile artist:
– I am a very eclectic artist. I have done so many different things throughout time and traveled between many different genres. I love different stuff, and I think I've reached what I like to call a sweet spot, and once I release my third album that will be more evident, she says.

– There will be three chapters that kind of divide my journey: From where I came, where I have been, and where I am going. Mimicat is a mix of various references from retro to old school, soul to jazz, mainstream pop, but also traditional Portuguese music.

Her upcoming album is expected to be released in October or November 2023.
The Eurovision rollercoaster
The fan attention and all the parties is something Mimicat hasn't experienced before. When fans approach her she can't say no to a photo, but that's okay as she admits she likes it:

– I am loving this, I love the social part of it all: Being interviewed, meeting my colleagues and meeting the fans, but at the same time, I am a mother of two so it is hard to keep up and trying to be everywhere at the same time.

The ride has been positive so far:
– It's going pretty well. Even before Festival da Canção took place I was already getting a lot of love and support, so now it has like doubled. People tell me they're so proud that we're taking something like "Ai Coração" to Eurovision, and that they're proud of being Portuguese. Those are magic words. I am really happy to have my country with me and not against me.

When asked her about the international support, she continues:
– I am not 100% aware of it, I don't have a lot of free time to watch reactions, but the feedback from my friends who've seen it is that it's positive. I think people like the song, so let's see how it goes. Eurovision is completely unpredictable.
Mimicat knew it was a great opportunity to attend the Eurovision pre-parties:
– I think it's important. I get sad that I have to leave my babies at home, but I want to enjoy this experience as much as I can.

She knows she needed this opportunity and is not willing to let it go. What she didn't know is that she only had two days to put her upcoming Eurovision performance together:
– As soon as we were done with Festival da Canção, I thought I would have something like two weeks to prepare the whole thing, and then they tell me I literally have two days, she says.
We will do a luxurious and glamorous cabaret.Mimicat
– We did a first rehearsal in order to understand how we would adapt the choreography to the Eurovision stage, that is much better than the one at Festival da Canção, and decided we will explore the stage in its entirety.

At Festival da Canção, a sofa is a big part of the staging, but it will not be shipped to Liverpool. Still, Mimicat and her team are happy with the final result:
– We had to think fast, but I think we managed to get a good result. I would say that the keywords for the performance would be Chicago meets Woodkid. That modern aesthetic, more cinematographic. We will do a luxurious and glamorous cabaret and keep the same energy we have on stage as a group. The choreography will also keep its structure as well as the theatrical part of it.

She goes on to conclude that the main change will be the visuals. The LEDs will play an important part of the performance, something that also happened in 2021 when The Black Mamba went to Eurovision for Portugal.
So far, Portugal isn't currently amongst the qualifiers in Semi-final 1. Mimicat is the 11th bet to qualify:
– I really don't care a lot about the odds, otherwise that's all I will be thinking about. My show is for the viewers, those who vote, and I will do my best. And if I am lucky that people like it enough to vote, then great. If not, I am happy either way. I am there to represent my country.

Do you have any expectations for Eurovision?
– All I want is that people are proud of what I do, but I am also not an over-thinker. I will give my all and I hope people can see that because I can't do much more in order to control the expectation of everyone.
Mimicat will sing "Ai Coração" at Eurovision 2023 Semi-final 1 on 9 May.