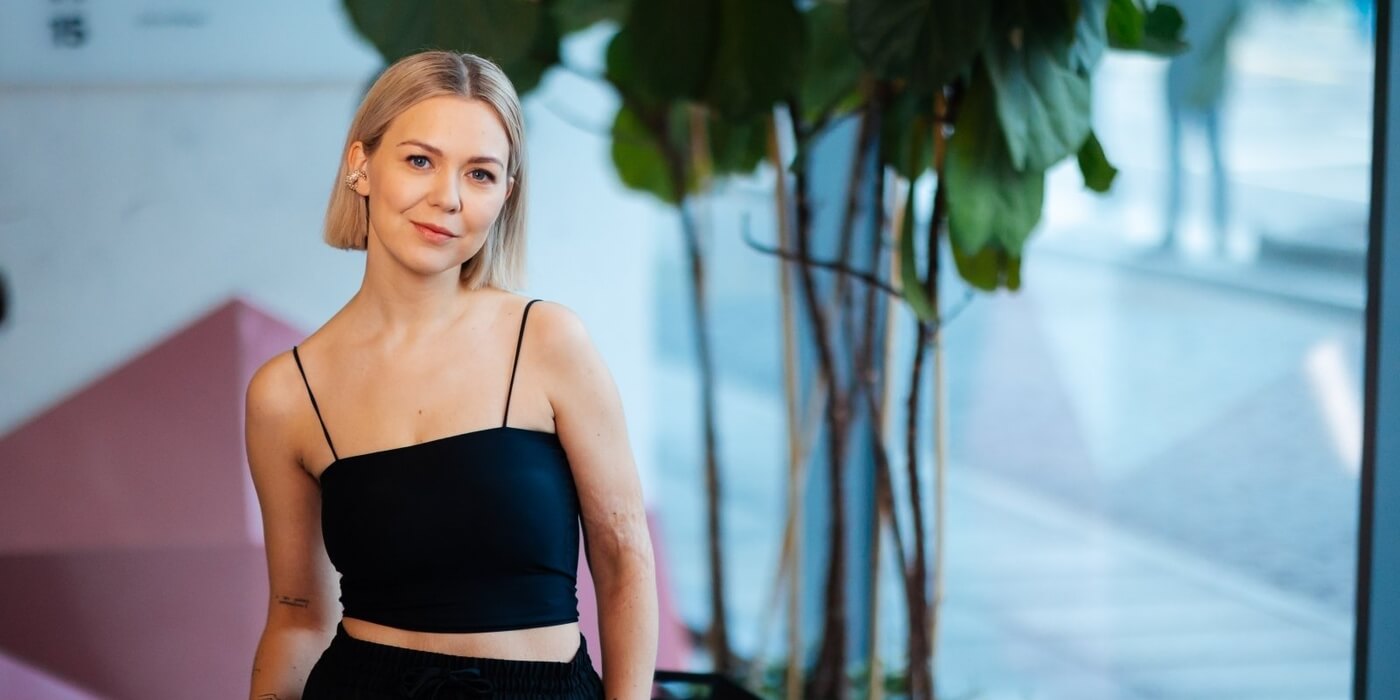 LITHUANIA
Monika Linkytė from Lithuania: "Eurovision participation started out as a joke"
INTERVIEW We sat down with Monika Linkytė who's representing Lithuania with her song "Stay" at Eurovision 2023 for a conversation about this second participation in the contest. Being a returning artist, Monika shares the best tips and tells how this participation started out as a joke
The Eurovision Song Contest 2023 will feature 37 artists from 37 countries. Out of those, four are returning artists: Loreen from Sweden, Pasha Parfeni from Moldova, Marco Mengoni from Italy, and Monika Linkytė from Lithuania who we will talk about now.
It was back in 2015 when Monika went to Eurovision for the first time. She and Vaidas Baumila represented Lithuania with the song "This Time," which finished 18th in the Grand Final. What reasons made her want to return?
– Part of the reason why I wanted to do it again was more about sharing my music because I wrote "Stay," and this is a good platform to share it and to get attention quickly, she says.
– I also really do believe that I have something to share with the whole of Europe.
Her 2015 song, "This Time," was not penned by Monika. This year it's different:
– Indeed. I am a solo artist and I have always been one, so this is a new step for me as a singer and as a solo artist. That I can be myself on stage, performing to the whole of Europe.
Usually, we want to know if former Eurovision artists have shared advice on how to face the chaotic times the contest brings into an artist's life. Monika has experienced it already, and is ready to follow her own advice:
– I am just trying to live in the moment and enjoy it, because last time I think I missed the part of enjoying things and I don't want to do that again, she says.
It's been eight years since "This Time." What has changed for Monika?
– I don't want to say that it changed me, I think it just opened my horizons as a person and as an artist. I was searching a lot for my identity in music, like "Who am I in music?" A lot of music is released everyday and I just want to find out my uniqueness, and I think I am on that path.
What does Eurovision mean to you?
– It means a spotlight on your career where you have tons of attention and where you can share something personal. Where you can share your own music or where you can maybe make some little changes in the world. It's something like that.
From the beginning
Some Eurovision fans may have heard Monika Linkytė's name back in 2010 when she competed in Eurovizija, Lithuania's former selection for the song contest. How did this dream for music first start?
– I think it started the day I was born. I remember myself at the age of three sitting near the piano, because me and my parents had a piano in the house, and I remember sitting there and playing with it for like 30 to 40 minutes. No kid would do that because kids are playing with toys, not pianos, she laughs.
– I was just sitting there, creating my own things, playing carefully, pushing the keys, and that was lovely to have this connection with music and I felt it, my parents saw it and they tried to keep that dream alive. Or better, they tried not to kill it.
Eurovision gave me the opportunity to start believing in myself as a musician.Monika Linkytė
Monika and her parents had some fights about music in her youth:
– When I was three, of course they were happy because I was sitting at the piano playing music. They thought it was something intelligent, and that they had a Mozart in their house. But at the end of the day, when I was a teenager, we had loads of fights because I always wanted to be a musician and a songwriter, an artist, and they kept on saying, "No, you should do something proper!"
It is a valid concern?
– I understand, but nowadays I think those thoughts came from their own insecurities and I don't need to follow that. I have my own stuff to handle, but I know they were just trying to keep me safe. Well, that's a little bit far away from the question.
Once Monika was done with Eurovision 2015, she moved to London to study music, something unusual after the contest's exposure:
– Eurovision gave me the opportunity to start believing in myself as a musician because, as you heard the story before, I was not someone who had a lot of support around myself, especially when your family was trying to be supportive but were also very afraid to support it so I was always having doubts inside of me.
– I think that Eurovision just gave me that confidence. A little bit more of the confidence to follow my dream, she explains.
It was also after Eurovision, and once she moved to London, that Monika launched her first and only studio album until now. Will there be a follow up eventually?
– Yes, the EP is coming! That's why this whole period is a little bit more stressful than what it should be, I think. We're trying to record the EP and finish it. So, at least four or five songs are coming along the way.
The multiple attempts to go to Eurovision
It was in 2007 when Monika first competed to enter a Eurovision-themed show, more specifically, Junior Eurovision. She didn't win, but three years later she joined Lithuania's national selection for Eurovision 2010 finishing 10th with the song "Give Away."
Five attempts later Monika won the ticket for Eurovision 2015.
What has she learned from those experiences?

– To not miss the fun part of it. I think that's the main thing I am suggesting to myself for this year as well because a competition can be quite tough when you're competing with yourself. I think that's the only competitor you should have. Also, that you need to be brave enough to let everything out because that's the energy that will connect your music to other people.
And how do you cope with defeat?
– We're losing something every single day so it's just something you need to learn how to face. Those times when I lost I didn't think I was not putting in enough energy, or that I didn't have the feeling that I wanted to win, or that I didn't feel like I wasn't enough to win. I think first you need to deal with all that sort of stuff inside, and then you no longer need to deal with losing.
Pabandom iš naujo 2023 was Monika's first attempt in Lithuania's national selection after winning in 2015. Why now?
– It started out as some kind of joke. I didn't plan on participating, she explains.
– I was in London meeting a new vocal coach and she invited me to meet her friends. We went to a bar in East London and one of her friends, Nicolas, who is also a huge Eurovision fan was there. When I met him, I joked, "You're a fan of Eurovision. Maybe I should write a song and go to Eurovision and then I can give you a ticket." Well, we ended up having the song. We wrote it in one evening with Chris (Noah) from Latvia.
– I think that if I had been very strategic and thought, "I need to do this," it wouldn't have been as good because I would be in a huge amount of stress. But I think that because we started this off as a joke I didn't feel any pressure. There were 12 days until the deadline, and I knew I could still try to do it.
And why did "Stay" seem like the right choice?
– The song is about healing yourself, about learning about yourself a little bit more, and it asks you to stay: To stay with yourself and when we're connected with ourselves, then we can be connected with the whole world, and that's part of the healing.
The lyrics of "Stay" contain the words "Čiūto tūto." Monika clarifies that it doesn't have a translation and compares it to a mantra.
The staging and Eurovision
While the performance at Pabandom iš naujo may seem quite simple at first, Monika made sure she inserted special meanings into it:
– There are a lot of secret elements in it you may not see. For example, I was wearing the amber dress because in Lithuania, we say that it is Lithuanian gold. And also, in the ending, in the background, there's the image of the Lithuanian goddess which is a very special thing for our nation.
During our conversation it became unclear if the staging just described will be 100% exported to Liverpool:
– We are going to have some changes because the Liverpool stage is much bigger, it's like eight times bigger. But about that, you're going to know in May.

She confirms that her "besties" will continue to be with her on stage.
Lithuania is positioned as a qualifier according to the bookmakers. How does she react to that?
– I don't know, really. I am an overthinker and sometimes I put too much stress over my shoulders. So, I just didn't look at these numbers, she clarifies.
– For that reason, I told myself I wouldn't follow the odds and I wouldn't give myself more pressure than what I already have. Of course, I want to do the best that I can do and I want to win Eurovision, but numbers shouldn't tell me or shouldn't influence the way I feel.
Monika Linkytė will take the Liverpool Arena stage during Semi-final 2 on 11 May.