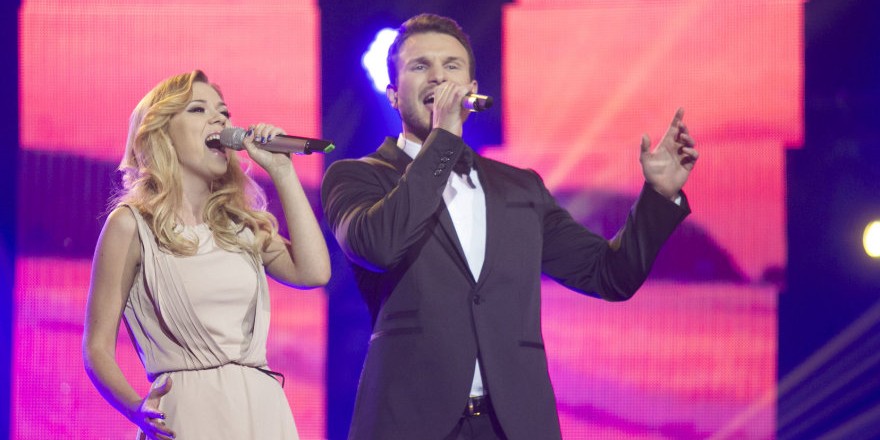 LITHUANIA
Lithuania: Monika & Vaidas to Vienna with "This Time"
Three became two. And two became one! Monika Linkytė & Vaidas Baumila will represent Lithuania at Eurovision Song Contest 2015 with the song "The Time"
After eight weeks and eight shows of "Eurovizijos" ("Eurovision") Monika Linkytė & Vaidas Baumila won the honor of representing Estonia at Eurovision Song Contest 2015 in Vienna. Last saturday it was decided to send the song "This Time" to Vienna, and now the performers for the song is also selected.
In tonight's show from Vilnius, Lithuania there were three artists left in Eurovizijos competing for the chance to sing "This Time" in Vienna. But the two of them, Monika & Vaidas, decided to perform together, so there were actually only two finalists this evening.
The evening was devided into two parts. In the first round the finalists performed two cover songs each, and in the second round they performed the Lithuanian song for Vienna: "This Time".
Eurovizijos 2015 result
Monica & Vaidas received most televotes and jury points
Monika Linkytė & Vaidas Baumila(televotes: 13.902, Jury-points: 12)
Mia (Vilija Pilibaitytė) (televotes: 12.746, Jury-points: 10)
Eurovizijos 2015 schedule
3 January: Show 1
10 January: Show 2
17 January: Show 3
24 January: Show 4
31 January: Show 5
7 February: Show 6
14 February: Show 7 – Song selected
21 February: Show 8 – Artist selected
28 February: Show 9 – (Best of Eurovizijos 2015)
7 March: Show 10 – "Final"
Lithuania has been taking part of Eurovision Song Contest 15 times since its debut in 1994.
The debuting year 1994 Lithuania ended last, and the best result is from 2006 where LT United performed the iconic song "We Are The Winners (of Eurovision)". It didn't win though, but went 6th. Since the introduction of the Semi-finals in 2004, Lithuania has been in Eurovision every year, but only qualified for the Grand Final six times.
With both Estonias victory in 2001 ("Everybody") and Latvias victory in 2002 ("I Wanna"), Lithuania is the only Baltic state that haven't won Eurovision Song Contest